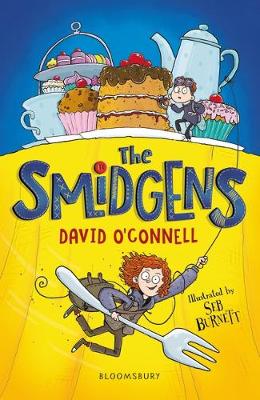 By Author / Illustrator
David O'Connell, Seb Burnett
Genre
Adventure
Age range(s)
7+
Publisher
Bloomsbury Publishing PLC
ISBN
9781526607768
Format
Paperback / softback
Published
01-04-2021
Synopsis
Gafferty Sprout is a Smidgen. A Smidgen looks like a human, sounds like a human, and loves chips with curry sauce like a human - if humans were three inches tall. If you took a human and shrunk it in the washing machine on a very hot spin cycle, you might get something like a Smidgen. Generations ago there were lots of them, living in a maze of tunnels beneath the human village of Dundoodle. But then something happened and they just ... disappeared. Now Gafferty, her parents and her little brothers Gobkin and Grub are the only ones left, and the tunnels are forbidden territory.
And then Gafferty finds an old map. A map that shows a place deep within the maze where Smidgen tribes can go to meet. Smidgen tribes! Gafferty knows that she has to try to find them. But the tunnels are dangerous. And soon Gafferty discovers she's not the only one looking for the lost tribes, and that three inches of Smidgen hold more power than she ever imagined.
The first book in a funny, magical adventure series for 7+ readers who love Terry Pratchett, Max and the Millions and The Borrowers.
Reviews
Megan
Smidgens are tiny people, and the Sprout family believes they could be the last of their kind. Until one day, Gafferty Sprout stumbles upon an atlas that reveals there might be more to the history of the Smidgens than her family once thought.
The Smidgens follows Gafferty and her brother Gobkin on an exciting quest with the hopes of finding other Smidgens. However, this mission is not as simple as it sounds. On their quest, Gafferty and Gobkin have to overcome many risks ranging from avoiding the Big Folk (humans) to being chased by ghostly apparitions.
This is a captivating story packed full of humor and excitement which reminds me of a modern-day twist of The Borrowers. Seb Burnett's illustrations accompany the words brilliantly and bring life to the tiny world of the Smidgens. I am very much looking forward to the next book in this series.
Themes of adventure, friendship, bravery, and belonging make this a brilliant story for lower KS2 (Y3 or Y4). A descriptive and gripping tale that would also make a brilliant class reader.
208 pages / Reviewed by Megan Webb, teacher
Suggested Reading Age 7+
Other titles