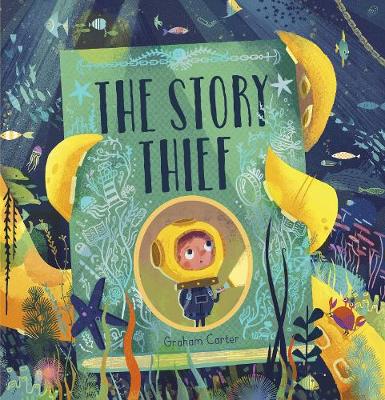 By Author / Illustrator
Graham Carter
Genre
Picture Books
Age range(s)
5+
Publisher
Andersen Press Ltd
ISBN
9781783448920
Format
Hardback
Published
04-03-2021
Synopsis
Olive is a shy girl who prefers reading about adventures to having them herself. But when a mysterious figure steals all of the books in town, Olive decides to set out straight into an adventure of her own. The thief, meanwhile, doesn't quite know what to do with the stories he's stolen. Olive must track down the thief and teach him the joys of reading - and sharing - stories.
Reviews
Maria
This book tells the story of book loving Olive and the island she lives on. Everyone loves reading books until one day Olive drops her new, favourite story in the ocean, on the way home from the library. Her book makes its way down to a creature who doesn't know what to do with it. The creature travels to the island and sees the joy on Olive's face as she shares her books and he steals it. He then steals every last book on the island and takes them to his secret cave, but he doesn't know what to do with the books. Should he eat them? Should he wear them?
Olive realises that all the books are missing and goes on a mission to find them. She dives into the ocean and finds the creature with all the books. The creature is scared of her but kind Olive starts to read books and the creature - who is an octopus - is transported into the magical world of stories, igniting his imagination.
This was a lovely book to share in class and really promoted how important books are and reading. The illustrations are really engaging and the children loved the shiny cover. "Olive is a hero because she helps the islanders find her books and helps octopus become a reader."
Picture book / Reviewed by Maria Aldred, teacher
Suggested Reading Age 5+
Other titles