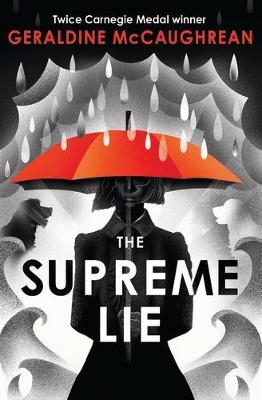 By Author / Illustrator
Geraldine McCaughrean
Genre
Environment
Age range(s)
11+
Publisher
Usborne Publishing Ltd
ISBN
9781474970686
Format
Paperback / softback
Published
15-04-2021
Synopsis
Twice Carnegie medal winning Geraldine McCaughrean's enthralling new novel is set in a world paralysed by natural disaster and dangerous lies. 15-year-old Gloria is maid to Afalia's tyrannical Head of State, Madame Suprema. When the country is hit by unprecedented flooding, Madame Suprema runs away, fearing she will be blamed for the crisis. To cover up this cowardly act, Gloria is made to step into Madame Suprema's shoes and is thrust into a world of corrupt and desperate politicians. As Gloria becomes aware of the forces toying with her every move, she must take decisions that could save, or end, thousands of lives - including her own...A brilliant and darkly funny commentary on our present times by one of our greatest writers.
Q&A with author Geraldine McCaughrean discussing The Supreme Lie
Reviews
Clare
When flooding devastates Afalia and its capital Praesto City is forced to barricade itself behind floodgates, cowardly leader, Madame Suprema, escapes on one of the last trains heading North. Left behind and powerless, her downtrodden husband, Timor is forced into action. With Timor's help, lowly maid Gloria reluctantly steps into Madame Suprema's shoes and soon enters a corrupt and dangerous political world.
Whilst Gloria proves to be a surprisingly adept impersonator and leader she soon realises the dangers for the people of Praesto City and beyond. With her trusty dog, Daisy at her side she and Timor launch an audacious plan to divert the floodwaters and out-manoeuvre Praesto's scheming politicians.
Geraldine McCaughrean's latest book is another brilliant read. A dual narrative laced with dark humour, it cleverly weaves many contemporary issues - climate change, fake news, trust in politicians - into a smart and original storyline. As ever, the characterisation is wonderful and the format of the book is visually stunning. A political/eco-thriller with plenty of twists and turns, this is a book to be devoured by confident readers and dog lovers alike!
416 pages / Ages 11+ / Reviewed by Clare Wilkins, school librarian
Suggested Reading Age 11+
Catherine
In The Supreme Lie, it's 1928 and Afalia faces a natural disaster. Unprecedented rain coupled with unimaginable quantities of snowmelt from volcanic activity has caused the Furca River to burst its banks. The entirety of the Furca river basin, the forests, the sawmills, the wetlands, the farms, all are prey to the torrent. Taking out first the homesteads upstream before raging toward the industrial capital, the great walled Praesto City 'with its forest of factory chimneys and its swarming, soot-stained streets.'
This is the calamity facing Madame Suprema and her senate. With the surging floodwaters lapping at the ancient walls, threatening the five great factories, manufacturing (the source of the country's wealth) must be preserved at all costs. But how great a cost are they willing to pay? Madame Suprema doesn't care to stay and find out, leaving her 15 year old maid, Gloria, magnificently out of her depth in the face of the rising storm, to face the senate. Can Gloria help both the citizens of Praesto AND the displaced Afalians seeking refuge at Rose City? The lives of her friends, the lives of her family, depend on her...but will she have to choose?
Bravo Geraldine McCaughrean! The pace is as fast as the surging river with brief respite given by Daisy, a golden retriever. Greed, lies and corruption muddy the already murky floodwaters and misinformation jostles for space as circumstances demand action. If you're reading this to a class or sharing it in a book group, there are no shortage of topics for discussion. Flooding events - the likely causes and the need for planning to avert or at least mitigate. Water wars - the diverting and control of water through dams and the inherent effect on different communities. Moral dilemma - the value of lives, sacrificing a few to save many. What happens in a news vacuum? The power of the media, and the need to be able to critically evaluate the news we're fed. Exploitation - of natural resources and people. Greed, lies, corruption! A smorgasbord of discussion topics! And that's before you compare and contrast the two cities - the industrial city of Praesto, and the predominantly agricultural Rose City!
Hugely enjoyable, another triumph from Geraldine McCaughrean. (Reading an interview with Geraldine McCaughrean, she mentions a natural disaster that was the seed for The Supreme Lie; The 1928 flood of the Mississippi Basin. Well that piqued my interest! Be sure to enter that in your search engine, it's an absorbing read.)
416 pages / Ages 12+ / Reviewed by Catherine Purcell, school librarian
Suggested Reading Age 11+
Other titles