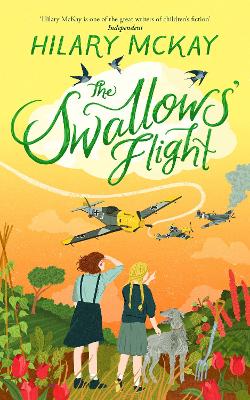 By Author / Illustrator
Hilary McKay
Genre
Historical Fiction
Age range(s)
11+
Publisher
Pan Macmillan
ISBN
9781529033335
Format
Hardback
Published
27-05-2021
Synopsis
From the Costa Award-winning author Hilary McKay, comes a moving WWII story of family and friendship on opposite sides of a devastating conflict. The Swallows' Flight is the stunning companion novel to The Skylarks' War.

Erik and Hans are German boys. Ruby and Kate are English girls. They grow up in worlds that would never meet, until war tumbles their lives together.  Then one September afternoon there are choices to be made.

How is courage lost, and found?  Who is really the enemy? And what does friendship truly mean, in the middle of a war?  Meanwhile Rupert and Clarry work secretly for peace - and a brighter future for them all...
Q&A with Hilary McKay talking about The Swallows' Flight
Reviews
Lucy
The Swallows' Flight is a companion novel to The Skylarks' War, which I would urge you to read first if you haven't already done so. The story alternates between Ruby, Kate, Dog (Pax) and friends Erik and Hans in Germany as they navigate the inter-war years and the inevitable onset of World War Two.
The characters are all absolutely wonderful as of course they were in The Skylarks' War - it was lovely to catch up with Clarry and Rupert and even old Mr Penrose! Now we are with the next generation. Forthright Ruby, daughter of Clarry's friend Violet, is delightful as she struggles with her frustrations - not least those of the birthmark on her face and her brother Will, who is two years older than her and can do no wrong. Kate, daughter of Clarry's brother Peter and his wife Vanessa, is a worrier who keeps a diary charting absolutely everything. She doesn't have the best of health and her friendship that develops with Ruby is a delight to read as it blossoms. Then there is the utterly adorable, if terribly smelly, Dog (Pax).
The depiction of life in Germany for Hans and Erik is not only perfectly realised but also hugely informative without being too weighted down with facts. All the information is there in Hilary McKay's effortless style - the Hitler Youth, Kristallnacht and The Third Reich, but told in such a way as to add weight without glossing over the awfulness of the time.
I absolutely raced through The Swallows' Flight but at the same time I didn't want it to end, but end it did and I have to admit that I was wiping away tears as I finished it. What a truly beautiful and captivating book about love, loss and war. Fantastic characters, rich language and settings and a story steeped in history. I honestly cannot recommend it highly enough.
304 pages / Ages 11+ / Reviewed by Lucy Georgeson, school librarian
Suggested Reading Age 11+
Other titles