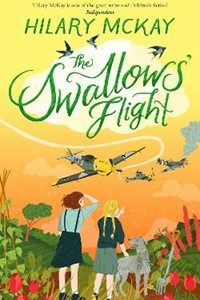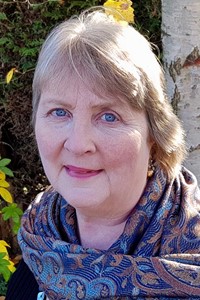 About Author
Hilary McKay is an award-winning author, having won the Guardian Fiction Prize for her first novel, The Exiles, and going on to win the Smarties and the Whitbread (now the Costa) Award for The Exiles in Love and Saffy's Angel.
Hilary McKay's Fairy Tales was her first book with Macmillan Children's Books and is a critically acclaimed collection of clever retellings. Her 2018 title The Skylarks' War marks the centenary of the end of the First World War and is a classic in the making.
Interview
The Swallows' Flight (Macmillan Children's Books)
May 2021
The Skylarks' War, published in 2018 by Macmillan Children's Books, follows three children, Clarry, Peter and Rupert, as they leave behind their childhoods and move into adulthood, just as World War I begins.
The Swallows' Flight continues the story, with the next generation of children and a family in Berlin, on the eve of World War II.  Like her earlier novel, The Swallows' Flight shines a compassionate light on family, friendship and the courage shown by so many during a terrible chapter in our history. Hilary McKay tells us more in this Q&A:
1. Why did you want to follow the family from The Skylarks' War into a new generation, and can you tell us a little about your new book?
I originally intended Skylarks to be a stand-alone. It covered such a long period of time that a sequel seemed impossible, especially as at the end all the main characters were grown up. But there was a link: the next generation had put in a brief appearance a few pages before the end, which unluckily for them but luckily for me would make them just in time for World War 2.
There have been so many great children's books based on this period, from Nina Bawden and Robert Westall a generation ago, to Emma Carroll and Lucy Strange and many others today. I wanted to add something different to the collection, so I told the story half from the world of two German boys, and half from my Skylarks people. Swallows' Flight is the story of how they met.
German characters seemed an obvious thing to include once I'd thought of it. I chose Berlin because of the zoo, and because of the wonderful Emil and the Detectives by Erik Kästner which is set in Berlin in 1929. The German boys E K wrote about were only a little older than my characters.
2. The image of skylarks is very powerful in The Skylarks' War, why are birds such an important symbol for you and can you tell us about their purpose in The Swallows' Flight?
I love birds, I always have. Not just in a bird-watching kind of way, but because of what they are: a sort of link between earthbound life and air. They add such a third dimension. I especially love the journeying birds, who migrate across the earth on flight paths so ancient that sometimes they were there before our present continents were shaped. Swallows are journeying birds. Their arrival is always a moment of joy, and I think also they are a symbol of both home-coming and freedom.
3. When you finished writing The Skylarks' War, did you already have some idea of what the characters would go on to do and how the next generation would develop?
Yes, I had some idea. They had lived so long in my head that I couldn't just leave them at the last page. I knew there was more to say about them (Clarry and Peter's father, Rupert and Violet). None of them surprised me. I knew them too well for that.
4. You write with such affection about your characters, with so many tiny details bringing them to life - do you see them as real people even before you start to write them?
I suppose I do see them as real people, in the sense that I know far more about them than I do about most of the real-real people in my life. Yes, I have them well established before I begin to write about them. I write much more than I publish - so there a lots of details that never make the stories but do round out the characters in my head. Their voices bring them to life.
6. The relationships between the characters are wonderfully described; Kate and her grandfather, friends Hans and Erik, for example. Was there one relationship that stood out for you when you were writing The Swallows' Flight?
I think you have just named two of my favourites. Also Pax and his relationships with humans, beginning with the Scrapyard Girl. Rupert with Vanessa and Peter's children was great fun to write too.
7. And what about the dog, Pax, how did he find his way into the novel?
I like dogs. And I have known a lot of rescue dogs, and there is always something about them. A part that remembers, I think. Also, I really needed Pax and his fear of things in the sky. If he hadn't gone racing off, that September day in Mrs Morgan's garden, there would never have been a story.
8. There is so much information in your books about life at the time, did you need to do an enormous amount of research for these books? Where did you go to find it?
Yes, I did a lot of research. For both Skylarks and Swallows I used the British Library: especially the newspaper archive and the period magazines. I also found rare books there: translations from German of ambassador's reports, accounts by German pilots, old street plans of Berlin and Plymouth, papers on the historic price of rubies. I read the history of Berlin Zoo, with maps and dates of all the most exotic animals.
I also used photographs from the Imperial War Museum, and discovered Clarry's bathing costume in the V & A. Tolkien's letters to his son were useful for a snapshot of Oxford in WW2. I looked up old weather reports, the sites of German Luftwaffe camps in occupied France, the cost of Woolworth's Christmas lights, ration books, train timetables, the first aid training of Sea Cadets, and many other things too. I didn't put a quarter of it into the books, but I had a lot of fun finding it out.
9. Did you also visit the locations you mention?
Only the English ones. I didn't get to Berlin. I was so sorry about that - I planned to go last May (there is an Emil and the Detectives tour that I really wanted to take, and other places too, not least the zoo. ) However, the pandemic happened. So that was that.
10. You've said that the novel is written for one purpose only, to give readers hope. How have you coped during the pandemic, and how has it affected your view of our world today?
I don't think I've coped very well to be honest. I've absolutely hated it. Too many members of my family are too far away. It's added to my deep concerns about the environmental impact of our species on the planet.
11. Where and when do you do your best writing - and what do you do when you need to escape from everything?
I write in our old garage. It's too small for a car but it does nicely for me, in a chilly kind of way. I live in beautiful countryside, and that's where I go when need to escape.
Author's Titles