The Tale of Truthwater Lake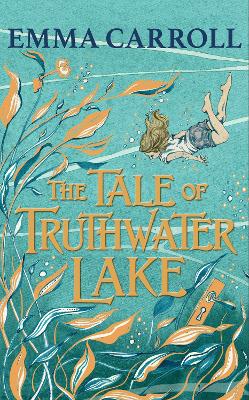 By Author / Illustrator
Emma Carroll
Genre
Historical Fiction
Age range(s)
9+
Publisher
Faber & Faber
ISBN
9780571364428
Format
Hardback
Published
06-10-2022
Synopsis
On one side of the underwater street is the remains of a house . . . It's beautiful here, and eerie, a lost kingdom, a ghost village . . .It's the near-future and Britain is having yet another heatwave. Of course, the government have put in the normal curfews for this kind of weather, and shops are forced to shut again. For Polly, it's the sort of heat that makes her do wild, out-of-character things just to cool down.Like face her fear of deepwater. Essential when she and her brother have been sent to their aunt's eco lake-side house for the summer.But Truthwater Lake is beginning to dry up. As the water level diminishes, a lost village emerges. Swimming over the rooftops at midnight, Polly dives down and is suddenly able to breathe, to hear church bells and bird song . . . Polly has discovered an underwater gateway . . . to the past!
Bestselling author Emma Carroll tells us more!
Reviews
Louisa
Summer 2032 is so hot that there are government emergency laws to insist people stay inside, out of the sun. After five weeks of summer holiday trapped in a tiny flat and concerned about friendship issues, Polly is glad to be sent away with her brother, Joel. She's not sure quite what's wrong with him but he's clearly troubled about something too. A stay with their aunt Jess on the banks of Truthwater Lake reservoir promises a break for them both.
When they arrive, Polly is shocked to see how much of the lake has dried up - so much so that the village it once submerged is starting to reappear. That night, too hot to sleep and unable to resist cooling off with a midnight swim, Polly plunges into the lake and soon finds herself standing on the old church roof, fascinated by the view beneath. Then, as she tries to make her way back to the shore, she feels the water turn cold and begin to tug her under. She lets herself sink, down and down to a new adventure, in a time before the reservoir existed.
Emma Carroll knows how to make a story compelling, with characters the reader cares about and pitch-perfect writing. She can deftly create a convincing historical setting without overdoing the description. She has martialled all her skills in this latest novel, The Tale of Truthwater Lake, and added to them by setting part of the tale in the future, where climate change is wreaking increasing havoc. It's another fabulous read for those who like a classic adventure story. It would also make a strong choice as a class novel. Water and the environment are strong themes of the book, so it would run very well alongside a topic on either. Finally, it's produced with such care, that the hardback edition is an exquisite object to treasure in its own right. I think I'll use it to emphasise to children how precious books are and how we should treat them as such.
304 pages / Reviewed by Louisa Farrow, teacher
Suggested Reading Age 9+
Beverley
The year is 2032. The country is experiencing soaring temperatures and curfews are introduced to keep people indoors for their safety. Polly Carraway lives in Brighton with her parents and older brother, Joel. The siblings are sent to stay with their aunt Jessie, whose house is close to the banks of a reservoir, Truthwater Lake, which is drying up as a result of the heatwaves. When Polly goes swimming in the lake in the early hours of the morning, she finds herself diving deeper and deeper until she can touch submerged buildings and gravestones. Going back in time to 1952, she has discovered the lost village of Syndercombe, and begins to live the life of local girl Nellie Foster, whose talent for swimming is going to make her famous one day.
It is rare to find a novel with so many threads, all skilfully woven together into an unforgettable time-slip story. The author introduces global warming, social history, bullying and friendship as we learn about Nellie and Polly, separated by many years yet so similar in many ways. Polly is resourceful and kind, worried about her brother who is being bullied at school and she is also dealing with her cooling relationship with her best friend Sasha. Nellie has never known her father and has had to cope with the death of her mother. Living with the kindly Blackwell family, she relies on her close friendship with Lena, an Indian girl who has been sent to Syndercombe to recover from TB. When the girls meet Nate Clatworthy, the three become friends and launch an audacious plot to allow Nellie to become the first child to swim the English Channel.
The novel is divided into sections, told by Polly and Nellie, which allows the reader a real insight into the lives of the two girls. Nellie is a wonderful character, strong and stubborn, with a determination to achieve her dreams and goals. In Polly's world, we are given a grim picture of how our world could be if global warming continues to increase; stifling heat followed by terrifying storms and flooding. In Nellie's world we see a thriving village taken over and flooded to provide water for the nearby growing towns, and we are shown that there is a high price to pay for progress. With the character of Nate, we are shown that even those people who seem to have everything may not be happy - we should not judge by first appearances.
The section of the novel dealing with the Channel swim is beautifully written and very exciting, and the author concludes the story in a masterful fashion, letting us know what happens to each character so that the reader feels totally satisfied. Friendship is a strong theme of this book, particularly that of Nellie and Lena, and the bringing together of these two characters later in the novel is a masterstroke, and is very moving.
I absolutely loved this book. It has so many facets, all handled with skill and delicacy by Emma Carroll. It would make an excellent class reader, and would lead to much discussion. At its heart, however, it is a clever, thought-provoking and thoroughly enjoyable story. I have already started to recommend The Tale of Truthwater Lake to friends and colleagues, and feel sure that it will feature on many forthcoming awards lists.
304 pages / Reviewed by Beverley Somerset, school librarian
Suggested Reading Age 9+
Other titles