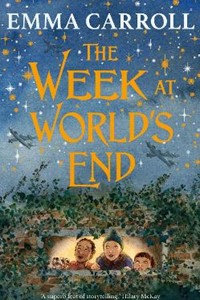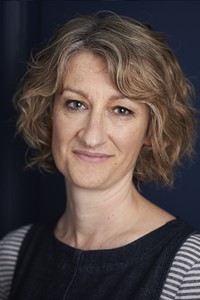 About Author
Emma Carroll's new historical fiction novel, The Week at World's End, revisits the week of the Cuban Crisis in 1962, through the eyes of three children. The bestselling novelist, celebrated for her historical fiction for children, was once told by poet Ted Hughes that her writing was 'dangerous', but it took Emma Carroll 20 years of English teaching and a life-changing cancer diagnosis to feel brave enough to give her dream of being an author a try.  She has since been nominated for and is the winner of numerous national, regional and schools awards - including the Books Are My Bag Readers' Award, Branford Boase, CILIP Carnegie Medal, Young Quills, Teach Primary and the Waterstones Book Prize.
Emma's home is in the Somerset hills with her husband and two terriers. She still can't believe her luck that she gets to write dangerous books for a living.
Read a chapter from The Week at World's End
Interview
The Week at World's End (Faber & Faber Children's Books)
September 2021
Emma Carroll's powerful new historical fiction novel, The Week at World's End, revisits the week of the Cuban Crisis through the eyes of three children in the UK as they try to solve their own mysteries closer to home.
In this video and Q&A, Emma Carroll talks about researching the Cuban Crisis, civil protest and exploring history as inspiration for new stories. Emma also gives a short reading from The Week at World's End in this video.
Q&A with Emma Carroll
1. What brought you into writing historical fiction for children?
I love reading historical fiction so it made sense to me to write the sort of book I'd enjoy.

2. What, for you, makes a great historical fiction novel?
I'm a real sucker for everyday details like food and personal effects - clothes, objects - as well as smells, sounds, tastes. I love historical fiction with heart and humour, so there's a sense of a real, living, breathing person on the page.

3. How do you choose which period to set your stories; do you get the setting first, or the story?
The story comes first. I'm drawn to incidents in history that would've intrigued my 12 year old self - and at 51 still do! From that, I'll think about the untold stories behind these incidents, the people who were there, who lived through it, whose names didn't make it into the history books.

4. How much research do you need to do about the period in which a book is set?
Enough. That sounds vague - sorry! - but it's hard to explain. I like to know my character's domestic world - clothes, home, food, who they live with, what's the view from their front window - and what challenges / opportunities they'd face in the wider world. Really, its world building, probably very similar to how writers of fantasy work.

5. Can you tell us about your latest book, The Week at World's End, and what inspired it?
It's set in 1962, during a very tense few days known as the Cuban Missile Crisis where the world teetered on the brink of nuclear war. My story deals with the very personal conflict facing two friends when they decide to help a runaway girl who claims someone is trying to poison her. The story was inspired by my parents who were teenagers at the time of the crisis.

6. Why did you want to feature the Cuban Missile Crisis in this story? 
It's a really intriguing moment in history where things could've gone so badly wrong. It's also a very good example of diplomacy in action: Robert Kennedy and his Russian counterpart talked their way out of the conflict. Because of American airbases on British soil, we would've been drawn into any war with Russia, so the situation was perilous for us, too.

7. When you were researching the period, were there things that took you by surprise, even though the period is relatively recent in our history?
Yes, absolutely. This is part of why I love writing historical fiction. The main surprises were how close we came to actual war. Some of the sources now made public would've been top secret at the time, and certainly make for chilling reading!

8. Are there other sources you can recommend for those who want to find out more about the Cuban Missile Crisis?
I looked at newspapers from the week itself, as well as footage of President Kennedy and Premier Khrushchev , and our Prime Minister at the time, Harold Macmillan. I also watched a few tv documentaries on the crisis, and on the nuclear tests carried out on Christmas Island.
A wonderful fiction book I'd recommend is The Fire Eaters by David Almond, which is also set during this particular week, and is about a boy growing up in the North east of England.

9. The three friends in the story come from different backgrounds, can you tell us a little about them and why you chose these families?
Stevie, our main character, is a bit of an underdog at the start - she's hard-working, loyal, practical + quick-witted, but struggles with school unlike her best friend Ray, and her older sister Bev. Her dad has sadly died - the circumstances of his death become clear as the story progresses.
Ray's mum is Queenie from Letters From the Lighthouse, his dad the American GI Eddie, from When We Were Warriors. I wanted a link back to previous conflicts, as well as an American connection so Ray's heritage worked well in this regard.
Anna brings adventure and possibility to the group. She's a rule breaker: she stands up for what she believes in, even when it might not be the right choice. Her illness is the first time I've written directly about cancer. Having been through chemo myself, her reaction to it feels very real to me.

10. How different would life in the UK have been for the Black American family at this time, compared with living in the US?
Ray's American family live in the Deep South, where racial segregation was still in evidence. Ray's cousin Violet talks about 'whites only' schools, Ray's father mentions how President Kennedy has promised Black Americans so much but is slow to deliver on much needed change.
The racism Ray and his family face in the UK is more covert, but still very apparent - Ray's treatment by his classmates, and how the drama teacher overlooks his sister Rachel's talent, are examples of this.

11. You also explore the grassroots of protest at this time - where does this period fit within broader civil protest movements?
The civil rights movement was already in full swing in America at this time. Dr King's advocacy of protest as a powerful, peaceful way to bring about change no doubt inspired fellow activists to follow suit. Anti-nuclear protests, such as the one my characters go on, were reasonably commonplace when the Cold War was at its height.

12. If you chose to live for the moment, as the children do in the story, how would you spend that one day?
Interesting question! I'd gallop a horse along a deserted beach, or go tobogganing in the snow.

13. Where and when do you do your best writing? What are you writing currently?
My favourite place to write is in my writing room, which is a small upstairs room at the back of my house, with great views over the countryside. But writing takes you by surprise - sometimes I'll do my best writing on a crowded train or in a hotel room. I'm currently editing two very different writing projects, and about to start the first draft of my next novel for Faber.

14. Can you describe what would be your ideal writer's shed?
I'm lucky in that my writing room is pretty close to my ideal. We revamped it during lockdown last year so I'm very happy with the space, which has a window-facing desk, an armchair, shelves and shelves of books - and dogs' beds, of course! At a push I'd love a sea view and a kettle so I can make tea non-stop!
Author's Titles