The Time Machine Next Door: Explorers and Milkshakes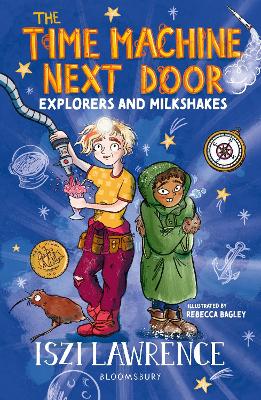 By Author / Illustrator
Iszi Lawrence, Rebecca Bagley
Genre
Adventure
Age range(s)
7+
Publisher
Bloomsbury Publishing PLC
ISBN
9781801991049
Format
Paperback / softback
Published
13-04-2023
Synopsis
A page-turning, laugh-out-loud historical adventure by comedian and podcaster Iszi Lawrence, perfect for fans of Horrible Histories.
Time flies when you're having fun. But what does it do when you're not? Sunil is bored. Very bored. Whilst home alone, he accidentally breaks his grandfather's most prized possession and must scramble for a way to fix it. Alex, his eccentric next-door neighbour, has an unusual solution to his problem - a time machine! Soon, Sunil is visiting the freezing, icy depths of Antarctica as a stowaway on a stranded ship and the heart of London to meet famous astronauts - all while trying to stay away from a mysterious man with a particularly suspicious pet kiwi...
The Time Machine Next Door is an exciting new series of quirky historical chapter books for readers aged 7-9. Written by comedian, podcaster and children's author Iszi Lawrence, these books bring lesser-known parts of history to life with hilarious plots, real-life characters, fascinating facts and fantastic illustrations.
See also:  The Time Machine Next Door: Scientists and Stripy Socks
Reviews
Jane
Sunil and Alex (his babysitter, strangely) use the BM (time-travelling) machine to meet notables Neil Armstrong and Ernest Shackleton, as well as a kiwi called Wiki and a cat called Mrs Chippy.
The Time Machine Next Door: Explorers and Milkshakes, a nattily illustrated, fun dive into history, is likely to appeal to readers aged 8+ on a number of counts. Yes, it presents facts, so there's plenty to learn (about pop music, the Cold War, how many old pennies in a pre-decimal pound, Wisden's Almanack, etc), but it does so in a very light-hearted way with a fantastical thread tying them all together.
Of all the chapters (which are numbered, not named, in the Contents), I enjoyed chapter seven the best. In it, we learn not just another fact (about the Arctic, this time), but that the somewhat suspicious Mr Shaykes has an Interesting Machine which makes milkshakes from interesting facts. Give it fake facts and the milkshakes are poisonous; old facts and they taste of onions; boys called Sunil and... well, Sunil's not hanging around to find out.
When the dust has settled on the adventure, readers may happily realise how much knowledge they've acquired, in seemingly no time at all.
192 pages / Reviewed by Jane Rew, school librarian
Suggested Reading Age 7+
Other titles