The Time Machine Next Door: Scientists and Stripy Socks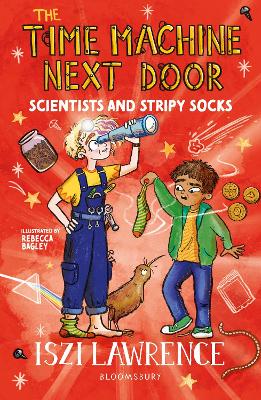 By Author / Illustrator
Iszi Lawrence, Rebecca Bagley
Genre
Adventure
Age range(s)
7+
Publisher
Bloomsbury Publishing PLC
ISBN
9781801991087
Format
Paperback / softback
Published
13-04-2023
Synopsis
A page-turning, laugh-out-loud historical adventure by comedian and podcaster Iszi Lawrence, perfect for fans of Horrible Histories.
Time flies when you're having fun. But what does it do when you're not?  Sunil and his extraordinary Auntie Alex are back for another hilarious adventure as they whizz through time. But Auntie Alex's time machine has started behaving strangely and using it has become even more unpredictable and dangerous than ever. From the dark and gloomy heights of the Tower of London to the tropical Galapagos islands, will Sunil and Alex be able to get home? And can they avoid the sinister Mr Shaykes and his pet kiwi?!
The Time Machine Next Door is an exciting new series of quirky historical chapter books for readers aged 7-9. Written by comedian, podcaster and children's author Iszi Lawrence, these books bring lesser-known parts of history to life with hilarious plots, real-life characters, fascinating facts and fantastic illustrations.
See also: The Time Machine Next Door: Explorers and Milkshakes
Reviews
Jane
What happens when two children time travel to meet some very famous people from history? Hold on tight, readers, you're about to find out!
I can't help compare The Time Machine Next Door: Scientists and Stripy Socks (and its companion The Time Machine Next Door - Explorers and Milkshakes) with Andy Seed's Interview with Blackbeard. It is very similar in concept, in its clear layout, superb black-and-white illustrations, eye-catching cover, blending of facts and fantasy, and child-friendly humour.
It is ideally suited to children of eight years up, who will be both educated and amused. I, for one, didn't know that Sir Isaac Newton was quite a disagreeable character apparently, nor the name given to short trousers in the 18th century, nor indeed that Caroline and William Herschel wanted to call their newly discovered planet George (after the king) rather than Uranus.
Sunil and Alex also get to meet Darwin and Leibniz (inventor of calculus), thanks to the Boring Machine, but fictional characters Wiki, the kiwi, and grasping Mr Shaykes also put in frequent appearances. One to recommend to those who like their history lite.
192 pages / Reviewed by Jane Rew, school librarian
Suggested Reading Age 7+
Other titles