The Tree: An Environmental Fable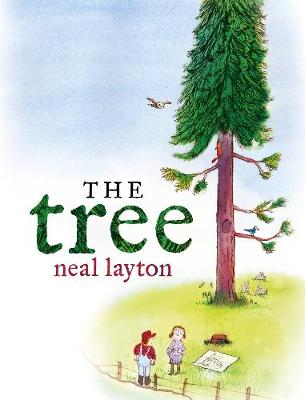 By Author / Illustrator
Neal Layton, Neal Layton
Genre
Environment
Age range(s)
3+
Publisher
Walker Books Ltd
ISBN
9781406358216
Format
Hardback
Published
05-05-2016
Synopsis
A delightful picture book with a wonderful twist which encourages young children to think about the way animals and humans live side by side.

The tree. Home to a family of birds in their nest, squirrels in their drey and rabbits in their burrow. But what happens to the animals when a man and woman decide to cut it down and use it for their dream house? Can the tree be home to both the animals and the humans? A simple yet fun and distinctive picture book, with a strong environmental message about the importance of respecting animal habitats, by the award-winning Neal Layton.
Reviews
Torie
This simple yet powerful story begins with an ordinary looking tree. Through a few select words and delightful illustrations, the reader is quickly introduced to its inhabitants: the birds who have built a nest between the spruce's branches; the scurry of squirrels whose dray balances amongst the limbs; the hoot of owls who dwell in a hollow in the tree's trunk; and the family of rabbits whose burrow is beneath the tree&'s roots. This single tree is home to a whole host of wildlife who live side by side. When a man and a woman arrive with a plan to build their dream house they are unaware of the creatures that already call the land their home and hastily begin their construction work. The first task is to cut down the tree! To their horror, a nest falls from the tree and lands on the ground. The new arrivals appear to be upset by the consequences but soon get back to work: measuring, lifting, hammering, painting - Could it be that they are going to continue on with their plan to build their dream home? Is it possible for animals and humans to live in harmony on the same land? This excellent picture book, which at first glance is perfect for younger readers but promotes themes that can be explored by all ages, highlights the importance of understanding the environment around us and how our actions, deliberate or not, can harm it. It is a perfect starting point for learning about habitats and seeing how even a small habitat (one hedgerow, a pond, a tree, a hedgerow) can be the home to countless creatures. Children could easily study a habitat within their garden or school grounds and investigate the animals that call it home, as well as the ways the habitat could be threatened. Children could explore their impact on the environment and discover ways of living more in harmony with wildlife and nature both at home and in school e.g. setting up a wildlife garden, making birdfeeders. The theme of actions and consequences extends beyond the powerful environmental message. We see the new arrivals working hard to make up for their mistake, even though they had meant no harm, and the positive outcomes that result from their efforts. Picture Book / Ages 4+/ Reviewed by Torie Walton, teacher.
Suggested Reading Age 3+
Other titles