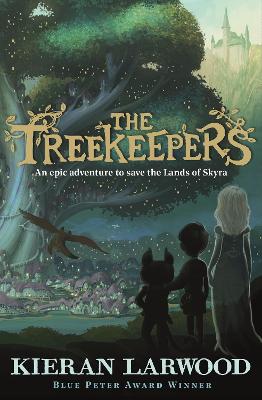 By Author / Illustrator
Kieran Larwood, illus Chris Wormell
Genre
Fantasy
Age range(s)
9+
Publisher
Faber & Faber
ISBN
9780571364565
Format
Hardback
Published
01-09-2022
Synopsis
An epic tale of trees of power and a world under threat, from the author of the bestselling Five Realms series.  'Here come the roots of the Shadow Tree.  Whatever they touch will never get free.' 
Liska lives in Arborven, a city surrounding an extraordinary tree that gives all those living there special powers. As a shapeshifter, Liska is training as a warrior. When she discovers that the Tree is under threat, it is her duty to act - but she can't convince anyone to listen to her. So with Lug, whose power over earthworms is dismissed as useless, and a ghost-girl, Elowen, she goes on an epic journey to defeat the worst threat their world has ever known.
Illustrated by Chris Wormell, this is a richly woven and thrilling fantasy with a wonderful affinity between humankind and nature - a current and vital message for young readers everywhere. 'A thoroughly absorbing story... all set in a richly realised and epic fantasy world.' School Reading List  'The first in an exciting new series.' The Bookseller
Find out more from author Kieran Larwood
Reviews
Rhiannon
A dark plot is afoot in the magical city of Arborven. The shadow tree Bitterblight has extended its murky tendrils towards its light counterpart, the Undrentree, in the centre of the city and a war, years in the making, is suddenly and unexpectedly at the city's door. The best hope of survival lies in a hastily concocted plan made by shapeshifting warrior Liska, terrified worm-summoner Lug and the 500-year-old ghost of a girl, Elowen. All three embark on a dangerous journey based on a legend that may not even be true, but determined to prove that no one should be underestimated because they are "just a child".
The Treekeepers is a classic story of a journey against adversity, told in a fantasy/adventure style and with environmental themes. What makes it special is the world and characters created by Kieran Larwood and the gorgeous illustrations by Chris Wormell, particularly the breath-taking golden map underneath the dust cover on the hardback copy!  
Readers will fall in love with hot-headed Liska, happy-go-lucky Elowen and even nervous Lug, as well as the cast of characters they meet along the way. An absolute gem to read at bedtime or as a class read for children aged 8 and up, with definite potential as a novel to open up discussion on environmental issues. A must-read!
370 pages. Reviewed by Rhiannon Cook, school librarian.
Suggested Reading Age 7+
Jenny
The Treekeepers is a stunning, epic fantasy tale - a sweeping adventure built from layer upon layer of the most intricate and inventive images and scenes. Kieran Larwood's world building skills are just pure genius.   The city Arborven is built around Undrentree, an enormous tree whose power and mighty branches house a wealth of unusual magical creatures. Wondrous character creations await the reader: arbomancers, stormsingers, mossherders and cloaked shapewalkers who can transform from human to animal form.
As the story starts we meet Liska , a shapeshifter griffyx ( mix of human, fox, dragon and eagle) who is desperate to finish her warrior training, spread her (actual) wings and earn her first stripes for honour and courage, despite being seen as "just a child".  Everything in Arborven is finely balanced and works to an order. Those closest to the tree hold the most power and there is a place and responsibility for each group in the city. To the west is Bitterblight - a dark, menacing shadow-like tree whose legendary poisonous threat is something no one dare talk of. But when Liska stumbles across a plot to put Arborven in danger, she must fight like a warrior and embark on a quest across barren and frozen lands to restore the heart of her city.
The Treekeepers is a dramatic, daring and cinematic adventure; a dangerous journey teeming with alarming characters - giant gorgaunts and tattooed Poxpunks - to face and defeat. Liska, of course, doesn't travel alone. Larwood brings to life a scared but determined crew of support for her mission; Lug, a nervy, awkward worm-charming boy; a well-mannered ghost girl; and a cat with a larger than life personality (my favourite of them all.)
Just as in the Podkin One-Ear series, it is this brave band of unlikely heroes that add the human warmth, humour and heart into the story that elevates it beyond the impact of its stunning outer landscapes and brings emotion, empathy and total engagement to the story. This perilous journey with its young characters' rites of passage throughout is fantastic escapism with a real, powerful classic feel to it. Wonderful.
384 pages / Reviewed by Jennifer Caddick, teacher
Suggested Reading Age 9+
Sue
Home to thousands, the city of Arborven owes its existence to the Undrentree. A well as the buildings covering the tree, set in rings around it are the city circles where the different layers of society live - the farther away from the tree, the less magic the inhabitants have. As a shapewalker, Liska, training to be a warrior, lives in the noon Fort, nestled on the northern wall. When she overhears a plan which threatens the city, Liska cannot find anyone who will believe her and so with Lug, a vermispex who can summon and control worms, Elowen, a ghost-girl, and Fishbone, a feisty kittimew, she sets off on an epic, perilous adventure to save her home.
When it comes to creating fantasy worlds, there is none better than Kieran Larwood. The richness of his imagination, the evocative details of his world-building, the charm of his flawed but endearing characters - all combine to create the most breath-taking, engaging reads which leave the reader longing to return to the world of the book they have just finished. The Treekeepers is just glorious - and (in my opinion) even better than The Five Realms stories.
Friendship is at the heart of the story, showing the importance of valuing others and appreciating them for what and who they are. At the beginning of the story, Liska is determined to earn stripes - marks of gleaming colour for great deeds of courage and heroism - yet by the end of the story, realises that such marks of honour are not necessary to show what sort of person someone is. As she has come to know her companions, her appreciation of them - their kindness, their courage, their loyalty - has grown, as has she in character. Both she and Lug are, at heart, very 'normal' children whose hopes and dreams, whose insecurities and vulnerabilities, readers will identify and empathise with.
Beautifully written, with almost poetic descriptions at times, the story offers a rich vocabulary, including Larwood's own ingenious namings - vermispex not doubt drawing on the Latin 'vermis' for worm, kittimew (my favourite), Arborven from a place sheltered by trees to name a few - as well as a sprinkling of mythical creatures.
It is impossible to review this book without commenting on the incredible presentation of the book as an object of beauty. The dust jacket illustrated by Fernando López Juárez is tempting enough, but peel this off, and there is a map of Larwood's world embossed in gold on the hard cover of the book. Chris Wormell is also responsible for the lovely chapter heading illustrations. This is one which I would give more than 5 stars if I could! Recommended for ages 10+.
384 pages / Reviewed by Sue Wilsher, teacher
Suggested Reading Age 9+
Other titles