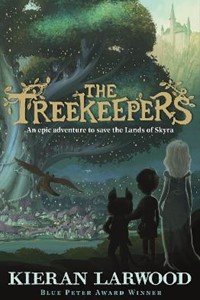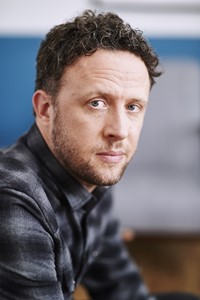 About Author
The Treekeepers is the latest book by Kieran Larwood, author of The Legend of Podkin One-Ear, and it's an action-packed fantasy with a strong environmental message.
Kieran was born in Kenya. He moved to the UK when he was two and lived in various places before settling on the Isle of Wight, where he can still be found: exploring rockpools, climbing trees and writing. He taught reception class in a primary school for 15 years before finally escaping to become a full-time author.
Interview
The Treekeepers  (Faber Children's Books)
Read a Chapter from The Treekeepers
September 2022
Kieran Larwood, author of Podkin One-Ear series, explores nature and our relationship with our environment in his new children's fantasy adventure, The Treekeepers. It carries a powerful and also an optimistic message about what we could achieve, once we live our lives in tune with nature.
Q&A with Kieran Larwood
1.   How did you become a writer? What's been your favourite moment in your writing career so far?
I didn't start writing until I was quite old. I love drawing, and wanted to illustrate my own picture book, but didn't have a story to go with it. Then, when I sat down to write one, I discovered I loved writing more than drawing!
My best moments are always seeing all the costumes of my characters on World Book Day, or when I meet a fan who says my books have made them love reading.

2.   Are you planning more adventures for your bestselling series, Podkin and his friends? Have you started writing any of these, if so?
Yes! There are definitely going to be three more books, and I have written the first draft of Book 7. It will be coming out next year (2023).

3.   Can you tell us about your new book, The Treekeepers?
Treekeepers is a new fantasy, set in a world of shapeshifters, mages and mythical beasts. The characters are children who live in a city of magical trees, but are forced to embark on an epic quest to save it from destruction.

4.   What inspired the story, which explores the relationship between humans and nature?
My publishers asked for a story about shapeshifters, and I happened to already have an idea about a city where the source of magic was in the middle, and people lived in rings around it, growing less powerful the further away they were.
I am also very passionate about the environment, and I know my readers appreciate that aspect of my Five Realms books, so I decided to bring it in to the story. As my idea grew, it became more and more important.

5.   How important is it that children are given these glimpses into a different kind of relationship between humans and the environment?
I think children naturally value and appreciate the environment a lot more than some adults, but I also worry that they don't experience it as much as my generation. I grew up running around the woods and beaches, but parents are (rightly) more cautious about letting children do that now. So I think it's very important to show how dependent we are on nature, and also to help them connect with it as much as possible.

6.   How did you go about building the world of the Treekeepers? Do you start with a map or does that come later?
I had the basic idea of the city and some of the world around in my head, but I always sit down and sketch out a map first. It's a great way to organise your thoughts and come up with new ideas. Sometimes it even takes you in surprising new directions!

7.   What is your favourite creation in this world? Is there anything you'd like to bring into your real world?
I was really pleased with the gryffixes, which are a mixture of fox, eagle and dragon.  If I could bring something into this world, it would definitely be the Treekeepers. I think we could use some of them to teach us how to take care of the world around us!

8.   Can you tell us about your main characters, Liska, Lug and Elowen, and what each of them brings to their quest to find a legendary tree? Who is your favourite supporting character?
Liska is a Shapewalker- a tribe of shapeshifting warriors who protect the city of Arborven from danger. She is fierce, feisty and determined to succeed, but she also develops a soft side in caring for her friends.  Lug, her friend, is a Vermispex- a mage who can summon worms. His powers aren't very impressive at first, but he never gives up trying to improve.  Elowen, who helps them on their quest, has been around for 500 years or more, and is technically dead. She has gathered a lot of important knowledge in that time, but is also always keen to experience something new.
And my favourite supporting character has to be Fishbone, the Kittimew, because he was such fun to write.

9.   How did you decide what Liska, the shape-shifter, would be able to turn into?
I wanted her to shapeshift into a mythical beast, but something more child sized than all the ones which already exist. So I took the idea of a fox, and added wings and dragon scales to come up with something that was new and yet fitted in with all the griffins and manticores.

10. If you could shape-shift, what creature - real or imaginary - would you want to become?
I would love to be able to fly, so any of the legendary creatures in the book would be great. I had a soft spot for the pantherines!

11.   Other than a great adventure, what would you like your readers to take from The Treekeepers?
I hope it helps them to realise the importance of friendship and also of our connection with the natural world.

12.   Do you plan to return to the world of Skyra for another adventure?
That's up to my publishers! But I do have an good idea for a second book already sketched out, so we'll have to wait and see.

13.   What kinds of things do you enjoy doing to relax, and are there any children's books you've read recently that you'd like to recommend to our readers?
I love reading and drawing, and I also enjoy going for long walks in the countryside.
I've read several good books lately: The Fire Cats of London by Anna Fargher, The Chestnut Roaster by Eve McDonnell, Ajay and the Mumbai Sun by Varsha Shah and The Tale of Truthwater Lake by Emma Carroll have all been excellent.
Author's Titles