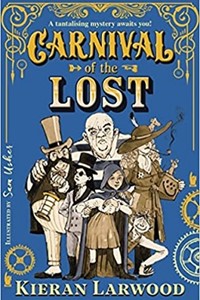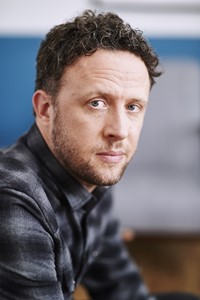 About Author
Carnival of the Lost by Kieran Larwood, author of The Legend of Podkin One-Ear, is the first in an action-packed adventure series about a group of misfits who have mysteries to solve.
Kieran was born in Kenya. He moved to the UK when he was two and lived in various places before settling on the Isle of Wight, where he can still be found: exploring rockpools, climbing trees and writing. He taught reception class in a primary school for fifteen years before finally escaping to become a full-time author.
Interview
Carnival of the Lost (Faber & Faber Children's Books)
February 2022
Award-winning author Kieran Larwood spoke to ReadingZone about the start of his series, Carnival of the Lost, a gripping Victorian adventure with a fabulous cast of characters, a mystery to solve, and an atmospheric introduction to Victorian London. Illustrations by Sam Usher.

Download a chapter extract from Carnival of the Lost
Enter our Competition to win a copy of Carnival of the Lost
Q&A with Kieran Larwood
1. Have you always wanted to be a writer and how did your writing career develop? Were you surprised how well the Five Realms books are doing?
I never even thought about being a writer until I was about 30 years old! I had always loved drawing and art, but had ended up becoming a teacher. I still wanted to do something with my illustrations, so I decided to try creating a picture book. It was only when I began writing the story to go with the pictures that I discovered how much I enjoyed writing.
After that, I began writing all the time, until I was finally ready to try writing a book. I had a great idea (which eventually became Carnival of the Lost) and I began sending it off to agents and publishers. It got rejected lots of times, but I didn't give up. Finally, I entered it into a competition and it won. The prize was getting published.
My second book was Podkin One-Ear- the start of the Five Realms series. I really just wanted to write a fantasy story because I love reading fantasy so much. I was very surprised when it got published so quickly and won awards. It's great to be able to write stories, but even better to see readers enjoying them!

2. There are now six Podkin One-Ear (Five Realms) books published, will there be any more adventures?
Yes, there will definitely be three more to finish off the main story. And I'd love to write more exploring other parts of the world too, if I get the chance!
I don't want to give away any spoilers, but Book 7 will return to Podkin and his friends, as certain things that happened in Uki & The Ghostburrow are going to cause them a lot of problems…

3. Will you be sad to say goodbye eventually to the Five Realms world?
Yes, terribly! I will have been writing about that world for almost ten years by the time I finish the cycle. I think I've spent more time there than in the real world, and the characters seem like old friends.

4. Can you tell us about your new series, Carnival of the Lost?
The first book in the series is a rewrite of my first ever book, which was great to revisit and spruce up. The stories follow the members of a Victorian sideshow, who all have unique gifts and unusual appearances. At night, when they have finished entertaining the public, they slip out into the foggy streets of Victorian London to solve crimes and help those even less fortunate than themselves. They are action-packed tales with a dark, gothic setting and a hint of steampunk.

5. What inspired you to write a Victorian mystery adventure?
I have always been fascinated with that period, especially the way that there was a very dark side beneath all the pomp and finery. I think the fog-choked streets of Victorian London make a brilliant setting for villains and adventure, and I wanted to have a group of unusual characters who bickered and fought with each other, but ultimately became a family of their own. A Barnum-like sideshow was the perfect place for them.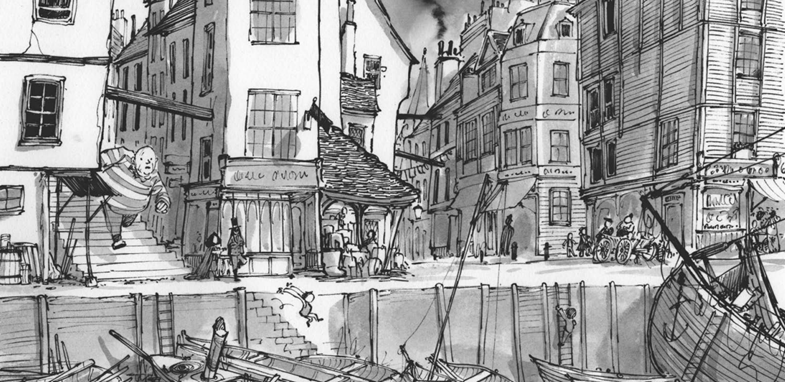 6. How much research did you need to do into Victorian London - and for the notes at the back of the book?
I already knew a bit from my studies at school and from exploring London when I lived there, but I did a lot of research into the lives of Victorian Londoners during the period, and read many books about them. I also had to research the Great Exhibition quite thoroughly, and I spent far too many hours staring at old maps of London streets!

7. Although the historical detail is factual, you also bring in a steampunk element to the book. Why did you decide to do so? 
I decided that, seeing as the characters had powers and abilities that strayed into the realm of fantasy a bit, it was OK to take a few more liberties about inventions and things. I'm a huge fan of the steampunk genre, so I couldn't resist adding a snippet of clockwork in here and there. I didn't want it to take over, though, and I wanted my world to be fairly true to history, so I didn't let myself get carried away with airships and robots…

8. How did you decide on your group of key characters and what each of their key characteristics would be?
I came up with Sheba straight away, and I knew she was going to be a curious detective, so I made her part-wolf, with an ability to track scents. I was also planning to have a lot of combat and action, so I needed some tough fighters, which called for Sister Moon and Gigantus.
And for a bit of comedy, I came up with Pyewacket. The name comes from an actual 'witch's imp' from the seventeenth century. He looks pretty impish, and he also pretends to have magical powers although, of course, he doesn't really.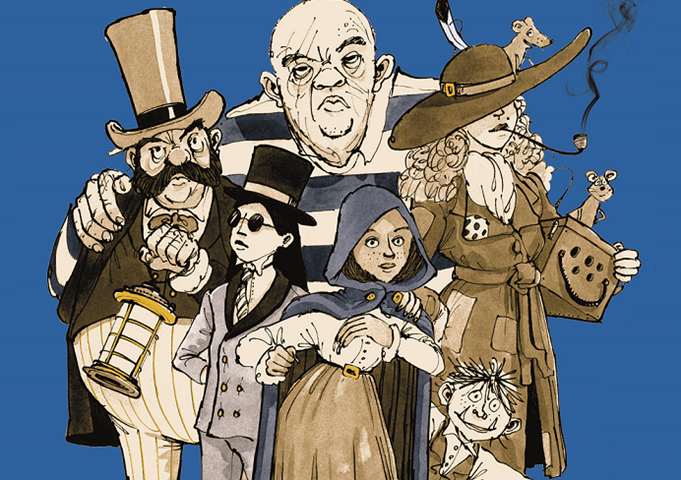 10. How do you develop your characters? Did any of them take you by surprise?
I've been writing and re-writing them for quite a long time now, so they have all changed quite a bit. Sheba's wolfish side has become a lot more fierce, and the story of her mysterious past evolved from virtually nothing in the first draft.
I think it's important for characters to progress throughout the story. I always knew Sheba was going to find new friends amongst the Carnival, but the strength of her new relationships surprised me. What started off as a rag-tag bunch of misfits really became a proper family by the end. And the most surprising was Pyewacket- he was supposed to be rude, disgusting and humorous, but ended up quite soft and sweet!

11. What do you think of Sam Usher's illustrations and how he depicts them all?
Sam has done an amazing job at bringing them to life. His pen and ink drawings really capture the atmosphere. The characters are all spot on, and the way he draws Victorian architecture is incredible. He really was the perfect choice to illustrate Carnival.

12. There are still lots of questions remaining for the friends - can you tell us what's next for the group?
The next book, Carnival of the Hunted, is set ten years on from the first, so things have changed quite a bit! Sheba and Pyewacket have escaped Plumpscuttle's sideshow, but are still looking after others in need.
The main characters are three new children who find themselves in deep trouble, and come to the Carnival for help. There are lots of sinister villains and evil plots everywhere, along with some new inventions and dark secrets of hidden London.

13. What keeps you at your desk when you're writing? Snacks? Coffee? The internet?
The internet is terrible for distracting me, so I try not to go anywhere near it, unless I have to research something! I do tend to drink quite a lot of coffee, though.

14. Do you ever get stuck with your writing?
I tend to plan my stories quite carefully before I write, so I know which part is coming next. Some days are a struggle, though, especially if you're feeling tired or under the weather. I usually find the best thing to do is to stop trying to force it and go for a walk, then have another go when I get back. Walks are great for coming up with ideas.

15. What are your favourite escapes from your desk?
I love getting out and about in the countryside (weather permitting). I also love reading, doodling on my ipad and playing board games or video games with my children.

16. Your books are full of adventure - What's the biggest adventure you've embarked on?
I'm afraid I'm not very adventurous in real life! The most exciting thing I've done was a road trip in America (a very long time ago now). Some friends and I travelled all the way down the Pacific coast and visited amazing places like Yosemite park and the Grand Canyon. We camped out most of the way, and had to listen to coyotes howling outside the tents at night. I was quite scared.
Author's Titles