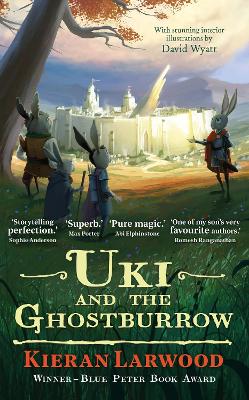 By Author / Illustrator
Kieran Larwood, David Wyatt
Genre
Fantasy
Age range(s)
9+
Publisher
Faber & Faber
ISBN
9780571342860
Format
Paperback / softback
Published
07-04-2022
Synopsis
From bestselling author and winner of the Blue Peter Book Award, this is the sixth adventure set in the world of Podkin One-Ear.'Why are you worried? You have us beside you! We've captured three spirits already. We've beaten Endwatchers, two clans, snakes, plagues and a whole ocean of disgusting maggots.'After capturing Charice, there is only one spirit left for Uki to find: Mortix, the most dangerous of all.
With his friends Jori, Cole and Kree, Uki heads to Eisenfell - the greatest city in Hulstland - only to find that Mortix has taken control of Emperor Ash and is plotting to conquer the whole Five Realms with her terrifying army.  Uki must dodge the Endwatch, the Shrikes, Clan Septys and the guards and find a way to complete his quest before all is lost.
'Storytelling perfection.' Sophie Anderson.  'Pure magic.' Abi Elphinstone'.  Superb.' Max Porter  'A spellbinding story full of friendship, excitement and magic.' Guardian  'A classic.' BookTrust'Riveting adventure.' Kirkus
Reviews
Jennifer
Uki and the Ghostburrow, the last in the series of the Five Realms books, starts as dramatically as ever with a desperate, life-threatening, dangerous journey through forbidden and foreboding territory. The tension is so high in both the tales that weave through the book; the storyteller himself (the Bard) and his apprentice Rue are facing immense peril and Uki and his band of outcasts now face the final spirit of four that Uki has been tasked to capture to save the future of the Five Realms from destruction.
Capturing the powerful Mortix proves to be the most dangerous, exciting and high intensity quest so far. There are so many twists, turns and deceptions along the way and Uki has to place his total trust in his adopted "tribe" (even as his own mind and hidden voice makes him doubt himself). The Bard must tell the story of his life to save a life in this brilliant book.
I loved the heroes of this book – so many examples of huge courage and heart in the smallest( and furriest) forms as it is the young child rabbits who become Uki's brave and fiercely determined army - determined to free their families from being slaves to the malevolent Mortix. These tiny, starved and scared creatures are in a vast, terrifying landscape that the author creates with such detail and care. Illustrator David Wyatt again creates perfect visual images that carry the reader right into the scenes.
I have loved this entire series and this final book was just stunning. A thrilling, heart -stopping and fast paced quest adventure in an amazingly crafted land where layers of tiny, intricate details add up to a whole huge fantasy world. Characters with such heart and personality and themes of standing up for the right thing and for others. Kieran Larwood's books are absolute classics and I can't recommend them enough!
416 pages / Reviewed by Jennifer Caddick, teacher
Suggested Reading Age 7+
Other titles