The Ultimate Guide to Growing Dragons (The Boy Who Grew Dragons 6)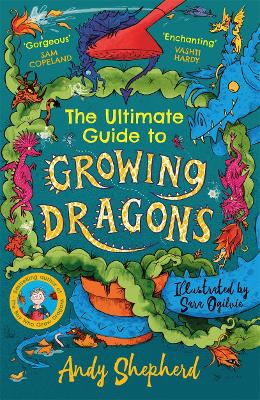 By Author / Illustrator
Andy Shepherd, illus Sara Ogilvie
Genre
Magical Realism
Age range(s)
7+
Publisher
Bonnier Books Ltd
ISBN
9781800783157
Format
Paperback / softback
Published
15-09-2022
Synopsis
An enchanting companion title to Andy Shepherd and Sara Ogilvie's bestselling THE BOY WHO GREW DRAGONS series.   Tomas, the boy who grew dragons, is officially the Grand High Dragon Master. He's lived with his dragons - Flicker and Zing - and grown dozens more. He's an expert at caring for the dragonfruit tree. He knows all the tricks for training dragons, nurturing dragonfruit seedlings and defusing dragon poo. So - he has this brilliant idea. He and his friends have got to get all their dragon expertise down, in one easy-to-read place, for them, and anyone else who might find themselves growing dragons!  The only problem is - Tomas's friends Ted, Kat, Kai, Liam and Aura are currently scattered all around the world, from Suffolk to Mexico to China. Perhaps, though, if they can get their heads together, they can figure this all out together, and create the most brilliant ULTIMATE GUIDE ever, together?   Of course, what they don't realise is they still have a lot to learn about dragons!
Discover more about growing dragons with author Andy Shepherd!
Reviews
Donna
If you ever come across a dragon fruit, you wouldn't necessarily know if it was active or not; if it was housing a dragon or not. So, just in case, it would be good to know just what to do if it was active, because - in case you didn't know - dragons can be dangerous if you don't handle them properly.
With the Superhero Squad off on their own adventures around the world, Tomas decides to write a guide to growing dragons, gathering all the information he has collected from his, and his friends', first experiences of raising dragons. But even with his vast knowledge, there is a new dragon in the garden that isn't following any of the usual methods. This one has Tomas stumped. With the help of his grandad, he tries again and again to find out how to connect with this new, rather dangerous dragon. Little does he know that the key to this one is a very unusual thing indeed. And with the Superhero Squad sharing their experiences too, Tomas starts to put together the Ultimate Guide for all would be Dragon Growers.
Andy Shepherd's Ultimate Guide to Growing Dragons is the perfect addition to her Dragon book series. Continuing Tomas' story and introducing us to yet more dragon wonders, as well as collating key information to help all future dragon growers succeed. There is even space to add details of their own to the Ultimate Guide. A wonderful blend of fiction and non-fiction wrapped up in the pages of dragon adventures, with themes of friendship, family, perseverance and love.
272 pages / Reviewed by Donna Burkert, teacher
Suggested Reading Age 7+
Jenny
A highly anticipated and welcome return to the dragons. The Ultimate Guide to Growing Dragons is a wonderful chance for fans of Andy Shepherd to catch up with her heart-warming set of characters - human and winged alike. For readers new to the delight of these dragons, it will capture their imagination and introduce them to a whole new magical world.
We reunite with Tomas (the Grand High Dragon Master) and his squad of fellow dragon nurturers, who are now spread across the globe, seeking and experiencing amazing dragon discoveries of their own. From Suffolk to Mexico and China come tales of these beautiful, captivating and entertaining winged creatures from the past to the very newly hatched.
Tomas decides to pass on his wisdom and create a 'Guide to Growing Dragons', compiling all the do's and the (many painfully learnt!) don'ts of caring for your own magical, shimmering and chaos-causing creature. Tomas gives us a wealth of knowledge from dragon fact files and suggested dragon snacks to (true to life ) information that the reader too could delve into - dragon carvings, Chinese dragons and the power of the stars.
Alongside the narrative of the guide - that the superhero squad work on from around the world with messaging, emails and video calls - is the fun and entertaining continuation of their own dragon-owning escapades. Tomas needs all his expertise with a newly hatched and very bad tempered, spiky and stinky dragon that is terrorizing Grandad's garden! All this and little sister Lolli is demanding she spread her own wings and is now old enough to be taken on a magical dragon flight, too.
This is a lovely, enchanting and comforting book to get wrapped up in. The fabulous illustrations by Sara Ogilvie are always such an important part of the story, detailing the charm and personality of the story's endearing characters (Grandad and Lolli always bring a smile to your face) and the uniqueness and liveliness of many, many types of mayhem-causing dragons. The Ultimate Guide to Growing Dragons is Book 6 in a truly feel good and joyous series that swoops the reader away into a world of shimmering, colourful and fire-breathing adventure.
272 pages / Reviewed by Jennifer Caddick, teacher
Suggested Reading Age 7+
Other titles