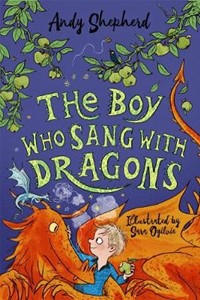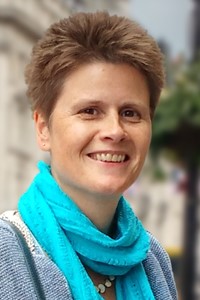 Biography
Andy Shepherd is a bestselling author of middle-grade fiction, including The Boy Who Grew Dragons series, and picture books. She lives near Cambridge with her husband and two sons. She spends her spare time trying to figure out how to move this beautiful city closer to the sea.
Interview
January 2021
The latest book in the best-selling series, The Boy Who Grew Dragons, brings us new dragons, crazy adventures and surprises from the past!
Watch Andy Shepherd introduce The Boy Who Sang with Dragons series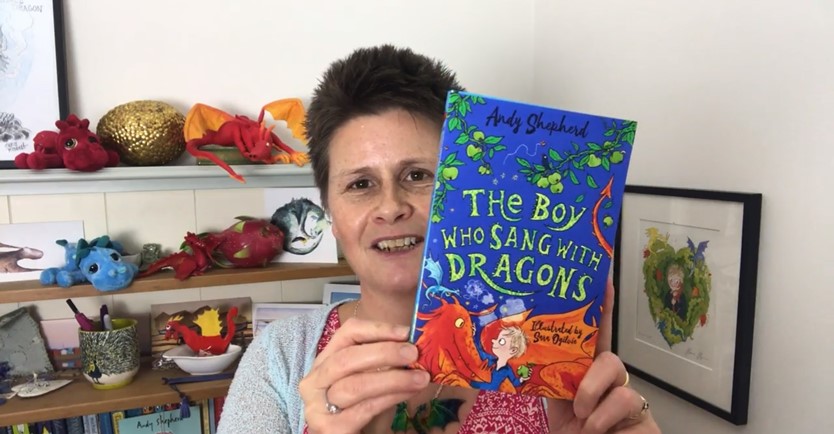 The Boy Who Sang with Dragons (The Boy Who Grew Dragons series)
1. Can you tell us how the first dragon story - The Boy Who Grew Dragons (Piccadilly Press)- came about?

I've always told my sons stories and one day I told them about this dragon that would fly down and lift our car out of a traffic jam - we really wanted to get to the beach! I loved the idea of a dragon and the magic it would bring being in our ordinary world, not somewhere fantastical.

Then my sons started asking questions, 'Why did the dragon live in our village?' 'Where had he come from?', 'Why did he disappear sometimes?' So I had to come up with some answers. And the story just grew and grew, and then I remembered there actually is a dragon-fruit tree - and rushed off to look it up on the computer - just like Tomas.

Straight away, I knew it deserved to be in a story, because it really is an amazing plant, with these wonderful spiky fruit and huge moon-white flowers that only bloom for one night.


2. What is the latest book, The Boy Who Sang with Dragons, about?

Tomas is now the dragon whisperer, the dragon protector. But when something as precious as a dragon is at stake that can be a big responsibility; luckily, sharing the magic only makes it grow stronger.


3. What is so appealing about your dragons?

I think dragons are endlessly appealing, but then the idea that you could grow one yourself, brings all that possibility of magic right onto your doorstep. I think it's really exciting, because anybody could find one of these trees.


4. What do children tell you about the books?

They love telling me about the dragons they would grow and it's so fantastic to hear their ideas. They also love that Tomas and Lolli get on so well.

I think my favourite comment was from my son who had grown up with our dragon story, and absolutely believed in our dragon. I remember telling him when he was in Year 2 about the dragon fruit and how it came from a real tree and he jumped up and punched the air. 'This is brilliant, now everyone will have to believe me when I tell them my dragon is real!'


5. If you could have any one of your fictional dragons living in your back garden - which one would it be?

Flicker, because he was the first dragon we grew. And he has a huge heart and would always fly us out of trouble.


6. Or would you rather avoid the trouble that seems to come with young dragons?

Not at all. These books are total wish-fulfillment on my part! Besides, dragons bring a lot more magic than mayhem with them.


7. Did you create any other kinds of dragons that never made it into your books?

Yes - I'm always growing dragons. There are four or five crops a year from a dragon-fruit tree. My sons and I have to make up more stories on our walks so they don't feel left out.


8. What were your initial thoughts about Sara Ogilvie's gorgeous illustrations - did they change the way you saw your characters?

Sometimes it feels like Sara has reached into my head and seen what I've been seeing imagining. Tomas is very much inspired by my youngest son and her picture of Tomas turned out to be very like him at that age.

I don't think I had pictured Flicker quite as she drew him, but when I saw him it was like meeting him and thinking 'of course you look like that in real life'. Sara is amazing and has made these books completely beautiful. Every time I see her illustrations I give a squeal.


9. What would you like your readers to take from the books?

I tried very hard to balance lots of things in the books. There's the exploding dragon poo and the fun of the chaos the dragons cause the children. But I also wanted to show the strength of the relationships between the friends and between Tomas and his grandparents and his sister. I loved writing those scenes where Grandad gently helps Tomas through the stickier emotional moments.

I think there are a few things I'd like readers to take away from the books: the idea of keeping your eyes open for the magic in the world, of being kind to each other, and nurturing relationships and knowing that they will grow and change and can be messy at times, just like growing dragons.


10. Will you be writing any more The Boy Who Grew Dragons books?

I don't think it's going to be the last we see of the dragons, but I'm still working on how they will land in the world next. I'm playing with other ideas for the same age group as well, but they are very shy at the moment so don't like me talking about them.


11. Where and when do you prefer to write? What are your favourite escapes from your desk?

I have an office, which is also the spare bedroom, so I do have space to write. I try and work during school hours, but invariably I spend the morning staring at the page only to eventually get into the flow at ten to three. So then I can end up carrying on through the afternoon, if I can balance everything or sneak away.

I am part mermaid so I need to be in, on or near water frequently. If I can't get to water I walk. I definitely need to be outside to escape


12. Tomas and his friends have loads of adventures through these books - What's the biggest adventure you've ever had?

I've done some hair-raising things like parachuting and travelled to some interesting places, which involved some exciting moments, but I can't point to some wonderful adventure like hiking up Mount Kilimanjaro or paddling up the Amazon river.

But wherever I go I'm always having adventures, even if it's just walking down the lane or kayaking on the local lake. Because I'm always spotting faces in trees or wondering what would happen if that stone was an egg, or paddling away to an island that might have a phoenix nest on it.

I'm a firm believer that when you look after and grow your imagination, you can go on wonderful adventures whenever and wherever you like.
THE BOY WHO SANG WITH DRAGONS by ANDY SHEPHERD (£6.99, Piccadilly Press) is now available from bookshops.
Author's Titles