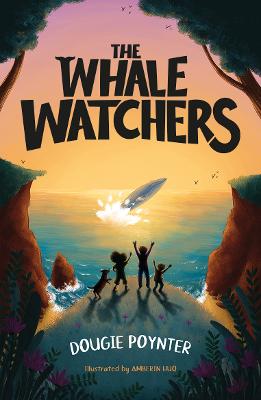 By Author / Illustrator
Dougie Poynter, Amberin Huq
Genre
Environment
Age range(s)
7+
Publisher
Owlet Press
ISBN
9781913339548
Format
Paperback / softback
Published
07-07-2022
Synopsis
Join The Whale Watchers on an unforgettable summer holiday adventure that raises awareness of the key role that whales play in climate change and explains how readers can help protect whales and their environment by reducing single use plastics and embracing a more sustainable reuse culture.
It's the first day of summer holidays and Finn can't believe his marine biologist mum is dragging him and his little brother Jesse off to miserable, rainy Scotland to study the whales that live there. Finn longs to be somewhere hot, lying by a hotel pool with his headphones on. He's sick of his mum's work, and of the knot in his stomach that tightens whenever he thinks about her hopeless cause - beautiful sea creatures endangered by a plastic-polluted ocean. But when a girl with binoculars round her neck and a dog at her heels takes Finn and Jesse to her secret lookout point, Finn soon finds himself swept up in an unforgettable adventure. But can he find hope too?
Your support helps this book give back: Increasing awareness, creating change and donating back to the cause.   This book was commissioned by BRITA, to raise funds for their partner WDC (Whale and Dolphin Conservation) the leading charity dedicated to the protection of whales and dolphins, who will receive a share of the profits.
Reviews
Sharon
Well, this book was a pleasant surprise to read on a super, hot sunny Saturday morning! In The Whale Watchers, Finn is unwillingly dragged off to Scotland by his marine biologist mother for a working 'holiday' with his whale-mad younger brother, Jesse. Finn is a worrier, he is concerned about the future having listened to every snippet of cataclysmic environmental news and has lost hope for the future at a tender aged.  This is the heart-warming story of his realisation that all is not lost, and about friendship and making a difference.
This book is perfect for KS2 topic work on the environment, covering issues such as plastic pollution, littering and the importance of preserving wildlife whilst also addressing the anxiety children may develop knowing about such issues. A very well written and put together book - a real bonus being its length, with plenty of scope for STEM development and careers, for those of us raising aspirations for our youngsters. Highly recommended for readers aged 8+.
224 Pages / Reviewed by Sharon Porter, teacher
Suggested Reading Age 7+
Other titles