This Poison Heart: From the author of the TikTok sensation Cinderella is Dead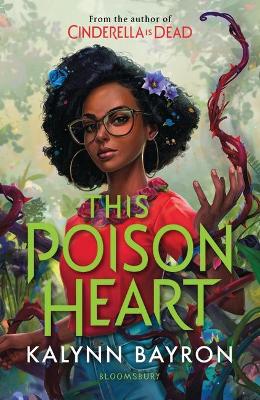 By Author / Illustrator
Kalynn Bayron
Genre
Representation & Inclusion
Age range(s)
14+
Publisher
Bloomsbury Publishing PLC
ISBN
9781526632791
Format
Paperback / softback
Published
29-06-2021
Synopsis
'Kalynn Bayron does more than re-write a fairy-tale ... She breaks it apart and rebuilds it into a wholly original and captivating story where girls finally decide for themselves who lives happily ever after' - Brigid Kemmerer
Ever since she can remember, Briseis has had power over plants. Flowers bloom in her footsteps and leaves turn to face her as though she were the sun. It's a power she and her adoptive mothers have spent her whole life trying to hide. And then Briseis inherits an old house from her birth mother and suddenly finds herself with the space and privacy to test her powers for the first time. But as Briseis starts to bring the house's rambling garden back to life, she finds she has also inherited generations of secrets. A hidden altar to a dark goddess, a lineage of witches stretching back to ancient times, and a hidden garden overgrown with the most deadly poisonous plants on earth. And Briseis's long-departed ancestors aren't going to let her rest until she accepts her place as the keeper of the terrible power that lies at the heart of the Poison Garden.
Cinderella Is Dead author Kalynn Bayron brings a message of proud inclusivity to this empowering fantasy about a young woman finding the strength to challenge everything she has been told is true.
Reviews
Eileen
Briseis Greene, an adopted Brooklyn teenager with a unique and uncanny ability to control plants, can make seeds grow and flowers blossom just with a touch. But being this green-fingered is both a blessing and a curse; useful for generating income to keep her adopted parents' flower shop afloat when they struggle to make ends meet, but completely alienating to any potential friends.
When her aunt dies and leaves Bri a dilapidated estate in Rhinebeck, rural New York, it seems like the perfect chance to make a new start and test the extent of her powers in secret. But the rambling, overgrown grounds of the house, the neglected apothecary and the locked garden with its poisonous plants, hold many secrets - and maybe also answers to Bri's questions about her birth family, her past, her powers and their purpose. As she magics the grounds back into life and strangers arrive asking for plant potions and medicines, Bri discovers another more sinister side to her powers and her legacy. Striking family portraits, a trail of clues, a letter, a hidden altar, a lineage of witches, an ancient curse and a secret so closely guarded that the gods themselves might have to intervene...
Inspired by an article on the Poison Garden at Alnwick and hugely influenced by the author's love of Little Shop of Horrors, The Secret Garden, Poison Ivy and Hadestown, This Poison Heart is an epic tour de force. Cleverly interweaving gothic tropes, plant lore and Greek mythology, this is a contemporary and original fantasy, empowering and inclusive with a strong feminist tone and flashes of humour too.
Although This Poison Heart tackles timeless issues of identity and coming of age, at its heart is the fabulous relationship between Bri and her adopted mums; warm, loving, supportive, and affecting everything in the story. The supporting cast of characters is richly drawn and realistic too from intriguing local boy Karter to mysterious rich girl Marie.
Bayron is a like a breath of fresh air in the fantasy genre, an exciting talent and a compelling storyteller. It's impossible not to be so completely drawn into this dark and thrilling family mystery that the cliffhanger ending comes as a real shock. The sequel cannot come soon enough.
400 pages / Reviewed by Eileen Armstrong, school librarian
Suggested Reading Age 14+
Tanja
After having successfully flipped the Cinderella myth and shattered the glass slipper into smithereens in Cinderella is Dead, Kalynn Bayron is back with another intriguing reimagining, This Poison Heart. Fans of YA contemporary fantasy will love her reinvention of the Medea myth where Medea was originally cast as a villain. Inspired by cracking characters like DC Comics' Poison Ivy - possessor of photo kinetic powers - and the resourceful Mary Lennox, of Burnett's The Secret Garden, who is determined to unlock nature's secret of healing, as well as the weird world of Audrey II in Little Shop of Horrors and the real poisonous garden at Alynwick, Kalynn has created a powerful cornucopia of deadly plant life. Brilliantly researched botanical details will thrill and shock as strong black queer protagonist Briseis, supported by her loving mothers, enchants the reader.
From the opening pages, a fantasy of family secrets unravels around a mysterious inheritance. Briseis, named after the protagonist of the Iliad, is frightened and bewildered by her own abilities but knows she will be called upon to harness them to save those she loves. She is also dealing with matters of the heart and the strange flutterings caused by her proximity to a beguiling stranger. Desperate for friends, she is unsure whom she can trust and worried about becoming too vulnerable. Meanwhile her traumatic family legacy stalks her as she follows a trail of bizarre clues and striking portraits while uncovering a run-down apothecary shop.
Moving the action from a flower shop in the 'concrete jungle' of Brooklyn to the 'Addams Family Mansion' in the small town of Rhinebeck, in New York State, This Poison Heart has a real sense of place and an eerie mysticism about it with a splash of supernatural strangeness. There's also a touch of H. Rider Haggard's 'She' with the ruthless quest to obtain an eternal goal.
Diversity, bewitching identity and strength of purpose are at its core. An intoxicating mix of dangerous magic, Greek myths with a Feminist slant and coming of age tribulations, which reverberates with a dramatic denouement, leaving the reader on a heart wrenching cliff hanger yearning for a sequel, This Poison Heart will appeal to students of the classics, aficionados of Greek mythology, LGBT readers who want engaging fantasy without an agenda and its target audience who see themselves reflected in its pages. It will particularly interest those who appreciate women breaking the restrictive bonds of reductive thinking which has kept them trapped in patriarchal constructs.
400 pages / Ages 14+ / Reviewed by Tanja Jennings, school librarian
Suggested Reading Age 14+
Other titles