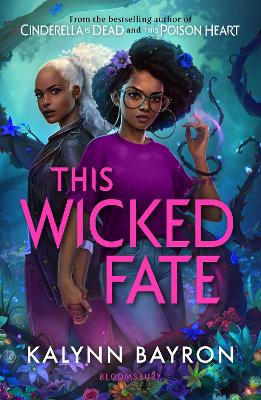 By Author / Illustrator
Kalynn Bayron
Genre
Fantasy
Age range(s)
11+
Publisher
Bloomsbury Publishing PLC
ISBN
9781526650726
Format
Paperback / softback
Published
21-06-2022
Synopsis
'This duology closer delves deeper into mythology while depicting textured, realistic relationships' - Kirkus Reviews.  'A delicious mix of intoxicating fantasy and coming of age, steeped in Greek mythology and peppered with references to the Jordan Peele films Get Out and Us' - Observer New Review on This Poison Heart.  'This Poison Heart is a book to enjoy on the first read, notate in the rereads, and pump you up for what's to come in its sequel. You should pick up this book!' - blackgirlscreate.org_
Briseis's mother is dead, but there is one chance to bring her back: find the last piece of the deadly Absyrtus Heart. If Bri is to locate the missing piece, she must turn to the blood relatives she's never known, learn of their secret powers and take her place in their ancient lineage. But Bri is not the only one who wants the Heart, and her enemies will stop at nothing to fulfil their own ruthless plans. Strengthened by the sisterhood of ancient magic, can she harness her power to save the people she loves most?
Kalynn Bayron, bestselling author of Cinderella is Dead and This Poison Heart, returns with the second and final book in this stunning, empowering and inclusive fantasy duology.
Reviews
Tanja
Kalynn Bayron reinvented the myth of Cinderella shattering the patriarchal construct of the tortuous glass slipper into fragments in Cinderella Is Dead which was recently banned in Texas because of the power of its representation. She passionately believes that "inclusive children's literature in the classroom helps foster feelings of empathy and compassion" and has continued to celebrate strong black LGBTQ female protagonists in her YA novels.
She described her botanical horror thriller This Poison Heart as 'The Secret Garden meets Little Shop of Horrors'. Its sequel, This Wicked Fate, leaps from a catastrophic cliff hanger to deliver an action-packed and perilous quest for Briseis as she resolves to reunite the pieces of the Absyrtus heart.
In uncovering the deadly secrets of her Colchis family line, Briseis has opened up a world of discovery and pain. Her chlorokinetic powers are both enriching and terrifying as she struggles with betrayal and inexplicable loss. Her quest is reminiscent of Isis as she hunted for the dismembered Osiris, Jason's search for the Golden Fleece in the land of Colchis and Odysseus's journey, which charted dangerous waters populated by savage creatures.  Bayron successfully takes a predominately masculine myth and gives it back to the descendants of Medea as Briseis, Marie, Persephone and Circe battle with grief and dark forces that threaten to destroy them as they race against the clock to fulfil their destiny.
This Wicked Heart is testament to the power of stories to generate reimagined narratives. Bayron was influenced by "National Treasure meets Percy Jackson with a little bit of Pirates of the Caribbean thrown in". Her exploration of generational trauma and the psychological effects of bereavement elevate her story above a standard YA fantasy. It's atmospheric, emotional and fiercely Feminist as Medea Vs Jason is re-examined, the price of immortality is revealed and attractions blossom.
This Wicked Fate will appeal to fans of Rick Riordan's Percy Jackson [which also explores the mercurial nature of Gods], Rowling's Harry Potter and botanical horror because of its fantastical and sacrificial elements. Bayron has created a successful sequel which will satisfy her target audience and intrigue other readers of anti-patriarchal YA.
320 pages / Reviewed by Tanja, school librarian
Suggested Reading Age 14+
Other titles