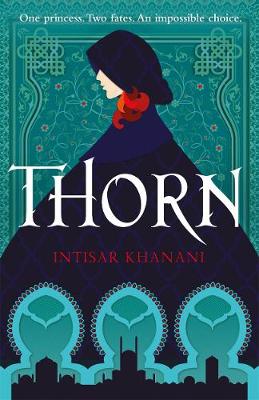 By Author / Illustrator
Intisar Khanani
Genre
Fantasy
Age range(s)
14+
Publisher
Hot Key Books
ISBN
9781471408724
Format
Paperback / softback
Published
24-03-2020
Synopsis
Princess Alyrra has never enjoyed the security or power of her rank. Between her family's cruelty and the court's contempt, she has spent her life in the shadows. Forced to marry a powerful foreign prince, Alyrra embarks on a journey to meet her betrothed with little hope for a better future. But powerful men have powerful enemies - and now so does Alyrra. Betrayed during a magical attack, her identity is switched with another woman's, giving Alyrra the first choice she's ever had: to start a new life for herself or fight for a prince she's never met. But Alyrra soon finds that Prince Kestrin is not at all what she expected. While walking away will cost Kestrin his life, returning to the court may cost Alyrra her own. As Alyrra is coming to realise, sometimes the hardest choice means learning to trust herself.   Inspired by The Goose Girl fairytale by the Brothers Grimm.
Reviews
Linda
Wow, what a great read, couldn't put it down as it's full of drama and the twists and turns of a great fantasy world.

Princess Alyrra is betrothed to Prince Kestrin, but believes that he will be cruel and uncaring as her brother. Alyrra longs to escape her life as a princess as it confines and restricts her.  On the way to meet her betrothed, a sorceress robs her of her identity and switches her likeness with that of Valka, a long ago friend who lived her life in disgrace after Alyrra had to disclose her as a thief.  Now Alyrra, as Valka, has to make a choice; stand up for what she believes in by returning to the Court, or take the opportunity to start a new life. What will she do? 
One of the great strengths of Thorn is that the characters have great depth and believable personalities even though they are fulfilling traditional roles (the princess, the prince, the witch etc). It is a pacey, well written fantasy (a fairy tale it is not!) that contains magic, betrayal, death, abuse and many other themes, making this suitable for 14+ readers.

It would be a great read for book clubs due to the further reading opportunities of the original Goose Girl fairy tale, and other discussion points that are raised at the end of the book. I absolutely loved this version of the original and I'm pleased that there will also be two further stand alone books from Thorn's fantasy kingdom containing new characters. There is a taste of them at the end of this book as the author has added a short story from The Kingdom of Thorn called The Bone Knife. Enjoy the adventure, it's well worth it!

512 pages /  Reviewed by Linda Brown, school librarian
Suggested Reading Age 14+
Other titles