Tiffany Aching's Guide to Being A Witch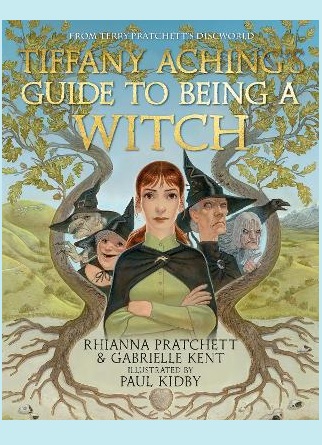 By Author / Illustrator
Rhianna Pratchett, Gabrielle Kent, illus Paul Kidby
Genre
Fantasy
Age range(s)
11+
Publisher
Penguin Random House Children's UK
ISBN
9780241651995
Format
Hardback
Published
09-11-2023
Synopsis
The ultimate illustrated guide to being a witch in the Discworld universe - a must-have for any Terry Pratchett fan.  "They say you don't find witchcraft, it finds you . . ."An illustrated and practical guide to being a witch in Discworld, covering everything you've ever wanted to know from telling the bees to magical cheese, from working with other witches to dealing with elves, from tending flocks to fending off forces from other worlds.
This beautiful and practical guide has been compiled by Tiffany Aching herself, including snippets of remembered wisdom from Granny Aching alongside notes from Granny Weatherwax, Nanny Ogg, Miss Tick, and Rob Anybody who offer their own unique perspectives on all things witchcraft. Whether you're a herbologist or a headologist, this book will inspire and empower new witches and seasoned practitioners alike.
With colourful illustrations from Paul Kidby throughout, this brilliant in-world guide is the perfect addition to any Discworld collection.
Find out more in our Q&A with authors Rhianna Pratchett and Gabrielle Kent
Reviews
Lorraine
Do you wonder if the strange occurrences around you may be because you have the gift? Looking for answers? Tiffany Aching has all the information you need in her luxurious new book Tiffany Aching's Guide to Being a Witch! A long term fan of Terry Pratchett's Discworld series, I was slightly apprehensive about the new book by Rhianna Pratchett and Gabrielle Kent, but I needn't have worried. Although it's been a while since I have read any of the books, the voice and humour of the original books all came flooding back while I read this guide and I found myself laughing or cackling along.
The book is split, as one would expect, into chapters on everything one needs to know about a witch's life in the Discworld and how to avoid those tricky situations, such as being burnt to death or thrown into a pond to drown. Attire, broomsticks, familiars and covens are all covered as well as the perils of too much cackling and possible loss of oneself during 'borrowing'.
The side-notes littered throughout, written by key characters from the original books, including Granny Weatherwax, Nanny Ogg and Rob Anybody, ensures that the life and feel of the Discworld is carried along with the information.
Definitely a book for people that have already experienced Terry Pratchett's series, Tiffany Aching's Guide to Being a Witch has spoilers and clues which will only make sense if you know past events. Having said that, as a stand-alone book it is very humorous and informative as well as beautifully illustrated. Filled with full page and spot images by illustrator Paul Kidby, the characters and witches' necessities are brought to life. Expressive and colourful, it is a work of art, with a gorgeous gilt edging and slip case; this would make a wonderful gift for a fan, as well a great addition and accompaniment to the series.
Much in the vein of the wonderful Terry Pratchett, the book's ending is superb, with a poignant message for anyone and everyone, whether called to witchcraft or not, and it left me looking forward to more books to accompany the series. Personally, I hope the next one is Applying to the Unseen University or How to be a Wizard by Rincewind! Highly recommended.
208 pages / Reviewed by Lorraine Ansell, school librarian
Suggested Reading Age 14+
Other titles