Toto the Ninja Cat and the Great Snake Escape: Book 1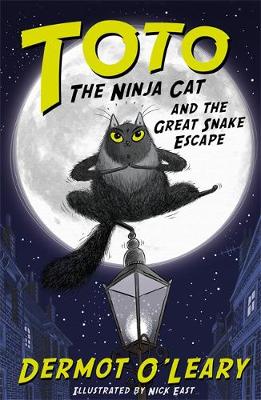 By Author / Illustrator
Dermot O'Leary, Nick East
Genre
Adventure
Age range(s)
7+
Publisher
Hachette Children's Group
ISBN
9781444939453
Format
Paperback / softback
Published
21-09-2017
Synopsis
Meet Toto: she's no ordinary cat, and she can't wait to have an adventure with you! From one of the UK's best-loved broadcasters, purrfect for fans of The Aristocats, The Secret Life of Pets and Atticus Claw Breaks the Law.

Toto the cat and her brother Silver live footloose and fancy-free in a townhouse in London. Toto is almost totally blind, and learned to trust her senses from a ninja cat-master who taught her back in Italy where they were born. By day, Toto and Silver seem to be ordinary cats, but by night, they love to have adventures!

One evening, news reaches Toto that a king cobra has escaped from London Zoo! Together with help from a very posh cat and two hungry tigers, Toto and Silver must investigate. Can they find the giant snake, before it's too late?

Ideal for reading aloud or for children to curl up with and read alone, the story features brilliant black and white illustrations throughout. With gentle themes of friendship, inclusivity and winning in the face of adversity, this is a hilarious must-read for all animal-loving kids!

Dermot says: 'The idea for Toto first came to me when my wife and I rescued two stray cats from an olive grove in Italy. One of them, Toto, has been blind from birth, but we quickly realised she had ninja-like reactions. Like a lot of cat owners (or cat servants), we like to imagine our pets having secret lives when we're out or asleep. So before I knew it I was writing about Toto and her brother Silver's nocturnal adventures around London. I really hope that children who pick it up enjoy reading the adventures of our little Italian underdog (cat).'

Have you seen Toto's other adventures? The Incredible Cheese Heist and The Superstar Catastrophe are out now, and make perfect Christmas gifts for young readers.
Reviews
Jacqueline
Toto is a nearly blind cat, who lives with her brother Silver in London. She is no ordinary cat however, as she is a trained Ninja cat. With Silver and other assorted animals, she takes on a dangerous mission to prevent an escaped snake from eating half the animals in London. This is a slightly wacky story penned by the presenter Dermot O'Leary, his first foray into children's literature. This book is aimed at seven-year olds and is a fairly easy read for a confident reader. I liked the idea behind this story; based on a real cat owned by O'Leary, but I was not completely grabbed by this book. My ten-year-old (co-reviewer) enjoyed it, saying it was funny and a bit different. Certainly, the concept of a real cat being turned into a quirky character is an engaging one. (If not original- Mog was Judith Kerr's real cat) The story did not entirely hang together properly; no explanation was ever given for the fact the cats were Italian (I know this is because O'Leary adopted cats from Italy), nor was there any elaboration of Toto's Ninja training. How had it happened that Toto became a Ninja and who had trained her? The latter, particularly, left lots of unanswered questions. Whilst the plot went along at a brisk pace it never really rang true - odd to say about a story of talking cats, but other animal stories manage it better. This also extended to the fabulous illustrations by Nick East. The drawings are wonderful but why were the animals walking on two legs? If I was using this with a class (though I'm not sure I would) it might be interesting to take real pets and turn them into characters in story. As I said the idea is an interesting one, but this book does not necessarily translate it especially well. 192 pages / Ages 7+ / Reviewed by Jacqueline Harris, education consultant.
Suggested Reading Age 7+
Other titles