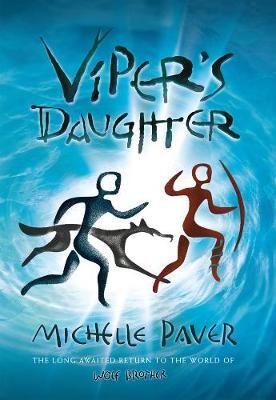 By Author / Illustrator
Michelle Paver
Genre
Historical Fiction
Age range(s)
9+
Publisher
Head of Zeus
ISBN
9781789540550
Format
Hardback
Published
02-04-2020
Synopsis
Run Wild with Wolf Brother....  Million-copy-selling author, Michelle Paver immerses you in ice-cold magic and non-stop adventure in the 7th Wolf Brother adventure, as Torak, Renn and Wolf battle for their lives and use all their skills and knowledge of nature to survive.  
For two summers Torak and Renn have been living in the Forest with their faithful pack-brother, Wolf. But their happiness is shattered when Renn realizes Torak is in danger - and she's the threat.  When she mysteriously disappears, Torak and Wolf brave the Far North to find her. At the mercy of the Sea Mother and haunted by ravenous ice bears, their quest leads them to the Edge of the World. There they must face an enemy more evil than any they've encountered.
Viper's Daughter plunges you back into the Stone Age world of Torak, Renn and Wolf: a world of demons, Hidden People and exhilarating adventure which has entranced millions of readers.
See also:  Skin Taker (book 8); Wolfbane (book 9)
Reviews
Sue
Two summers have passed and Torak and Renn are now living together in the Forest with Wolf, his mate, Darkfur, and the cubs. But their pack is torn apart when Renn, fearing she is a danger to Torak, leaves. Desperate to find her, Torak and Wolf follow, leaving the Forest they love, and heading for the Edge of the World to bring her home.

Viper's Daughter plunges us right back into Torak's world as if we'd never been away. Full of the care and attention to detail Michelle Paver is so admired for, it offers an atmospheric, evocative read which immerses you in Torak's life once more. Deep respect for nature and its beauty permeates the book both through Torak and Renn's beliefs and the beauty of the writing.

Torak and Renn are as convincing as ever. Now together as a couple, their deep connection has matured, leading each to protect the other: Renn by leaving and Torak by following her. Fiercely loyal to his pack brother, Wolf is as wonderful as ever.

Every year as each new book in 'The Chronicles of Ancient Darkness' came out, my son and I went to hear Michelle Paver speak about her books and we loved each one. Well worth the wait, Viper's Daughter does not disappoint and I can't wait to read 'Skintaker'.

256 pages / Ages 10+ / Reviewed by Sue Wilsher, teacher
Suggested Reading Age 9+
Other titles