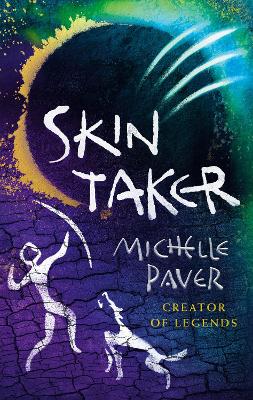 By Author / Illustrator
Michelle Paver
Genre
Historical Fiction
Age range(s)
9+
Publisher
Head of Zeus
ISBN
9781789542417
Format
Hardback
Published
01-04-2021
Synopsis
Run wild with Wolf Brother in a Stone Age world we all want to be a part of with million-copy-selling author, Michelle Paver. Danger, magic and non-stop adventure await Torak, Renn and Wolf. The Clans will be tested as never before, as they battle to find ways to survive and thrive in their beloved Forest.  In the Dark Time of midwinter, disaster strikes the Forest. Chaos rules. Bears woken from their dens prowl the shadowy valleys. Desperate clans battle for survival. Only demons thrive.  With their world in turmoil, Torak, Renn and Wolf are tested as never before. And as a new evil haunts the devastated land, Torak must risk his sanity, his life and even his souls to save everything he loves...
Skin Taker carries you back to the Stone Age, to nature, drawing you deeper into an astonishing environment and adventure which began with Wolf Brother and has captivated millions of readers.  'There's no better time-travelling guide than Michelle Paver ... with its action, clever character development and glorious descriptions of nature 6,000 years ago' The Times on Viper's Daughter.
See also Viper's Daughter (book 7); Wolfbane (book 9)
Reviews
Sue
When disaster strikes the Forest at the start of Skin Taker, it seems as if the sun will never wake and the Clans are left in chaos. Torak, Renn and Wolf must face dangers and demons and find a way to bring back the First Tree if their world is to survive. But Torak is caught in a black web which threatens to engulf him as he, Wolf and Renn are tested to the limit, trying to save everything that they love.
Once again, Michelle Paver's writing instantly immerses the reader in Torak's world, her meticulous research adding layers of detail and atmosphere. Picking up threads of the previous book, Viper's Daughter, the adventure continues as a new danger strikes the Forest, threatening the Clans' ability to survive. The balance between these people and the world they live in, their respect for nature, its bounty and dangers, its cycles and how it governs every aspect of their lives is never more clearly felt and the urgency of Torak's new quest is palpable.
The characterisation is as strong as ever, making the reader instantly invested in their lives and the choices each has to make on their journey. Relationships between the Clans and suspicion of 'outsiders' and difference also create tension and offer plenty to discuss and think about.
Another outstanding story, Skin Taker, like its fellows, deserves more than one reading to truly appreciate the detail and care with which it has been written. I cannot wait for the final instalment.
256 pages / Ages 10+ / Reviewed by Sue Wilsher, teacher
Suggested Reading Age 9+
Kelly
Skin Taker by Michelle Paver is the latest in the Chronicles of Ancient Darkness series, which follows Torak, a spirit Walker, Renn, his mate and Wolf, his trusty companion, as their livelihood is threatened by an unnatural force in this tense, new wild adventure.
Journey to the Stone Age era as clans come face to face with a devastating dark time that will test the Clans as never before. This immersive read leaves no stone unturned as clans must find a way to put aside their rivalry and work together in this battle for survival of their beloved forest.
Paver writes with flair to thrust you deep into the heart of the forest; narratives from clans, bears and wolves provide an immersive read. I would suggest this series for UKS2 / KS3 and not for the faint hearted as the descriptions are vivid and don't hold back.
Themes include: nature, conservation, friendship, survival, fear and working together.
256 pages / Ages 10+ / Reviewed by Kelly Buxton, teacher
Suggested Reading Age 9+
Other titles