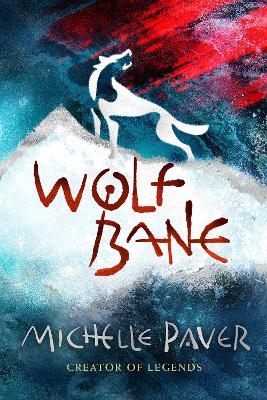 By Author / Illustrator
Michelle Paver
Genre
Historical Fiction
Age range(s)
9+
Publisher
Head of Zeus
ISBN
9781789542448
Format
Hardback
Published
26-04-2022
Synopsis
The grand finale to the prize-winning adventure series that has changed the lives of millions of readers. Breathtaking world-building on an epic scale. Pure escapism at its best.
It is early spring, a turbulent, perilous time of sudden storms, frozen river fractures and drifting ice. Fleeing from a demon intent on devouring his souls, Wolf is swept out to Sea far from the Forest and his pack. The ocean too teems with danger: sea wolves, sharks and hunters of the deep, and the demon is gaining ground. Torak and Renn must race to save their pack-brother, battling the harsh, icy waves and merciless torrents. If they can't find Wolf in time, the bond between them will be severed for ever...
Run wild with Wolf Brother for the last time in a Stone Age world we all want to be part of, with three-million-copy-selling author Michelle Paver, Creator of Legends.  Read WOLFBANE as a standalone adventure or as part of the well-loved series.  'Meticulously researched, atmospheric [...] and relentless, this instalment deservedly introduces Paver to a new generation of readers' Guardian on Viper's Daughter.
See also: Viper's Daughter (book7); Skin Taker (book 8)
Q&A and Video with author Michelle Paver
Reviews
Sue
Caught on fracturing ice, Wolf is swept out to sea, away from his pack brother and sister. Pursued by a relentless demon intent on devouring his souls and far from his Forest home, Wolf must survive the dangers of the ocean whilst Torak and Renn race to the rescue.
The arrival of Wolfbane filled me with equal measures of excitement about discovering what happens and sadness in the knowledge that this is their final adventure. Since first reading Wolf Brother with my own son and with countless classes since, I have been captivated by Wolf's world, leading me to walk with wolves and explore forests in Finland.  Michelle Paver's writing is intensely atmospheric. Full of meticulously researched details, she effortlessly brings Torak's world to life, immersing the reader with vivid descriptions and compelling characters.
Wolfbane, like the others in the series, begs to be re-read and there are new details to discover and enjoy with each reading. Although this adventure could be enjoyed as a standalone, it is best read as part of the series as all the threads gather together to the final conclusion. So much has happened to Torak and Wolf since their first meeting and their bond remains as strong as ever so when Wolf is swept far from the Forest he loves on breaking ice, Torak will do anything to follow his pack brother and save Wolf from the demon stalking him.
Full of suspense and action, Torak and Renn must use all their knowledge and skill and draw on bonds of friendship and loyalty for the final confrontation. No lover of the Chronicles of Ancient Darkness is going to want to miss this! Five stars is nowhere near enough.
288 pages / Reviewed by Sue Wilsher, teacher
Suggested Reading Age 11+
Kelly
A book that leaves you breathless. If I could give this more than 5* I would!
The ancient clans seek peace, but at what cost? A choked howl gives way to a deafening silence that echoes around the forest. Pack brother Torak and his mage mate Renn answer the call, but will they be too late? An ice demon on the hunt, for one soul - Wolf's. Spring is near. The ice is starting to melt. Will Torak and Renn be able to save Wolf in time?
Wolfbane is the final in the best-selling, award-winning series that started with Wolf Brother. Michelle Paver draws the reader into an immersive page-turning stone-age inspired fantasy world. Separated from his pack, Wolf is stranded on an iceberg floating far away from home and safety. Renn and Torak plan a rescue, but it is fraught with peril at every turn. They must defeat the ice demon once and for all, but at what cost? Slaying the demon would result in an eternity of being an outcast: from each other and their clan.
Full of unexpected twists: Wolfbane inhales the reader into a fast-paced adventure.
288 pages / Reviewed by Kelly Buxton, teacher
Suggested Reading Age 9+
Other titles