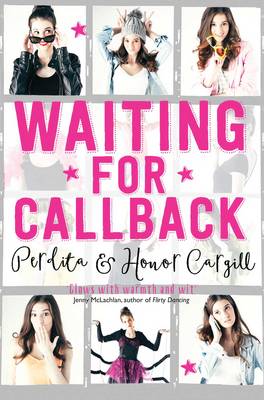 By Author / Illustrator
Perdita Cargill, Honor Cargill
Genre
Adventure
Age range(s)
11+
Publisher
Simon & Schuster Ltd
ISBN
9781471144837
Format
Paperback / softback
Published
28-01-2016
Synopsis
'Funny, heart-warming and just properly brilliant.' Maximum Pop
'Glows with warmth and wit' Jenny McLachlan
'A witty, feel-good romp of a book. Waiting For Callback is my new favourite teen read!' Emma Carroll

When Elektra is discovered by an acting agent, she imagines Oscar glory can't be far away, but instead lurches from one cringe-worthy moment to the next! Just how many times can you be rejected for the part of 'Dead Girl Number Three' without losing hope? And who knew that actors were actually supposed to be multi-lingual, play seven instruments and be trained in a variety of circus skills?

Off-stage things aren't going well either - she's fallen out with her best friend, remains firmly in the friend-zone with her crush and her parents are driving her crazy. One way or another, Elektra's life is now spent waiting for the phone to ring - waiting for callback.

Can an average girl-next-door like Elektra really make it in the world of luvvies and starlets? Geek Girl meets Fame meets New Girl in this brilliantly funny new series!
Reviews
Lorraine
Waiting for Callback follows teenaged Elektra's ups and downs as she attempts to become a fully-fledged actress. Written by a mother and daughter duo, Perdita and Honor Cargill, it captures the embarrassments, laughter and sheer hard work of a teenager doggedly persuing her dream, to act, and will be enjoyed by fans of Holly Smale (Geek Girl) and Jenny Mclachlan (Flirty Dancing). When Elektra gets herself an agent, she is overjoyed but this turns out to be only the beginning and, after auditioning for the part of one dead girl after another - and not getting them - Elektra realises that only her love of acting is driving her on. We get to see 'behind the scenes' of the actor's world - there is very little glamour - and watch Elektra struggle to balance her school life and friends with this outside world, as well as the demands it puts onto her family. Along the way there are lots of cringe-worthy incidents, much laughter and a possible blossoming romance - as well as eventual success. I look forward to reading what Elektra does next. 340 pages / Ages 11+ / Reviewed by Lorraine Andrews.
Suggested Reading Age 11+
Other titles