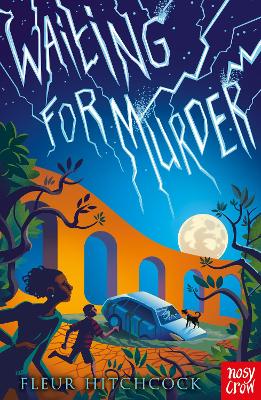 By Author / Illustrator
Fleur Hitchcock
Genre
Suspense & Thrillers
Age range(s)
9+
Publisher
Nosy Crow Ltd
ISBN
9781788008648
Format
Paperback / softback
Published
01-04-2021
Synopsis
The perfect thriller for the long, hot school holidays. It's a long, hot summer. As the water drains away from the reservoir, a car emerges. And there seems to be a body in it, a body that then disappears... Daniel and Florence start to investigate and uncover a long-ago robbery, missing gold and murder. When the drought breaks, everything is swept downstream and the truth is revealed...Another thriller from the brilliant author of Murder at Midwinter.
Reviews
Jo
Murderously good! Fleur Hitchcock always manages to immerse the reader within her settings and Waiting for Murder is no exception.
It is a long, hot and dry summer and the heat radiates from every page. Swelteringly, detailed descriptions of record-breaking temperatures, dried up lakes, yellowing grass and uncomfortably sticky nights give the reader a vivid sense of place. It is impossible not to feel the oppressive roasting of the unrelenting sun and to delight in the refreshing cool of the river as we follow the trail of Daniel and Florence in their quest to solve a mysterious crime that has, quite literally, been hidden for years.
Daniel's mother is excitedly working on an archaeological dig, one of significance that absorbs her time and attention, leaving Daniel to his own devices. He strikes up a friendship with Florence and when a car is discovered at the bottom of the local reservoir, the pair begin to investigate. The car appears to have been lying beneath the water for many years and Daniel is convinced that he has seen the glimpse of a body inside it. Strangely however, the body is not in the car when the police begin their enquiries. Did Daniel imagine it? Has the body been moved? Where is it and more importantly, who is it?
As Daniel and Florence dig deeper into the mysteries of the village, their lives become increasingly perilous; it would appear that someone is trying to warn them off, or perhaps even to kill the young sleuths to prevent them from uncovering the shocking truth.
There is tension and drama as well as the comfort of friendship and loyalty. There are missing dead bodies, family feuds, robberies, swarms of bees and runaway hay bales to ensure that every page is sizzling with action and excitement.  This is an absolute page turner that will have your palms sweating whilst you gasp in astonishment as the story unfolds. The final scene is quite literally electrifying; the heat wave finally breaks with a dramatic storm and the mystery is finally solved through the flashes of lightning and torrents of rain that finally clear the air.
Waiting for Murder is a treat for the senses. This is a scorchingly good read that you won't want to miss.
272 pages / Ages 10+ / Reviewed by Jo Clarke, teacher
Suggested Reading Age 9+
Other titles