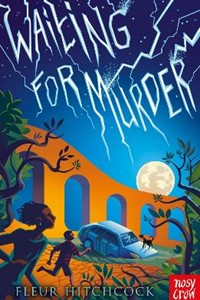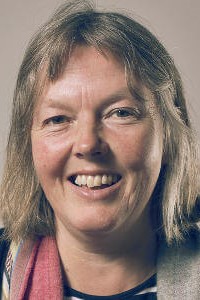 About Author
Born in Chobham, by an airfield, and raised outside Winchester on the banks of the river Itchen, Fleur Hitchcock grew up as the youngest child of three. She spent her smallest years reading Tintin and Batman under her brother's bed, and searching for King Alfred's treasure in the river.
She grew up a little, went away to school near Farnham, studied English in Wales, and, for the next 20 years, sold Applied Art in the city of Bath.
When her youngest child was seven, she embarked on the Writing for Young People MA at Bath Spa and graduated with a distinction. Now living outside Bath, between parenting and writing, Fleur Hitchcock works with her husband, a toymaker, looks after other people's gardens and tries to grow vegetables. In her spare time, she is a bookseller at Waterstones Bath.
Author link
https://fleurhitchcock.wordpress.com/
Interview
Waiting for Murder (Nosy Crow)
April 2021
Fleur Hitchcock's deliciously atmospheric thriller Waiting for Murder - her latest murder mystery - takes place during a hot summer, when an empty reservoir reveals a car and what looks like a body, and mysteries from the past begin to emerge.... Fleur Hitchcock tells us more about it in this Q&A:
1.  What do you enjoy about writing your murder / mystery books?
I love the speed of them - the speed of writing and the speed of reading them back. The pace, the changes in pace, building the atmosphere - all if it is more fun if the stakes are higher. Does that make sense?

2.  How does being an author compare to your other job of being a bookseller? 
In ordinary times, being a bookseller is one or two days a week - that's fine, until Christmas time when it becomes more intense. I was actually writing this book through the busy autumn of 2019 - taking my laptop to the café in the bookshop and frantically typing another chapter before work!
In terms of the differences, they're miles apart. With one, I'm talking my head off and surrounded by people, with the other, I'm on my own in absolute silence. What I love about my bookshop job is there's no homework. I go in, start work and leave it all behind when I come home.
There's only one point at which they merge. The proof copies. And I read as many as I can - other people's work informs mine. Every book I read teaches me something.
3. Can you tell us about your new book, Waiting for Murder?
It's maybe the most atmospheric of my books. It's about heat. Languid, awful inescapable heat, and Dan is unable to escape it when he and his mother go to spend the summer in Sandford.
But while they're there, the water from the Sandford reservoir begins to drain and a car is revealed. As the light fades and the water sinks, Dan's pretty sure he sees something inside. Something that looks awfully like a body, something that disappears.

4.  Were there subjects you need to research for Waiting for Murder?
Yes - I really do try to check facts, but I do research as I need it. So for this book, I spent an enormous amount of time doing maths about weights and measures and the space involved (trying not to give a spoiler here). Also the time it takes bones to decompose over time - in freshwater as against sea water.
But lots of it is just things I know from living in the countryside and observing the landscape and the people who live in it. And sometimes, I just can't find out the answer so I guess.
5.  There's a strong sense of place in your novels. Do settings help inspire the stories, or do you decide on the plot before deciding where it will be set?
The setting comes first. The people in the setting come second. The plot comes in after this. I've usually got an opening scene in my head, set in a very specific place - and also an ending in a specific place. Usually a real place, but exaggerated.
Murder in Midwinter is the only time I've actually used streets with names, I think. This book is set in Somerset - but I don't think there are any giant dams in Somerset, so it's crossed with Yorkshire. Artistic licence.
6.  As these are mystery stories, do you know the plot in detail before you start to write?
Yes. I really have to thrash it through before I begin, but sometimes it changes on its own because something wonderful presents itself as a possibility while I'm writing. Other times editorial comments push it sideways and new problems have to be solved.
With this book - I knew more or less everything when I set off, although I didn't know who the murderer was until I'd finished the first draft. It made it more breathless to write!
7.  There are a couple of murders in Waiting for Murder, but is it difficult to keep the tension in these stories without making the body count too high?
I don't think murders themselves add to the tension - the fear of the murder is much more physically affecting. I suppose that if you didn't have any murders, you wouldn't know how much the murderer was capable of and you kind of need to know they'll stop at nothing. But I don't like the idea of a Midsummer Murders type mass murderer because the incidents are then devalued and that's not good for anyone. Too many deaths and the story becomes harder to believe.

8.  Where and when do you do your best writing - and how do you prepare yourself for writing a murder mystery rather than, say, a Clifftoppers' romp?
I definitely write best after good sleep and in the mornings. Ideally before I've spoken to another human being, which has proved very tricky over the last twelve months in a house full.
For the murder stories, I have to think myself into the place, imagine my protagonist moving through the landscape and then I can write. The Clifftoppers use a different part of my head - there's more problem solving and less description, it's rather like I can't quite stretch my wings whereas the murder books spread over the page like animated ink blots.
9.  Have you ever been involved in solving a real life mystery?
Beyond the very mundane - the only thing I ever did was find the owner of a massive gold chain that had a series of odd stamps with the weirdest symbols hanging from it. It was left in the changing room in a shop where I worked and it was obviously valuable.
Without the use of the internet, It took me months to link the symbols to an American University Fraternity. Then I wrote to the American University who gave me a list of people who it could belong to and then I started ringing people up. It took about five years. I found the owner, it had belonged to her father, and she was overjoyed.

10.  Other than your computer, what's on your desk when you write?
Piles of rubbish. So much rubbish. I work in the muddle of my admin, but there are also random objects. For example a small hand mirror that belonged to my mother, a paint scraper, a glass vase full of ink cartridges, a tin toy garage, string, a jar of almonds, a balloon pump from the 1960s. A typewriter ribbon from a dead typewriter. See? I said it was rubbish!

11. With your bookseller hat on, what are your current top recommendations for young teenagers?
Just now, I think everyone should read Boy Everywhere, by A. M. Dassau, which tells the story of a young refugee from Syria. Bold and honest and enlightening.
Also among new titles, Witch, by Finbar Hawkins, which is harrowing, but very good and probably 12+.
The Short Knife by Elen Caldecott takes readers back to the early dark ages and is full of extraordinary description and strong characters. Not for the faint hearted and possibly better for 12+.
Again, not for the faint hearted, Cane Warriors by Alex Wheatle tells the tale of Tacky's slave rebellion on Jamaica in 1760. It's brutal, but important, and brilliantly written.
A Street Dog Named Pup by Gill Lewis, heartbreaking but compelling.
October, October by Katya Balen a fascinating story of the familiar and the unfamiliar - again, enlightening.
Also The House on the Edge - not out yet, but a wonderful, uplifting debut from Alex Cotter.

12.  If a reader loves your murder mystery books, which other authors might they enjoy?
I think if they love my books, they're likely to enjoy Dan Smith's books, which are very edge of your seat adventures. Also High Rise Mystery and Mic Drop by Sharna Jackson - which like mine are contemporary. And Murder most Unladylike, Robin Stevens's excellent murderous series. Equally, they might love The Clockwork Crow series by Catherine Fisher, more mystery than murder but excellent stories. And Potkin and Stubbs, mystery, with added ghosts! There are loads more mystery books bursting out all the time at the moment, and lots of them are very good.
Thank you for your help with our questions!
Author's Titles