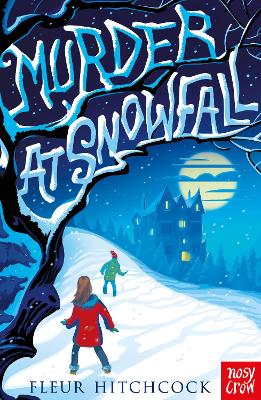 By Author / Illustrator
Fleur Hitchcock
Genre
Mystery & Detective
Age range(s)
9+
Publisher
Nosy Crow Ltd
ISBN
9781839945908
Format
Paperback / softback
Published
03-11-2022
Synopsis
A gripping thriller for readers who like danger and mystery and chills and spills from the comfort of their sofas... Unputdownable.
When Lucas and Ruby find an abandoned trunk covered in snow, Lucas says there's bound to be a body inside. Ruby laughs but what if he's right? Nervously she starts to open it, and immediately wishes she hadn't. From that moment on, they're drawn into a thrilling mystery, one that they have to solve before the falling snow smothers all trace of wrongdoing...
Find out more from author Fleur Hitchcock
Reviews
Ruth
Murder at Snowfall, the latest murder mystery from Fleur Hitchcock, is an exciting middle grade book featuring realistic characters with real life issues in addition to a thrilling sideline in detective work. The atmosphere created by the author is as chilling as the season as the teenagers risk their lives to uncover the murderer's identity.
Murder at Snowfall is extremely readable as the fast pace keeps you engaged and the back story (crime aside!) is relatable for upper school (primary) and younger secondary school readers. It will be a popular selection with those students who enjoy mystery books and who are expanding into crime/detective genres.
I would definitely recommend this book and would encourage its inclusion in classrooms and school libraries. Trigger warnings - reference to a dead body and real (reading) -time threat.
272 pages / Reviewed by Ruth Cornish, school librarian
Suggested Reading Age 9+
Clair
Murder at Snowfall hooked me in from the very first page. Fleur Hitchcock's books are very popular in our school library and now I can see why!
This murder mystery launched straight into the action and kept me guessing until the end with lots of twists and turns along the way. The main characters, Ruby and Lucas, were very likeable and the school scenes were very relatable. It was great to read a positive portrayal of a stepfamily where the siblings bond and look out for each other. Walking home together they find a chest and Lucas dares Ruby to open it suggesting that there might be a body inside. He's right - there is!
Ruby had also found a tooth which looked to have fallen off of a piece of jewellery but the police didn't think this was connected. The pair have uncovered too many incidents for them to be unrelated, so they start an investigation of their own. As the teens start to uncover more clues and get closer to solving the murder, the murderer is determined to stop them and their lives are at risk.
I loved the cover of the book; it is really eye-catching and it made it a perfect read for this time of year (November). I did find one element of their adventure a bit unrealistic, but this added to the fun of their thrilling adventure across the safari park. I don't want to say anymore as it would spoil it for the reader. This is a perfect thriller/murder mystery for ages 9+.
272 pages / Reviewed by Clair Bossons, school librarian
Suggested Reading Age 9+
Sue
Ruby's mum is preoccupied. There has been a fire at the surgery where she works; her boss, Dr Price, has gone missing; and she is convinced someone has been following her. As the snow falls and odd things keep happening, everyone is jumpy. So when Ruby's 'Step', Lucas, dares her to open an abandoned cabinet they walk past on their way home from school, she soon wishes she hadn't as a gruesome discovery sets off a chilling chain of events and a mystery which they must solve.
Fleur Hitchcock is an incredible writer. No matter what she tackles, the result is an absorbing, exciting story. With her 'Murder' stories, she achieves the perfect balance of thrills and chills for anyone looking for a compelling mystery with enough bodies, clues and red herrings to please Poirot yet keeping the story appropriate to the target audience. Murder at Snowfall is her most sinister yet - and makes an excellent read! Full of action, the story has plenty of tension, offering frissons of fear as the children tackle the mystery surrounding the events at Ruby's mother's work. There are twists and turns aplenty with some real surprises and miscues to take the reader down the wrong path, but everything comes together brilliantly in the end.
Snow gives Bath an eerie feeling as the weather adds much to the atmosphere of the story, but readers who know the city will still recognise it in the story. As well as the murder mystery, the story shows the development in the relationship between Ruby and her 'Step'. When her mother married Paolo, Ruby hadn't really understood that this would mean the addition of a strange, extremely intelligent boy who she views with suspicion and who seems to barely acknowledge her existence. However, as the novel develops, she comes to appreciate him, showing the importance of getting to know someone, being there for them and becoming family. Brilliant!
267 pages / Ages 10+
Suggested Reading Age 11+
Other titles