What Are You Feeling?: A picture book of your emotions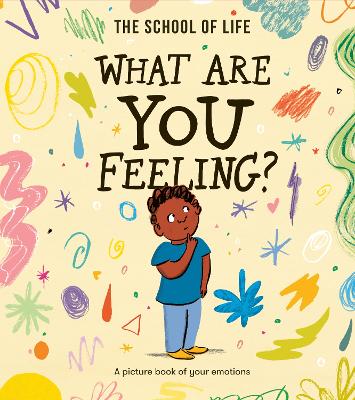 By Author / Illustrator
The School of Life, Daniel Gray-Barnett
Genre
Mental Health & Wellbeing
Age range(s)
5+
Publisher
The School of Life Press
ISBN
9781915087270
Format
Hardback
Published
20-07-2023
Synopsis
An illustrated guide to emotions that helps children identify and articulate how they are really feeling.   What Are You Feeling? is the first in a series of books that aims to develop emotional literacy for children aged 5-8 years.  
It is a book about finding interesting words for interesting feelings. It explores what lots of feeling words really mean and which words best describe the many feelings a child may have.  The book discusses 20 different feelings from happy to mischievous. The child is encouraged to identify these feelings in ways that are healthy and easy to understand.
Award-winning illustrator Daniel Gray-Barnett brings each feeling to life in his vivid, colourful and amusing illustrations.
Reviews
Lauren
The School of Life have published a beautiful illustrated book of emotions with What are You Feeling? This book is stunning from cover to cover and has been very thoughtfully put together for both adults and children to use and discuss.
I can see myself using this in the classroom with a huge range of ages due to the simplicity of the images and colours used; for example the colour red is used in anger and sad is in all blue. The start of the book has a beautifully written introduction, written for children about emotions. It is sensitive but also includes humour within which I felt was important when talking or reading about emotions. It touches upon the difficulty we may find talking about our emotions but also it is ok to do so, no matter how big or small they may be. The end of the book also has a page about other people and how they may be feeling also which I thought was a good way to end and an important lesson for children to know about.
I was really impressed with this book and have not seen a book around emotions so well thought out and well written. Will definitely be using this! Lauren Maidman, class teacher.
60 pages / Reviewed by Lauren Maidman, teacher
Suggested Reading Age 7+
Other titles