What Do You Do if Your House is a Zoo?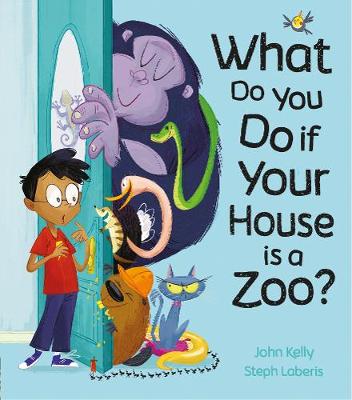 By Author / Illustrator
John Kelly, Steph Laberis
Genre
Adventure
Age range(s)
5+
Publisher
Little Tiger Press Group
ISBN
9781848699496
Format
Hardback
Published
09-08-2018
Synopsis
Oscar's getting a pet! But which pet should he pick? And what on earth will he do when they all move in? His house is like a zoo! A book for animal lovers BIG and small.
Reviews
Joanna
Pet owners, animal lovers and particularly rescue pet owners, you will adore this creative and fun story for children. What do you do if your house is a Zoo? follows the story of young Oscar when he is finally told by his parents that he can have a pet. But the only question is, what pet should he choose? Oscar puts out an advert in the local paper - 'Could you be the pet for me?' - and suddenly he starts receiving a whole array of humorous responses from Beavers to Bulls, from Gorillas to Meerkats; Oscar is suddenly very popular! Unfortunately for Oscar, the pets don't just respond to his advert, they also decide to move in with him straight away! Eventually, Mum and Dad exclaim that they all have to go and poor Oscar is once again left alone. That is, until he spots a letter he had missed... Ending with a delightful wholesome message, I challenge you not to well up at the end (especially if you've ever rescued a pet). Told from in a first person narrative, Oscar's voice will strike a chord with all children ages three to six as they identify with Oscar's plight to find the perfect pet. My four year old was laughing out loud as the gorilla picked up the car to send the family off to work while Dad was blow-drying Mr Jones's wig. Illustrated by Steph Laberis, she truly captures the fun of this tale. Her illustrations are big, colourful and animated. The facial expressions on each pet made me laugh and the wonderful creative way of presenting the letters from the pets on each page to represent their nature - chewed (goat), wet (goldfish), dirty (ants) - was great fun to read. Each pet had their own personality and made this story come to life. A delightfully colourful tale that is great to read any time of the day. It can also be used to inject a little fun when children study letter-writing. Picture book / Ages 3-6 years / Reviewed by Joanna Hewish, teacher.
Suggested Reading Age 5+
Other titles