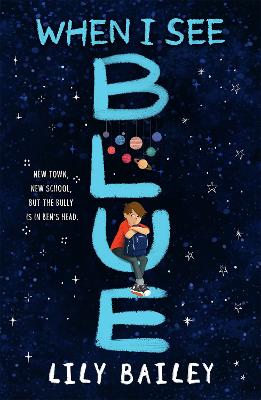 By Author / Illustrator
Lily Bailey
Genre
Mental Health & Wellbeing
Age range(s)
11+
Publisher
Hachette Children's Group
ISBN
9781510109803
Format
Paperback / softback
Published
09-06-2022
Synopsis
New town, new school, but the bully is in Ben's head ...

There are 4 things you should know about Ben:
1. He's 12 years old
2. He's the new kid at school
3. His special number is 4
4. He has a bully in his brain

Sometimes Ben's brain makes him count to 4 to prevent bad things happening. Sometimes it makes him tap or blink in 4s. Mostly it makes the smallest things feel impossible. And with a new school, a moody big brother, an absent dad and a mum battling her own demons, Ben feels more out of control than ever. But then he meets April, and with his new friend, Ben might finally figure out how to stand up to the bully in his brain, once and for all.

An authentic and affecting #ownvoices story about living life with OCD, from the inspiring author and mental health activist, Lily Bailey. Perfect for readers of A Kind of Spark and The Goldfish Boy.
Reviews
Sue
Constantly compelled to do things in certain ways, like using multiples of four to prevent bad things from happening, even the smallest tasks seem almost impossible to Ben. Problems at home, moving to a new house and starting a new school are making his life increasingly difficult, but a new friendship with a girl called April might help Ben stand up to the demon inside his brain.
When I See Blue is such a powerful and moving story which offers the reader a glimpse of the realities of living with OCD, encouraging empathy and understanding of something which is frequently misunderstood and even treated dismissively. Through Ben's eyes, the reader sees the endless battles he faces, the physical reactions, the constant, intrusive thoughts which control his every action and the resulting panic and constant stress he experiences. It also explores how he is viewed by others - how he is a target for bullying, but also the frustrations and lack of understanding of his own family.
April is just what Ben needs! Rebellious and energetic, she accepts him for who he is, recognising his condition and encouraging him to get help, although she has problems of her own to contend with. As he comes to trust her, their friendship helps momentarily to distract him from his compulsions and gives him the companionship he craves.
When Ben seeks help, his councillor gently helps him to explore his feelings and encourages him to set manageable steps to help with his compulsions. There is a lot going on in his life with his mother's alcoholism, his father having left and his brother's anger at their situation and so having space and calm away from this with someone different to talk helps Ben to start to view things differently.
Books which explore and encourage empathy for and understanding of mental health issues are so important and When I See Blue is excellent for starting discussions about OCD.
Suggested Reading Age 11+
Other titles