Who Will Kiss the Crocodile?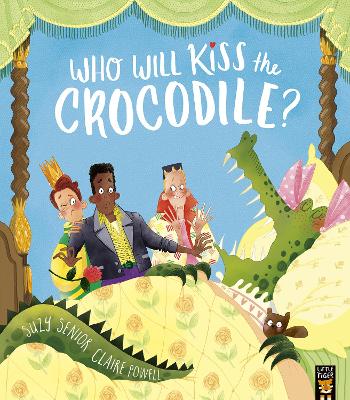 By Author / Illustrator
Suzy Senior, Claire Powell
Genre
Fairy Tales & Folk Tales
Age range(s)
5+
Publisher
Little Tiger Press Group
ISBN
9781801042901
Format
Paperback / softback
Published
07-09-2023
Synopsis
From the amazing author and illustrator team behind the incredible Octopants series comes this hilarious, rhyming retelling of Sleeping Beauty - with added bite! Expect a toothsome crocodile, groovy grans and an EPIC 80s party . . .
A little baby princess and a fancy royal ball . . .
ONE fairy not invited, and she wasn't pleased AT ALL!
She cast a spell - and now the sleeping princess looks like THIS . . .
Will ANYONE be brave enough to wake her with a kiss?
Who needs a prince? This fabulously twisted tale will delight children with its funny hijinks and important message of female empowerment. Who Will Kiss the Crocodile? will make fans of The Dragon with the Blazing Bottom, Waking Beauty and Three Little Wolves and the Big Bad Pig laugh out loud!
Also available from this author and illustrator: Octopants, Octopants: The Missing Pirate Pants
Reviews
Wendy
Who Will Kiss the Crocodile is absolutely hilarious! A new spin on the story of Sleeping Beauty, it sees the bad fairy not only curse the tiny princess with a hundred year long sleep, but also turn her into a crocodile. The issue this brings is that only a kiss will wake her but....who will kiss the crocodile? Fortunately, 100 years later, the day is saved by two Handy-Grans (can't Grandmas always make things better?) who come in to give the castle a good clean. They discover the sleeping crocodile, blow her a kiss and.... everything turns out just fine.
The illustrations in this book are detailed and bright with lots happening on every page. The rhyming text is simple and bounces along in a very jolly way, which makes it an absolute delight to read aloud. The perfect gift for children aged 5-7 or a marvellous addition to a classroom bookcase, especially as an alternative version of Sleeping Beauty.
Picture book / Reviewed by Wendy Kelly, teacher
Suggested Reading Age 5+
Other titles