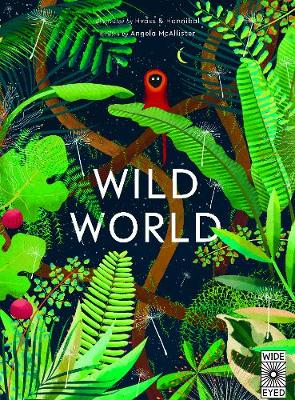 By Author / Illustrator
Angela McAllister, Hvass&Hannibal
Genre
Adventure
Age range(s)
5+
Publisher
Wide Eyed Editions
ISBN
9781847809650
Format
Hardback
Published
01-03-2018
Synopsis
Hot, wet rainforest.
What is hidden below your green roof?
A steamy shadow-land
Of strangle-vines, scrambling
for a shaft of light,
Lush leaves searching for a
glimmer in the gloom...

Discover thirteen incredible habitats, from the crystal kingdom Arctic to the dusty savannah and the black-as-space deep sea, in this beautiful tribute to the last wildernesses of our world. Poetic texts bring the habitats to life, while factual information at the back details the danger facing these incredible places.
Reviews
Alison
Wild World (Wide Eyed Editions). A trainee teacher recently asked me if I had any recommendations for good cross-curricular poetry. There are, of course, many such poems to be found in different anthologies. However, it was a delight to meet this gloriously illustrated collection of poems by Angela McAllister, carrying a single, clear conservationist message. Each double-page spread presents a different environment with a poem. The first is the rainforest: Hot wet rainforest / Spreads a green roof high above the earth, /. Surrounded by, and encroaching on the poem is the hot, lush canopy studded with the animals mentioned in the poem. Seeking out the 'poisonous frog', the 'slithering python' and the 'bright birds' will add to the child's potential engagement. One turn of the page and the reader is transported, shivering, to the cold, icy world of the Arctic, depicted in blues, greys and white: 'a crystal kingdom' and 'a fractured world of drifting floes'. And so it goes on - through prairies, woodland, a coral reef. McAllister's free verse conjures up the inhabitants of each habitat vividly (although I am not clear why the animal names are in italics: children will search the illustrations without such a prompt). Different narrative voices add texture: the Arctic is seen through the third person lens of the white bear; in 'Woodland', the reader is addressed directly ('They see you'); 'Mountain' is in the first person whilst 'Mangrove' addresses the tempestuous hurricane that is threatening the forest. In addition to the quality of the writing and illustration, the final double-page spread gives information about each of the habitats, spelling out the dangers faced by these animals and ecosystems. This is a beautiful book which will enrich children's understanding of conservation issues. 32 pages / Ages 5+ / Reviewed by Alison Kelly, consultant.
Suggested Reading Age 5+
Other titles