Wilf the Mighty Worrier Saves the World: Book 1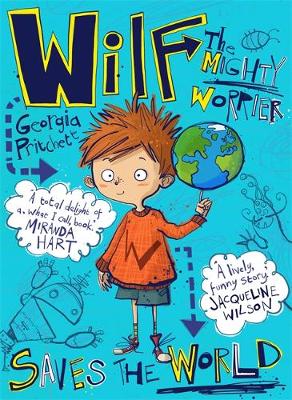 By Author / Illustrator
Georgia Pritchett, Jamie Littler
Genre
Adventure
Age range(s)
7+
Publisher
Hachette Children's Group
ISBN
9781848668614
Format
Paperback / softback
Published
26-03-2015
Synopsis
SHORTLISTED FOR THE LAUGH OUT LOUD BOOK AWARDS!
Meet Wilf. He worries about everything. He is a Mighty Worrier. And now the most evil man in the world has moved in next door...
Things Wilf was worried about before:
1. Stuffed animals.
2. Peanut Butter.
3. Creepy crawlies that have waggly feeler things instead of eyes.
Things Wilf is worried about now:
4. The most evil man in the world.
5. The most evil man in the world living next door.
6. Anyone called Alan.
When Alan, a self-styled Evil Lunatic, moves in next door with his grumpy robot sidekick and his silent right-hand-dog, Kevin Phillips, Wilf knows he will have to find a way to overcome his anxiety and fears. And soon he realises: only he can stop Alan's ridiculous yet still Quite Evil plan to destroy the world...
Join Wilf for a fantastically funny adventure, illustrated throughout by Jamie Littler!
Reviews
Rachel
Wilf is not the bravest boy in the class but he has many strategies for dealing with his worries. It's handy that he is getting to grips with these worries as his new next door neighbour, Alan, is definitely a cause for worry! Helped by his stinky sister and his pet woodlouse, Wilf attempts to scupper evil Alan's plans to blow up the world. If you like slapstick comedy and have a daft sense of humour this book should appeal to you. The writing style may be difficult for some young readers as it is more like a stand-up comedy act written down than a conventional story. As much of the humour is visual and the text in lists or with arrows etc, if you are reading it aloud to a child you will need to be beside them and both looking at the page. If you are sharing it with a class, think about using a visualiser. I think the story is aimed at children between the ages of 6 and 9 though the younger of these readers will need help with its 186 fun packed pages. Review by Rachel Esling, teacher.
Suggested Reading Age 7+
Other titles