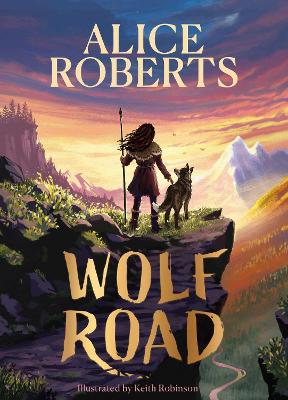 By Author / Illustrator
Alice Roberts
Genre
Historical Fiction
Age range(s)
9+
Publisher
Simon & Schuster Ltd
ISBN
9781398521339
Format
Hardback
Published
02-08-2023
Synopsis
The greatest adventure of all begins here, in the epic new prehistoric children's novel from bestselling author, academic and broadcaster, Professor Alice Roberts.

Tuuli is a prehistoric girl, travelling with her tribe through the seasons - making camp, hunting for food and protecting themselves against the many hazards that the climate throws at them. Tuuli knows there's a bigger world out there, and when she spots a strange boy lurking outside their camp, she realises that he might hold the adventure she is looking for.  He is from another tribe, sent to find safer ground, and as he and Tuuli strike up an unlikely friendship, they set out on a journey that will impact the rest of human history.
A vast adventure with a very human heart, full of wild animals, huge scenery and heart-stopping danger and inspired by real anthropological discoveries. For fans of His Dark Materials, Wolf Brother and The Last Bear, join Tuuli on the adventure of a lifetime and uncover the start of all our histories.
Reviews
Jacqueline
Set in the Stone Age, Wolf Road is the story of Tuuli and her tribe, travelling through the ancient landscape and living the life of nomads. Full of rich detail, this story illustrates the life of the people at that time, what they wore, the food they ate, the scenery and animals around them. This is also a story of someone who thinks a little differently from the rest and is asking questions about the world around her.
Tuuli and her family are moving to the Summer Camp as the ice thaws. On the way, she meets a strange boy who comes from far away. The others are suspicious of the boy, but Tuuli thinks he means no harm. She also finds a stranded wolf pup, and everyone is afraid of that, too. Fear of change and differences are very much at the heart of this story.
Alice Roberts is an expert in this period of history and so the details are fascinating and really make the book a learning experience as well as a good story. Those details are what makes the book so interesting; the variety of food eaten, the way of life, the early tools and Prehistoric landscape, and of course the mammoths make an appearance, too. The author does not shy away from the less pleasant facts either, the killing of animals or the ever-present danger of death or serious injury.
As I only had a proof copy, I cannot comment on the artwork or cover, but the snippets I have seen on Twitter do look spectacular. This is Alice Roberts's first novel for children and the end seems to be left open for more, which I would definitely want to read.
336 pages / Reviewed by Jacqueline Harris, teacher
Suggested Reading Age 9+
Other titles