You Are History: From the Alarm Clock to the Toilet, the Amazing History of the Things You Use Every Day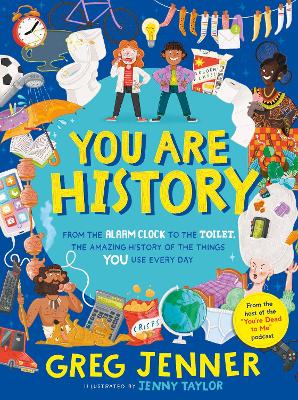 By Author / Illustrator
Greg Jenner, illus Jenny Taylor
Genre
Non Fiction
Age range(s)
7+
Publisher
Walker Books Ltd
ISBN
9781406395679
Format
Hardback
Published
03-11-2022
Synopsis
From the alarm clock to the toilet, discover the incredible history all around you in this hilarious and fascinating book from popular historian and podcaster Greg Jenner.
Thought history was only in museums? Think again! Join Greg Jenner as he takes you on a trip through the amazing history hidden in the things you use every day. Did you know that the first TV was made out of biscuit tins and knitting needles? Or that the humble paperclip helped lead an anti-war movement? Or that a few hundred years ago it was fashionable to style your hair with cat poo?! Find out the delightful, daft and downright deadly history of your everyday life that your teachers won't tell you about. Bursting with humorous illustrations and entertaining true stories, this is history - but not as you know it!
Reviews
Sue
In this lively, entertaining book, Greg Jenner guides the reader through an ordinary day, revealing how all the everyday things we all do are full of history. Starting first thing in the morning with the ringing of the alarm clock and ending with bedtime, there is so much to learn in these pages about the past.
Full of corny jokes and humorous interjections, the author's chatty style is both engaging and informative. Readers will learn all manner of tantalising trivia about the things we take for granted - the word 'sofa', for example, comes from the Arabic word meaning 'a place of shelter or comfort', a 'Canapé confident' was a French chair designed to allow people to gossip and flirt without it looking as if they were talking to one another and in the 1600s, Louis XIV decided that only his chairs were allowed to have armrests.
Each section is full of Jenny Taylor's colourful, witty illustrations, adding to the appeal of the book. The book is perfect for dipping in and out of, but the clear index makes it easy to locate specific information if required. It is sure to appeal to history lovers and those that don't yet know they love history alike and would make an excellent gift for any special occasion!
144 pages / Reviewed by Sue Wilsher, teacher
Suggested Reading Age 7+
Other titles