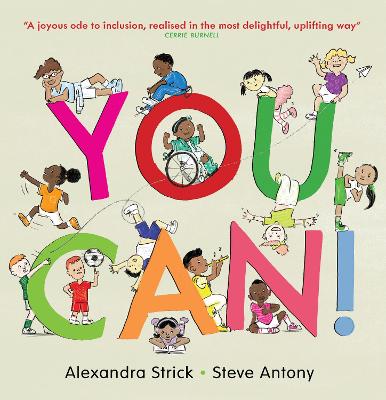 By Author / Illustrator
Alexandra Strick, Steve Antony
Genre
Representation & Inclusion
Age range(s)
3+
Publisher
Otter-Barry Books Ltd
ISBN
9781913074609
Format
Hardback
Published
07-10-2021
Synopsis
"A joyous ode to inclusion, realised in the most delightful, uplifting way." - Cerrie Burnell
YOU CAN...be brave, challenge yourself, overcome your fears, be kind, be brilliant...be YOU!
Come on an amazing journey with 14 children as they grow from birth to 18 years old, learning new skills, exploring new worlds, standing up for their own and others' rights - and following their dreams.  Created with real children, who sent messages of empathy, reassurance and hope, You Can! will inspire young people of all ages to be empowered and believe in themselves.  This is a ground-breaking book from author and co-founder of Inclusive Minds, Alexandra Strick, with an astonishing visual narrative by international picture book star, Steve Antony.
Read the author's blog on creating You Can!
Reviews
Alison
You Can! is an extraordinary book. It's the result of a collaboration between children, an author and an illustrator: it is, literally, a 'children's book'. The process started with the author, Alexandra Strick, asking young people to tell her what messages the book should carry. These messages were turned into the 'You can…' statements which shape the book's text.
The illustrator, Steve Antony, worked with these statements and, through the lives of 14 imaginary children, gave them visual power. We first meet the children as babies on the opening end- page, each dressed in their favourite colour. Thereafter, the double page spreads show them growing up with illustrations themed around the 'You can…' statements. Take the page which celebrates the joy of reading. The children are in a library space occupied not only by books but by artefacts, characters and animals that leap from them. A unicorn prances in; a rocket whizzes by; a dinosaur leaps from one book, a fairy flies from another; the turrets of a castle peep out from bookshelves. The children are scattered across the page engaging with the books, some on their own and some together ('You can do things together or alone'). 'You can explore new worlds, make amazing discoveries, love a good picture book whatever your age…'.
As you turn the pages, individual narratives begin to emerge. We watch the trajectory for a partially sighted child on his journey to becoming a successful athlete; the toddler who we see throwing a paper aeroplane at the very start becomes a pilot. The more you pore over the book, the more you see. And on the final end pages, are the children as adults in their different occupations: dog walker, teacher, refuse collector, mechanic, librarian…
This is a truly inclusive book but one that wears its inclusivity lightly because of the authenticity brought about by the children's own voices. To ensure that all readers will find themselves reflected in the book, the author and illustrator worked with Inclusive Minds and their young Inclusion Ambassadors.
At its launch, educators working with children across all ages and contexts reported on the universal appeal of the book. You can… read this book, whatever age you are.
40 pages / Reviewed by Alison Kelly, consultant
Suggested Reading Age 3+
Other titles