Climate change adventure wins the 2023 Klaus Flugge Prize
Posted on Wednesday, September 13, 2023
Category: Book Awards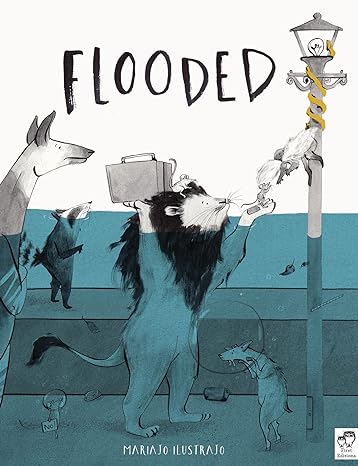 Climate change adventure starring community focused animals in a rapidly submerging city wins the 2023 Klaus Flugge Prize.
Mariajo Ilustrajo is named most exciting newcomer to children's picture book illustration for Flooded (Frances Lincoln Books).  With its city-dwelling animals determined to carry on regardless while water levels rise, Flooded subtly draws young children's attention to the problems of climate change.  
The Klaus Flugge Prize is awarded to the most exciting and promising newcomer to children's picture book illustration. Mariajo's Flooded is a funny but powerful demonstration of the impact of climate change in which animals attempt to carry on with business as normal, even while their city is flooding. Finally, they listen to a voice of reason and work together on a solution. Humour lightens every page and the book's ending is positive and upbeat.
Watch Mariajo Ilustrajo introduce Flooded
Mariajo's intention was to tell her story in a new visual language. By simplifying the colour palette, using grey wash and just two colours, she draws our attention both to the sea-green water as it rises, and to the yellow tail of the little tamarin monkey who is alert to the problem from the start.
The Klaus Flugge Prize judges described Flooded as fresh and beautifully drawn, and full of playfulness even as it delivers an important message.  Judge best-selling illustrator Lydia Monks says, "I was really impressed with Mariajo Ilustrajo's book, Flooded. The sophistication and competence displayed is exceptional for someone so new to publishing. I'm excited to follow her career."
Fellow judge and 2022 Klaus Flugge Prize winner Joseph Namara Hollis added, "Flooded has it all! It absorbs you into a world teeming with life. The character details are captivating, drawing you closer. Each page is dynamic with plenty to discover as the drama unfolds. And whilst it is a fun story, it delivers an important message with warmth and humour. This is a book to enjoy again and again."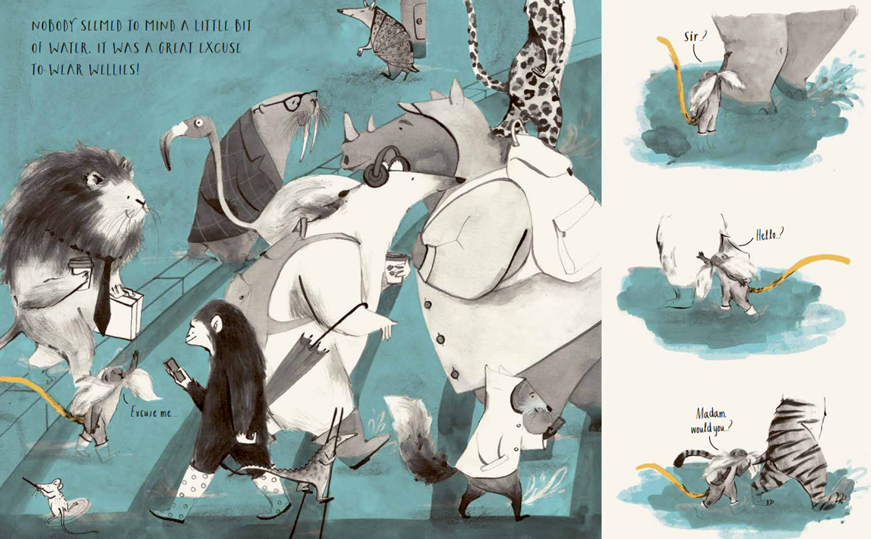 A spread from Flooded
Mariajo Ilustrajo said, "It's difficult to describe with words the joy of winning this prestigious prize. I've been an illustrator for a long time but becoming a children's book illustrator and author seemed like just a dream. This recognition makes me feel that I'm heading in the right direction and encourages me to keep exploring new ways of creating new stories. I am 'flooded' with happiness and proud to know my book touched the Klaus Flugge Prize judges amongst such an amazing shortlist."
Chair of the judges, Julia Eccleshare commented, "Picture book illustration is in a robust state of health and the submissions for this year's Klaus Flugge Prize were very strong. Our five shortlisted illustrators have enormous technical skill as well as an exceptional understanding of how illustration carries story and meaning. Huge congratulations to Mariajo on winning this year's Klaus Flugge Prize; Flooded is a book that speaks both to now and of universal themes."
Established in 2016, the Klaus Flugge Prize honours publisher Klaus Flugge, an influential figure in picture books. Flugge set up Andersen Press in 1976 and discovered and nurtured many of today's most distinguished illustrators including David McKee, Tony Ross, Satoshi Kitamura, Ruth Brown and Susan Varley. In April, he received the London Book Fair Lifetime Achievement Award to add to his list of honours.
As it becomes increasingly difficult for debut illustrators to break through, the Klaus Flugge Prize is already recognized as one of the most important and influential awards thanks to its spotlight on exciting new talent. Previous winners include Eva Eland, Jessica Love, Flavia Z Drago and Kate Milner.
Alongside Lydia Monks and Joseph Namara Hollis, this year's judges are Urmi Merchant, founder and owner of independent bookshop Pickled Pepper, London; and Dr Sarah McConnell, Course Leader of the Masters in Illustration course at Nottingham Trent University. The panel is chaired by Julia Eccleshare, Director, Hay Children's Festival.
@KlausFluggePrize #KlausFluggePrize2023