The Yoto Carnegies 2023 shortlists announced
Posted on Friday, March 17, 2023
Category: Book Awards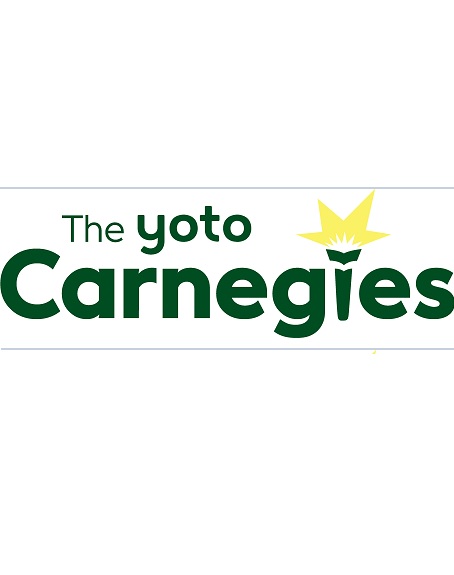 The Yoto Carnegies celebrate outstanding achievement in children's writing and illustration and are judged by children's and youth librarians, with the Shadowers' Choice Medals voted for by children and young people.
This year's Carnegie Medal for Writing sees an all-female shortlist dominated by YA fiction, featuring first time shortlistings for authors Jessie Burton, Patrice Lawrence, Sita Brahmachari and Manon Steffan Ros.
Strength of voice and originality of narrative style is celebrated, with many of the stories portraying inspirational characters or figures from real life overcoming adversity and finding strength in community and personal relationships.
The shortlist for the Yoto Carnegie Medal for Illustration features a diverse and bold range of illustrative and artistic styles, from a manga-inspired graphic novel, to traditional Chinese paper-cutting, from sharp, simple ink drawings to expansive watercolours.
13 books have been shortlisted in total; seven for the Carnegie Medal for Writing and six for the Carnegie Medal for Illustration. The 31 longlisted titles were whittled down by the expert judging panel, which includes 12 librarians from CILIP: the library and information association's Youth Libraries Group.  The shortlists include three previous winners; for the Medal for Writing, Katya Balen (2022) and Ruta Sepetys (2017), and Levi Pinfold for the Medal for Illustration (2013), alongside one debut title on each shortlist by Louise Finch and Flora Delargy respectively.
The winners will be announced and celebrated on Wednesday 21 June at a live and streamed lunchtime ceremony at The Barbican, hosted by former Children's Laureate Lauren Child CBE, who won the Carnegie Medal for Illustration - then known as the Kate Greenaway Medal - in 2000 for her first Charlie and Lola book, I Will Not Ever Never Eat A Tomato.
The 2023 Yoto Carnegie Medal for Writing longlist (alphabetical by author surname):
The Light in Everything by Katya Balen (Bloomsbury Children's Books)
When Shadows Fall by Sita Brahmachari, illustrated by Natalie Sirett (Little Tiger)
Medusa by Jessie Burton, illustrated by Olivia Lomenech Gill (Bloomsbury Children's Books)
The Eternal Return of Clara Hart by Louise Finch (Little Island)
Needle by Patrice Lawrence (Barrington Stoke)
I Must Betray You by Ruta Sepetys (Hodder Children's Books)
The Blue Book of Nebo by Manon Steffan Ros (Firefly Press)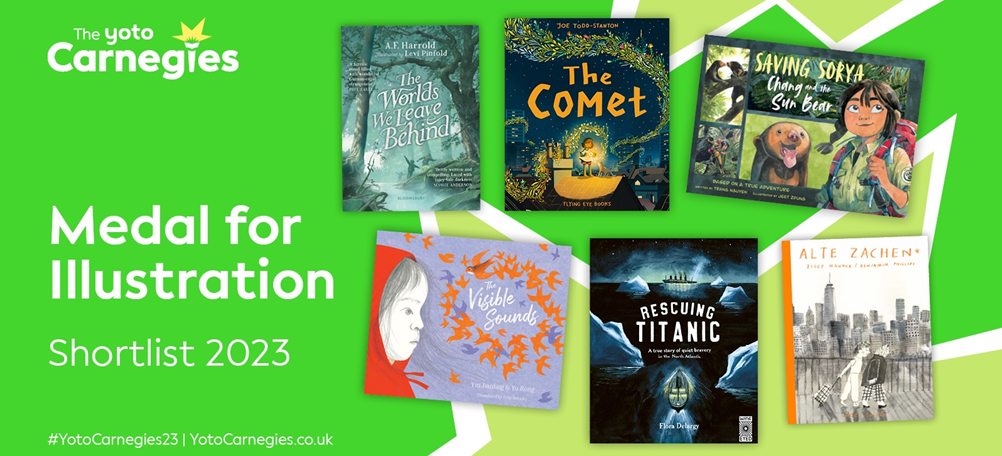 The 2023 Yoto Carnegie Medal for Illustration longlist (alphabetical by illustrator surname):
Rescuing Titanic illustrated and written by Flora Delargy (Wide Eyed Editions)
Alte Zachen: Old Things illustrated by Benjamin Phillips, written by Ziggy Hanaor (Circada Books)
The Worlds We Leave Behind illustrated by Levi Pinfold, written by A. F. Harrold (Bloomsbury Children's Books)
The Visible Sounds illustrated by Yu Rong, written by Yin Jianling (UCLan Publishing)
The Comet illustrated and written by Joe Todd-Stanton (Flying Eye Books)
Saving Sorya: Chang and the Sun Bear illustrated by Jeet Zdung, written by Trang Nguyen (Kingfisher)
Janet Noble, Chair of Judges for The Yoto Carnegies 2023, said, "Stories of bravery, compassion and community are told authentically and sensitively in a range of distinctive written and illustrative styles, with fantastic debuts taking pride of place alongside well-known names. We're sure shadowing groups across the country will share our excitement in reading and discussing these superb books in the coming months, and we wish them luck in choosing their winners - we know it's not going to be an easy decision!" 
The winners will each receive £500 worth of books to donate to a library of their choice, a specially commissioned and newly designed golden medal and a £5,000 Colin Mears Award cash prize. The Shadowers' Choice Medals, voted for and awarded by children and young people shadowing the shortlist from today, will also be presented at the ceremony. Following the brand refresh of the Awards this year, the Shadowers' Choice winners will also receive a golden medal for the first time.
As the official book supplier, Scholastic will donate shortlist packs to 10 schools in disadvantaged areas to allow them to also take part in the shadowing and widen the reach of engagement with the awards. Applications will be open from 24th - 31st March, with packs to be sent out immediately afterwards to the selected schools.
Scholastic will also bring a week of events celebrating the shortlist to the Scholastic Schools Live platform from Monday 27th March. Each 30-minute event will feature a shortlisted author or illustrator as well as a behind-the-scenes event with the judges. Schools can sign up for free on the Scholastic website.
#YotoCarnegies23