Barry Timms & Ged Adamson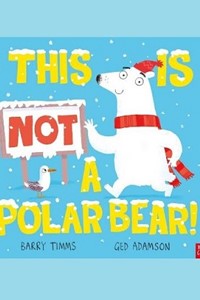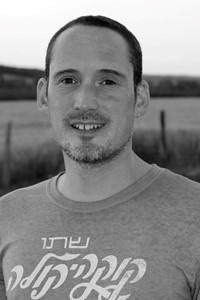 About Author
Barry Timms grew up in Cornwall. He spent his early years mending pop-up books brought home from the library by his mum. He later moved to London to study Fine Art at Central Saint Martins and then began editing children's books. More recently, Barry has been writing picture books of his own. 
Ged Adamson was born in Liverpool and as a child he was obsessed with drawing, listening to music and making up tunes. Composing music eventually became his job before he started writing and illustrating picture books. He lives in London with his partner Helen and their son Rex.
Interview
This is NOT a Polar Bear  (Nosy Crow Books)
October 2023
In the latest hilarious episode in the 'It's NOT a...' picture book series, we discover why This is NOT a Polar Bear: it's a roller-bear, an acrobatic-diver bear, a dizzy, disco-dancer bear and a record-breaking jumper bear - and more!  Author Barry Timms and illustrator Ged Adamson tell us what inspires their creative partnership - and which pages in their new book make them giggle the most! 
Author Barry Timms introduces us to his funny rhyming picture book series, This is NOT a Unicorn; This is NOT a Dinosaur, and the latest book in the series, This is NOT a Polar Bear! Find out more about the picture books, enjoy short readings, and then draw your own Polar Bear in this draw-along with illustrator Ged Adamson!
Q&A with Barry Timms & Ged Adamson
1.    What does a typical day as an author or illustrator look like? And what kinds of stories do you enjoy creating - plenty of heart, or lots of chuckles?
Barry:   My working day varies massively. I balance my time between developing my own stories and working as an editor to help other authors develop theirs.
As for the kind of stories I enjoy, again variety plays a key role. I love writing that's funny and silly, but I'm also a big fan of anything that tugs authentically at my emotions. There's room for it all, and at the moment I'm trying to experiment with writing styles I've not previously used.
Ged: A typical day for me depends on what kind of projects are happening. If I'm in a period where I'm trying to come up with new stories, I'll be scribbling away all day in my sketchbook and on various bits of paper. It's usually doodling that triggers an idea but not always. I can be anywhere and do this - it doesn't have to be in my studio.
If I'm working on illustrating another author's story (like Barry's!) or at the final illustration stage of one of my own books, then I'll be in my studio most of the day - only emerging for coffee and lunch.

2.    We've had a 'not-a-unicorn' and 'not-a-dinosaur' story; why did you decide on This is Not a Polar Bear for your new book?
Barry:   The three-syllable creature name obviously played a big part. But we also wanted to do something seasonal that might appeal as a Christmas purchase without being limited to one selling window. I'm starting to sound like I work in the Sales team now, but that's because they very much helped us in our decision of - what next?

3.    Why do you think these books are so loved? What do people tell you?
Barry:   I think it's the nonsense and silliness and wordplay, and the fact that young readers are encouraged to make up their own variations for the creatures. But also, because there are so many imaginative scenarios packed into 32 pages, these books offer a wealth of variety and value that might not always be possible with a conventional narrative.
Ged:    It's definitely the amazing illustrations! Just kidding - I've seen kids first hand really loving Barry's wordplay and humour. There's a real warmth there. I think each book shares the same feeling of positivity and fun. They are essentially about friendship and sharing a joy of life. Hopefully my images add something nice to all this loveliness!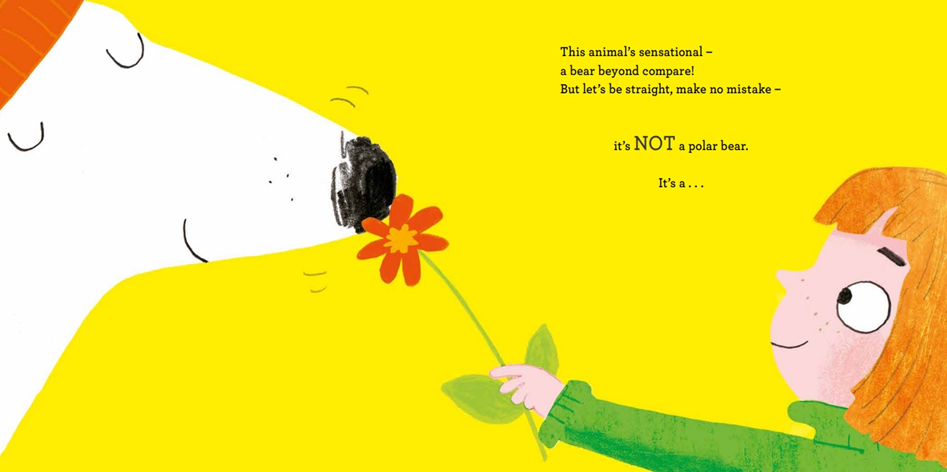 4.    Why do you think the text and illustrations work so well together? Does Ged check in with you about what he has planned for the images?
Barry:   For me, that's down to the Nosy Crow team's brilliant vision for the books they create, and to Ged's very natural sense of imaginative humour.
I tend to make notes only when I feel my writing speaks for itself, to prove that I'm not setting the illustrator an impossible task. I'm rarely wedded to a particular visual interpretation and am always very happy to be surprised by a talented illustrator like Ged.

5.    How do you approach each new book - what is your starting point?  And Ged, how do you begin to decide on how to illustrate the story?
Barry:   It's a mixture of things - definitely the three-syllable word and the enduring appeal of the creature. Plus the creature's name needs to be able to split in a way that makes any playful variations on it feel natural and easy to say and comprehend.
Once these things are locked down, I usually do a brain-dump of possible scenarios and ultimately pull together a collection of them that together feel like a rich universe for a picture book.
Plus there's the rhyme, which brings in limitations. It's a juggling act. And if the team feels some elements are weak, then I go back to my notes to look for replacements. Or sometimes back to the drawing board!
Ged:    I've begun each one with working on the look of the two main characters. Everything kind of goes from there. This Is Not A Unicorn! was the most difficult to get right character-wise - but that process was still a lot of fun. I knew for the (not a) unicorn, I wanted him to be very simply designed but to have a cuteness and friendliness. I was still tweaking his look almost all through the final art stage!
There's a lot of humour in Barry's text and I wanted to reflect that. With these illustrations, it's important to have a certain amount of detail. You want kids to spend time on them and go back and see new things. There are moments that sort of link across the three books - like the magical opened door of Unicorn to the haunted house of Dinosaur to the snowy fairytale castle of Polar Bear.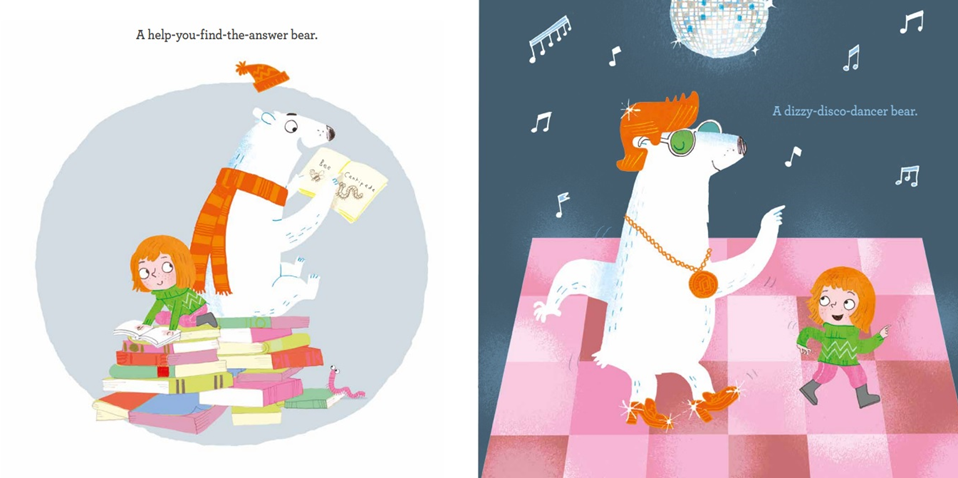 6.    The text and images in This Is Not a Polar Bear look deceptively simple, but which spread took the longest to get right, and which are you happiest with? Which page makes you laugh the most?
Barry:   The winter wonderland castle took some time to get right. Being near the end of the book, there was a lot riding on it and it simply had to have the wow factor. The solution was: more snow!
In terms of the image I'm happiest with, sometimes it's an image you never expected to feature - I love the close-up of the bear sniffing the flower, which is so full of personality and the simplest kind of joy. As for the one that most makes me laugh, probably the disco dancer!
Ged:    The snowy fairytale castle sleigh scene definitely took the longest! I really like the bit where the seagull knocks snow onto the polar bear. Also the superheroes!

7.    There are plenty of laugh-out-loud moments in the books - but how do you bring the warmth to the story through the images?
Ged:    I really want the reader to feel the fun and affection in the relationship between the child character and the Unicorn / Dinosaur / Polar Bear right from the start of each book. So the facial expressions are very important. I want people to recognise their own friendships in the two characters' reactions to each other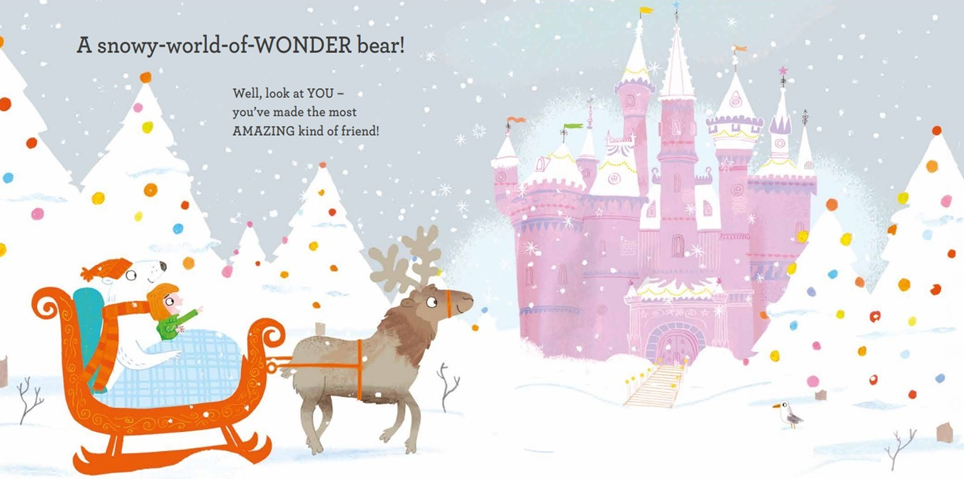 8.    Do you ever work with children to create their own 'This is not a...'? 
Barry:   When Ged and I do events, I'm always keen for him to do some live drawing and I really enjoy taking requests from the young audience. They always come up with surprising variations on the creature names; things we'd never dream up as adults!
Ged:    Barry and I won best picture book award at the Stockport Childrens Book Awards with This Is Not A Unicorn!. The best part was seeing all these amazing unicorns by children from lots of different schools. There were all kinds of crazy and wonderful (not a) unicorns. Some had used a unicorn template and others had drawn the unicorn from scratch. It was lovely to see.

9.    What's been your best moment with the books in this series? 
Barry:   There's nothing like holding a finished copy in your hands for the first time. I'm fortunate to live fairly close to the Nosy Crow office and remember walking there during the pandemic, when only a couple of members of staff were manning the place, and mumbling through my face mask to collect a freshly-printed copy of Unicorn. Obviously, I'd never wish for a return of those circumstances but the 'against all odds' feel of the moment did make it especially memorable!
I always want my picture books to feel special, so with any series you have to guard against diluting what made it so enjoyable at the start. We haven't planned further titles at the moment, but if there's a genuine appetite for more then I'm in!
Ged:   For me it was having that first finished This Is Not A Unicorn! book in my hands fresh from the printer's. It was a lot of work but loads of fun and to see that the end result was actually a great book was a brilliant feeling. It was a collaboration not just between me and Barry but with Nosy Crow, too

10.    What does a relaxing day away from the office or studio look like for you?
Barry:   My working week is pretty busy and even at the weekend I find it hard to fully slow down. That tends to happen when I'm away from home and not noticing things like the laundry mounting up or a DIY task that's overdue. I've been on retreats a couple of times and having someone else take care of things and structure the time is so welcome. I'd gladly do it all over again
Ged: Playing the piano (not brilliantly!), having a wander around London and meeting friends for a drink!
Author's Titles