Barry Timms & Ged Adamson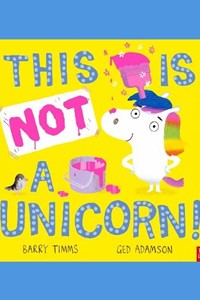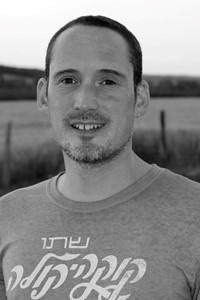 About Author
Barry Timms grew up in Cornwall. He spent his early years mending pop-up books brought home from the library by his mum. Vast swathes of Sellotape were involved.  In the late 90s, Barry moved to London to study Fine Art at Central Saint Martins. By a twist of fate, he later secured an editorial job at Walker Books. He's been editing children's books ever since. More recently, Barry has been writing picture books of his own. He loves the knotty puzzle of structuring a story over so few pages. Even better is the rush of excitement when a solution lands in the shower, or while walking the streets of South London. That's a feeling worth its weight in gold.
Ged Adamson was born in Liverpool and as a child he was obsessed with drawing, listening to music and making up tunes. Composing music eventually became his job but having a career writing and illustrating picture books had always been a big ambition. In 2016, his story about a short sighted dog, Douglas You Need Glasses! received rave reviews and became his breakthrough picture book. He has written and illustrated many books including Shark Dog! and A Fox Found A Box. He lives in London with his partner Helen and their son Rex.
Interview
This is NOT a Unicorn (Nosy Crow Books)
April 2021
Come and meet a Not-a-Unicorn, whose hilarious transformations will delight and entertain young children. Author Barry Timms and illustrator Ged Adamson tell us more about their magical new picture book, This Is NOT a Unicorn!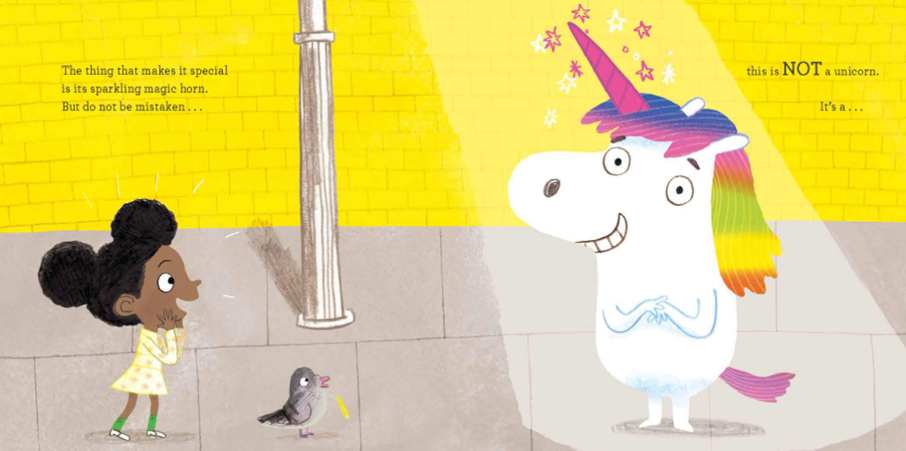 In this Q&A, Barry and Ged tell us more about This Is NOT a Unicorn:
1.   What brought you into writing and illustrating picture books? Do you do other work?
Barry:  I've worked as a children's book editor for almost 20 years now. In that time, I've been involved with various types of book - novelty, non-fiction, a little bit of fiction - but I really got into picture books about eight years ago while working for Little Tiger Group. I wrote a couple of books for them in-house but had no aspirations at all to be an author. Being an editor seemed to completely scratch the writing itch, as it were. Then in 2017 I wrote Where Happiness Lives for Little Tiger and it all changed. I knew at that point that writing picture books was something I really wanted to invest time and energy in.
Ged:  I would get occasional illustration work and had cartoons published in magazines but my actual proper job used to be composing music. Mainly for things like tv commercials and trailers. I really loved doing it but I always had a big ambition to make picture books. I worked on an idea for a long time. I thought if I could just get an agent and some kind of small book deal, it would be my 'in' into the publishing world. I got lucky with my agent - Isabel Atherton at Creative Authors - and she got me that first important deal. And loads of others since! It's been a great learning curve and I've loved every minute.
2.   What for you makes a great picture book idea?
Barry:  Well, in this day and age it needs to be immediate. There's so much media around us, so if your front cover doesn't convey a large part of the idea then unfortunately there's a much lower chance of someone picking the book up. Children and their parents want to be entertained, but I think they want to feel something, too. So even if your book is light and funny, it can help to invest some genuine heart in it - something that will make readers feel connected, both to themselves and to others.
Ged:  I would say simplicity. You should be able to tell somebody the idea in a sentence - a small paragraph at most - and the best response in telling your idea would be surprised laughter. Like you've told them a good joke with an unexpected punchline. Think of some of the best picture books. The titles themselves often do this very thing. The Day The Crayons Quit, for instance. Or The Tiger Who Came To Tea.
3.   Can you tell us about your new picture book, This is Not a Unicorn, and how the idea started?
Barry:  I remember that wanted to have a go at the unicorn theme, and my first idea was about a unicorn who had - I think - either a trumpet or a cooking utensil instead of a horn. So she was a sort of outcast character who wanted to conform and be like the other unicorns, and the story would be about her finding her own unique talent, and using the non-horn to her advantage. I'm glad to say that, about a day later, I had the sense to jettison this idea in favour of one that brought the wordplay to the fore and really revelled in it. That's when I started to have a lot of fun and knew I was on to something.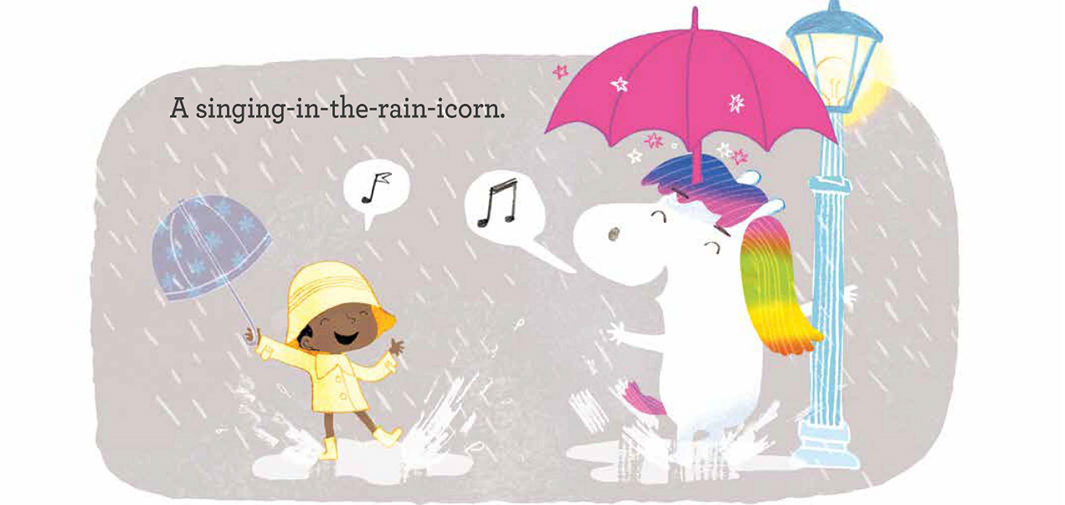 4.   What do you think makes unicorns so compelling for young children?
Barry:  I think horses themselves are magnificent, rather spellbinding creatures, and there's a genuine communion between them and humankind. A trusty companion who can literally transport you, and also be by your side when you need them. So add to that some myth and magic, and a heavy dose of rainbows and glitter ... I mean, for a young child, what's not to like?
5.   Ged, how do you decide what the characters will look like, and do they look how you imagined, Barry?
Barry:  The unicorn character isn't at all like I imagined. I expected a very conventional four-legged creature that would tick all the main unicorn boxes, but perhaps not really do much more than that. So that's why it's so important to be openminded and pass the concept over to someone of Ged's talents. He had the vision and good sense to make it a two-legged, far more unique-looking creature. The result is a character that feels like the little girl's equal, and the two of them fit together so naturally - they're convincing best buddies. It's strange to admit that it's not what I imagined at all, and yet it's spot-on and so irresistible!
Ged:  I always want to give the characters something that makes them distinctive in some way. Lots of great people have illustrated unicorns so I wanted the unicorn in Barry's story to really stand out - especially on a shelf in a book shop. I definitely didn't want him on all fours or be too realistically horsey.
I love thinking up the clothes of a character. Obviously this doesn't apply in the case of a unicorn!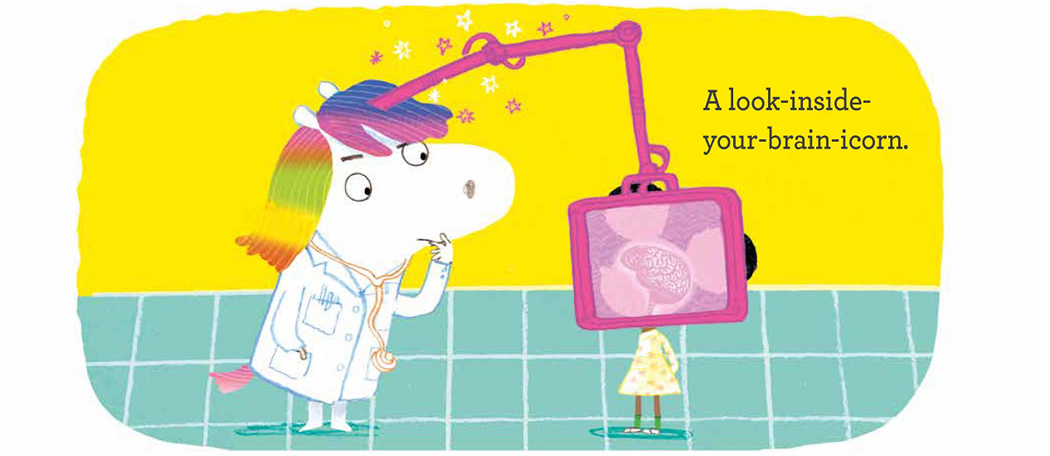 6.   How do you create your images?
Ged:  I'm forever buying new sketchbooks. This is where I'll experiment and work on ideas. Then I draw the illustrations on loose paper in pencil. I'll also use colour pencils and watercolour paint. Then I scan all this into my mac and arrange and tidy up in photoshop.
7.   What are your favourite spreads in the book?
Barry:  Oh, definitely the first time we get to see the Not-a-Unicorn, with his clasped hands and unassuming face. And I love the images with darker backgrounds - the theatre, jungle and space scenes - in which the neon pink ink gets a full opportunity to pop.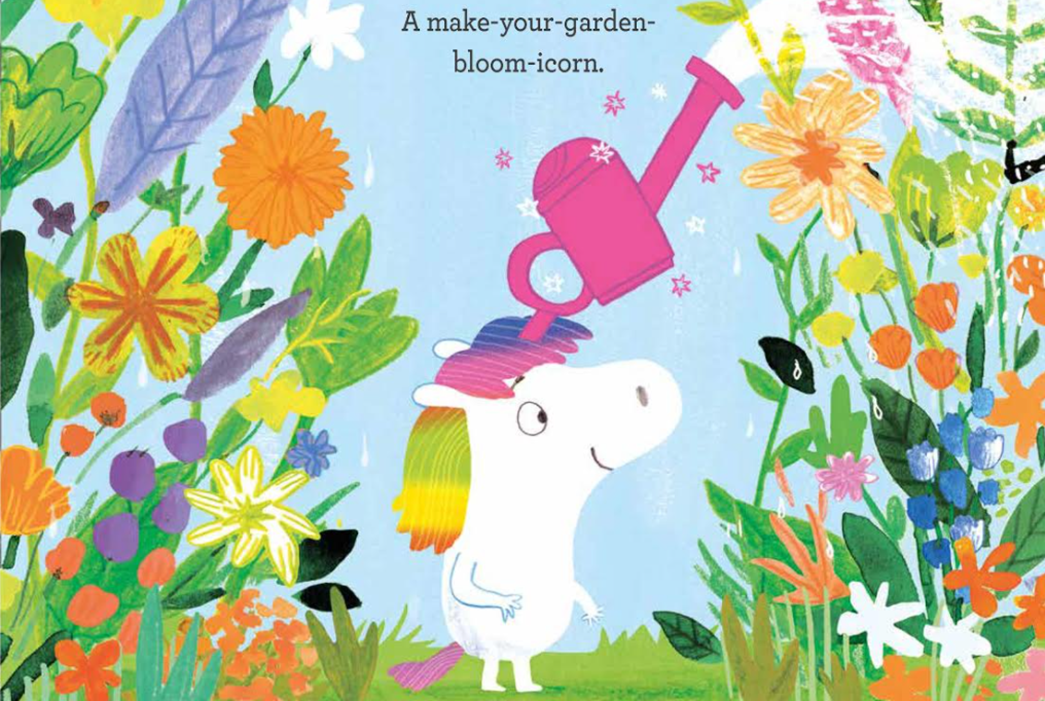 Ged:  I think my favourite is the close up of the unicorn's and the little girl's heads against the yellow background. I'm really happy with it - it's quite sweet. I just really like the simplicity of it.
8.   If you had a Not-a-Unicorn, what would you want it to become?
Barry:  Actually, I've just looked through my notes to see what didn't make it into the final book. I would have loved it if we'd been able to pull off an "All-aboard-the-train-icorn", in which the unicorn's horn became the train's funnel. That would be an amazing mash-up! Alas, I hadn't really thought it through as a visual idea - it required more shapeshifting than the book could really cater for!
Ged:  A pencil sharp-i-corn
9.   How long does it take to complete a picture book?
Barry:  Well, in terms of the writing, it really varies. I've pulled off a text in a week or so, or at least come up with a decent working draft. But other texts have taken me months to resolve. The process from having your text contracted to seeing it in the shops can easily take 18 months or 2 years. But Nosy Crow pulled out all the stops on this one and somehow managed to do it in 9 or 10 months. Much of this was down to Ged's tireless work, and to printing in Europe.
Ged:  It can take two years from idea to publish date. But that can vary. This one was pretty quick though - which I loved because often I do my best stuff if I'm up against tight deadlines
10.   Where and when do you do your best work?
Barry:  Again, it varies. I need a hub to base myself around, and that's my desk at home. But my ideas often flow more freely when I'm out walking or in transit generally. Increasingly, I've been hosting my documents in the cloud so that I can easily access them on my phone while on the move. With picture books the word count is very low, so the chance to nail 10 or so of those words can feel like an opportunity worth taking. These days I think nothing of stopping in my tracks wherever I am, grabbing my phone and typing in a promising line before I forget it.
Ged:  In my little studio/work room at home. It's very light with a lovely big old window. It looks out onto a nice little street and a very London-y brick wall and lamppost. It's weirdly conducive to new ideas.
11.   Other than your computer, what's on your desk that you couldn't work without?
Barry:  My desk is extremely minimal. But a glass of water is always to hand, as is a pencil and paper, which I find sometimes leads to more intuitive thinking than typing on a keyboard. My desk itself is really important to me. It's a labour of love that I designed and built by hand around the time I got serious about writing. I made it especially for the space. But - in a twist of fate - we've just decided to move, so I will probably have to wave goodbye to it and build a new one when we get settled.
Ged:  Small bits of paper with ideas and reminders written on them.
12.   Will we see more of Not-a-Unicorn? What are you working on for your next picture book?
Barry:  I'd really like to think there might be more of Not-a-Unicorn, if the demand was there. But I'd want to avoid diluting the idea of the first book, so it would all depend on coming up with something fresh and new that has the same essential spirit. In the meantime, I'm working on a Christmas-themed book which is at the very exciting stage of first sketches. Plus, there's a love-themed book in the pipeline. The publisher sends me little glimpses of the very rich, vibrant artwork, which was a tonic during the long winter we've all endured. It's due out in the spring next year.
13.   What do you love doing most when you're not at your desk / studio?
Barry:  I mentioned it earlier, but walking has become really important to me during the lockdown months. Even on the dark winter evenings, I've enjoyed stomping around my local London streets. It makes me feel connected to myself, to my thoughts, and to the place I've chosen to build a life. I often take very meandering routes - taking in this particular garden square, that unusual narrow alleyway, this quirky flight of steps... Sometimes, these walking paths feel like stories to me - with high points and low points, moments of quiet, twists and surprises, and the resolution of ultimately finding your way home.
Ged:  I love annoying the neighbours with my poor piano playing....
Author's Titles