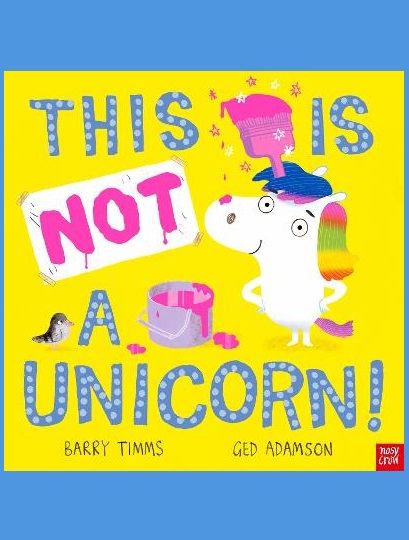 By Author / Illustrator
Barry Timms, Ged Adamson
Genre
Funny Stories
Age range(s)
3+
Publisher
Nosy Crow Ltd
ISBN
9781839942884
Format
Paperback / softback
Published
01-04-2021
Synopsis
Get ready for a magical and hilarious adventure about the most fantastic unicorn EVER!This book is NOT about a unicorn! Well . . . OK, maybe it is! But THIS unicorn has a horn that can turn into the most incredible things - a magic wand, a helicopter, even a space rocket! Join the hilarious adventure and prepare to be amazed by your brilliant new friend.
With wonderful wordplay and a funny and sweet friendship at its heart, this is NOT a unicorn book to be missed! This fabulously funny story has stacks of appeal for both girls and boys - watch out for rockets, rainbows, helicopters, massive fish, ice cream sundaes and magical adventures.
Every Nosy Crow paperback picture book comes with a free "Stories Aloud" audio recording. Just scan the QR code and listen along!
See also: This is Not a Dinosaur
Reviews
Ellen
Well, what a delicious treat this is! Look at those colours! The fabulous rhyming text! The joy! Needless to say, I loved This is Not a Unicorn and can see our unicorn-mad children loving this - and any child who loves rhyming text and a fun story.
When a young girl meets a 'not-a-unicorn', she discovers that there is more to her new friend than meets the eye; it's not-a-unicorn, it's a 'Singing-in-the-rain-icorn, a look-inside-your-brain-icorn, a make-your-garden-bloom-icorn' - and so much more, as we discover in one delightful spread after another.
Imaginative and lovely to read aloud, the images are also full of fun surprises for young children and are bound to spark their own imaginings of what else a not-a-unicorn could be! Do share this, either with a class or with your own children at home - they will love it.
Picture book / Reviewed by Ellen Green.
Suggested Reading Age 3+
Emma
Prepare to meet the ultimate technicolour companion! A little girl befriends what she thinks is a unicorn but it's oh so much more than that. Limitless imagination and all the colours of the rainbow burst from the pages of this delightful celebration of friendship.
Suggested Reading Age 3+
Other titles