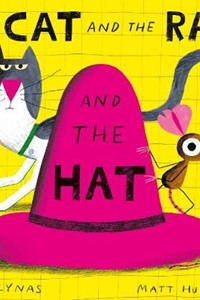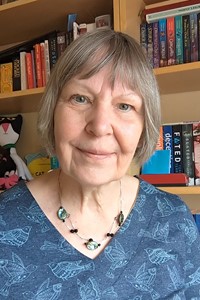 About Author
Em Lynas loves to write funny books and her latest picture book The Cat and the Rat is an hilarious tale about a cat, a rat, a bat and a hat. Em also loves to write about magic, dragons and folklore. Other than being an author, Em has been a shelf stacker, a shoe shop assistant, a primary school teacher, a mum and an educational publisher. She lives by the seaside on the North East coast with her husband, Geoff.
Matt Hunt, illustrator of The Cat and the Rat and the Hat, started out as a fine artist, graduating from the Birmingham School of Art, and from these roots, developed a love for children's illustration. Matt works in mixed media, utilising paint, pens, crayons, and digital. He loves to create new and interesting characters and write stories for them. He's influenced by old movies, classic illustration, cartoons and books. He lives with his wife Hayley and two cats.
Interview
The Cat and the Rat and the Hat (Nosy Crow Books)
July 2021
Em Lynas's hilarious new picture book, The Cat and the Rat and the Hat, illustrated by Matt Hunt, is a tale about a cat, a rat, a bat - and a hat, which they all want, but who will end up getting it? Em Lynas tells us more in this video, with a short reading from the book, and in her Q&A. 
Q&A with Em Lynas
1.You've written children's novels previously; why did you decide to create a picture book?
Picture books are my first love, I read thousands as a reception teacher and always wanted to create my own. But…it's hard! There is so much to learn about simplicity and structure, character and plot, rhythm and rhyme, and every word counts, every word has to have the right amount of power. We even had discussions over which was best - the or a! Also, it's great to have shorter projects to work on in between novel writing.
2. What is The Cat and the Rat and the Hat about?
Greed, trickery and chaotic comedy! Cat and Rat fight over the hat until Bat comes along with his fancy cravat then Cat and Rat want that, not the hat. So Bat gets the hat and that is that.
3. What inspired the story?
I love playing with words so I set myself the challenge of using one rhyme and making a rhythmical text that bounced. I made long lists of rhyming phrases, internal rhymes, alliteration etc and then tried to manipulate them into various plots. 'Bat' was a late addition after consultation with my publisher and I think she works brilliantly because she increases the conflict and twists the ending.
4. How long did it take for the story to come together? 
I had lots of ideas in my big book of plotting but eventually I had to choose which to work on, and The Cat and the Rat and the Hat had the best phrases and the best storyline so I concentrated on that. It's hard to say how long. Over a year? But obviously not all of that year. It was very much in the back of my mind, running through my thoughts while I was doing other things like washing up, doing the garden, walking. Walking is great for picture book creation, it helps me to check the beat and rhythms. I try to keep it in my head but I'm sure I'm sometimes mumbling as I walk.
5. Have you ever had a cat or rat as a pet - and were they as badly behaved as these ones?
No, no cats or rats but my friend's daughter had a rat that loved to listen to stories. Now there's an idea for a book!
6. What do you think about the illustrations by Matt Hunt and how they help to tell the story? 
I love the illustrations! Couldn't be happier. Matt Hunt has created three amazing characters that almost jump off the page. I love the colours, the graphic style, the expressions, the franticness of the chases and the pauses in the movements that add so much to the story. It's amazing.
My favourite spread is the one where Rat is on the left hand page without the hat, and cat is on the right hand page with the hat. The differences in size and attitude is perfect.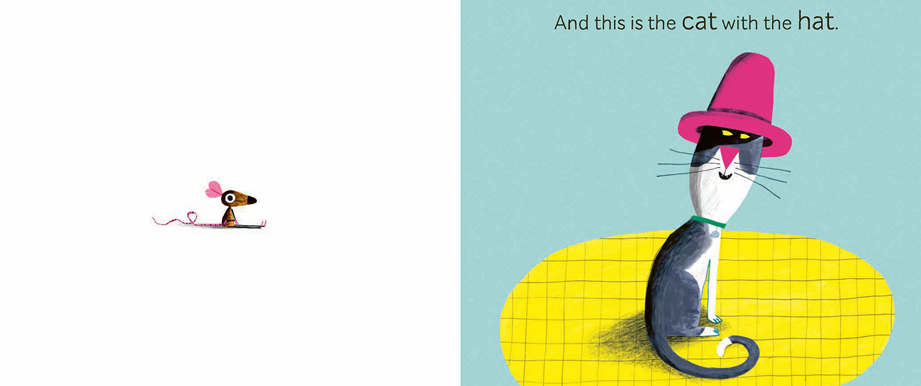 7. You were previously a teacher, so how would you recommend using The Cat and the Rat and the Hat in the classroom?
I'd love them to have fun with the rhymes and the characters. Maybe they could write their own funny stories based on Cat and Rat's antics. I hope teachers will use my story to show that books can make you laugh and words can make you bounce.
8. Are you working on more picture books? Will Cat and Rat, or Bat, be returning?
I am working on more picture books and one of those is about Cat, Rat and Bat. I have a plot but it's very much at the 'write lots of lists' stage. Meanwhile I have a book coming out in 2023 with Nosy Crow, also illustrated by Matt Hunt, The Goat and the Stoat and the Boat, which is a lot of fun.
9. What are your three stand-out picture books?
I have so many, especially from my teaching days but I'm choosing these three more recent treats. The Book With No Pictures by BJ Novac. I wish I had written this! I'd love to have written these nonsense words so that children can make adult readers sound ridiculous. So funny and so clever.
Then there are two books that have come out this year and are great fun. The Pet by Catherine Emmett and David Tazzyman - I've always loved Dear Zoo by Rod Campbell but Catherine has taken that premise of wanting a pet and added in oodles of character and humour. Such a funny read.
And Barbara Throws a Wobbler by Nadia Shireen. Again, oodles of personality and lots of humour while exploring the serious issue of tantrums, emotions and how to handle them. I could read this over and over again.
Q&A with Matt Hunt
1. What brought you into illustrating children's books
I graduated university after studying Fine Art and my instincts eventually led me to children's illustration and a passion for children books!
2. What did you enjoy about the text for The Cat and the Rat and the Hat?
I thought the text was so fun and rhythmic and had loads of potential for action and comedy.
3. You had to create a number of the illustrations to help tell the story - was this a challenge?
It's always interesting when a text leaves things open to interpretation. It's great to have the free-dom to sketch out all sorts of scenarios, and (with loads of help from Nia at Nosy Crow) filter out the ones that work best.
4.   Did any particular cat inspire the look of Cat?
I have two cats, neither of which are as edgy as the cat in this book! The characters took quite a bit of sketching to workout the designs. The final art in the book is a combination of paint and pencils and digital.
5. What about the colour palette, how did you decide on the look of the book?
The colour pallet was something that we worked a lot on. We knew we wanted something punchy to match the feel of the text, it just took a bit of trial and error to figure out what worked best.
6. Which is your favourite spread or image?
Maybe the spread where we see the bat for the first time, I like the upside down speech bubble!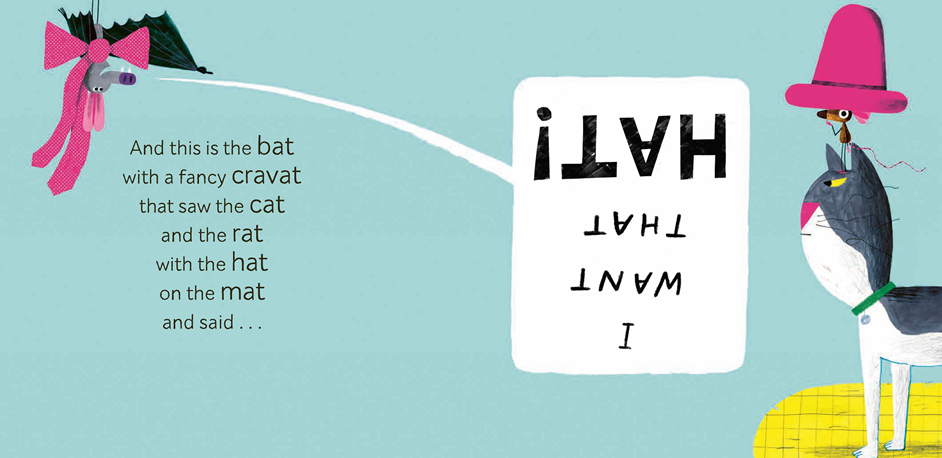 7. What else are you working on?
I'm currently working on a giant poetry anthology, which is the most challenging but rewarding project I've worked on so far.
8. Which three picture book illustrators do you go to for inspiration?
SO hard to choose just three. But I never get tired of looking at Tomi Ungerer, Christian Robinson or Kevin Waldron's work.
Author's Titles