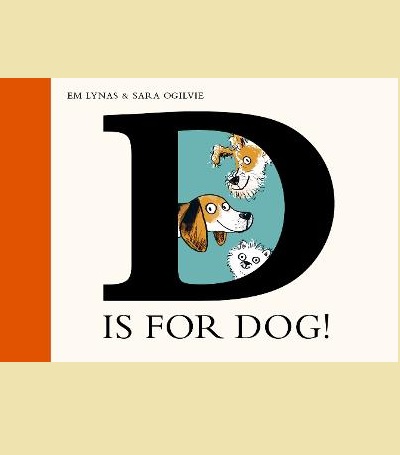 By Author / Illustrator
Em Lynas, illus Sara Ogilvie
Genre
Animals
Age range(s)
3+
Publisher
Nosy Crow Ltd
ISBN
9781839944222
Format
Hardback
Published
12-10-2023
Synopsis
Bound into this playful and energetic rhyming text featuring an adorable cast of dogs.  Whether it's getting marvellously muddy, leaping and lolloping or hiding under the bed with a stolen slipper, a dog's life is so much FUN. This hilarious alphabet celebration of canine capers is perfect for dog lovers young and old.
Featuring stylish and vibrant artwork by the award-winning Sara Ogilvie, illustrator of Julia Donaldson's The Detective Dog.  This bright and cheerful book is the perfect gift for any child (or adult!) to read aloud or enjoy alone.
Find out more in our Q&A with Em Lynas - and enjoy this reading by the author!
Reviews
Jo
D is for Dog is a beautifully illustrated book which follows the alphabet with a sing-song rhyme and a delightful dog for each letter. My daughter is just starting to learn her letters and she loves tracing the letters and declaring what dog the letter stands for. It's a lovely book for children who are learning the alphabet and starting to recognise the shapes of letters.
Picture book / Reviewed by Jo Thomas
Suggested Reading Age 3+
Maria
What is not to love about this lovely book? D is for Dog uses dog antics to tell the alphabet in a rhyming and humorous way. From A is for action, I is for itch right through to Z is for zonked, children will love this book, especially as P is for... Yes! Poo!! One of my favourite parts of this book is the back pages where there is an A-Z of dog breeds with an illustration of each - a great challenge for any reader!
The bright, bold and clear illustrations add to the effect of this book and make it even more engaging. The details and the story they tell adds to the actual story told through the text, and also aids in the opening to lines of enquiry and comprehension. 
This is a great resource to use with children of many ages; to share and learn the alphabet, capital representation of letters, and alliteration and rhyme. This book could also be used as a high quality text as it models an alternate style to traditional narratives. By using the text as a scaffold, children would be able to create their own A-Z on another topic.
Picture book / Reviewed by Maria Faithorn, teacher
Suggested Reading Age 3+
Elen
What a wonderful romp of a picture book this is, with the pictures by Sara Ogilvie perfectly matching the rhyming text by Em Lynas, who I already know from her earlier picture book, The Cat and the Rat and the Hat. 
In D is for Dog, we follow a variety of dogs through the day, which makes a fun way to learn the alphabet with the rhymes helping remind children which letter will come next. This is a perfect story to share with children who are at the start of their learning journeys, and to gift to any child - or adult - dog-lover!
'A is for action, B is for bark, C is for catching a ball in the park....'  Em Lynas is the queen of rollicking rhymes, and D is for Dog perfectly captures the energetic and quieter moments of a dog's day; there is also some alliteration along the way - 'G is for going and getting and gasping and glee' when a dog is chasing, all the way through to the final pages when it's bedtime, and 'Z is for zonked and a snug place to stay'.
The final spread is given to a reminder of all the dogs we have met along the way through the alphabet - sharp-eyed readers will see that each dog matches its letter (so for A we have an afghan, etc).
The spirited illustrations by Sara Ogilvie enliven the text and make this a really lovely book to gift, as well as to share with Em Lynas's fun, lively rhymes. Highly recommended!
Picture book / Reviewed by Elen Green
Suggested Reading Age 3+
Other titles