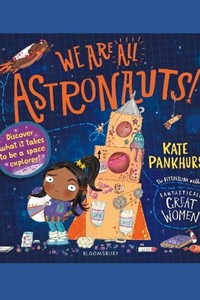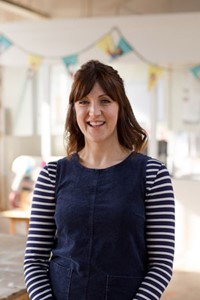 About Author
Kate Pankhurst, bestselling author and illustrator of the Fantastically Great Women books, introduces her new series, beginning with We Are All Astronauts. Kate's books have been translated into 22 languages and been shortlisted for many awards, including the NIBBIES award for Children's Illustrated & Non-fiction. Her first book, Fantastically Great Women who Changed the World, was adapted into an inspiring stage show.
These days, Kate can be found illustrating and writing in her studio in Leeds with her spotty dog, Olive. She loves a good story, the funnier the better, and gets her best ideas by doodling in her sketchbook; because even quick, wonky drawings can spark ideas for amazing plots.
Interview
We are All Astronauts  (Bloomsbury Children's Books)
August 2023
We've been chatting with author and illustrator Kate Pankhurst, creator of the Fantastically Great Women series, who has been talking about her new series which starts with We Are All Astronauts, giving an inspiring glimpse at the women who played a role in helping get humans into space! Ideal for children aged seven years plus who are interested in space, and STEM enthusiasts, the journey begins with Luna Scope discovering what it takes to be an astronaut, with the help of her granny who is herself inspired by an incredible space pioneer from the past! 
We spoke with Kate Pankhurst to find out about the special women who helped inspire her book, plus her top three space facts!
Q&A with Kate Pankhurst
1.   Can you tell us a little about yourself and what brought you into writing picture books?  Why do you like to focus on famous women from the past in your books?
I live and work in Leeds. My studio space is in an old spinning mill. It's full of history, stories and there is always something quirky and creative going on to get involved with.
It was my distant family connection to Emmeline Pankhurst that gave me the idea for the Fantastically Great Women books. (Suffragette leader Emmeline is my great, great, grandfather's, brother's, son's wife!) I'd made lots of books before I realised the idea for this series was staring me in the face! Now I've got started telling women's stories I don't think I can stop. There are just so many women who did amazing things that haven't had the limelight they deserve and I love finding fun ways to tell their stories for a younger audience.

2.   What is your new book We Are All Astronauts about, and what will children learn from it?
Readers will meet young space explorer in training Luna Scope as she discovers what it takes to become an astronaut. With a little help from her own imagination, her space-mad granny and some amazing women from space history, Luna learns about things like astronomy, space geology, space engineering, animals in space and the amazing fact that you don't need to leave planet Earth to become an astronaut!
Each spread is filled with stardust, wonder, space facts and inspiration from female pioneers of space travel to follow your dreams!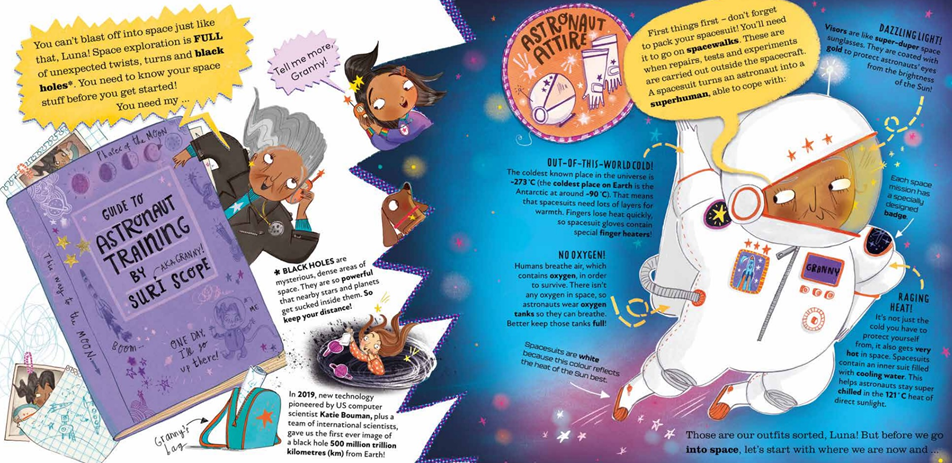 3.   Why did you decide to write a book focusing on space, and women astronauts?
I wanted to explore the mind-blowing fact that we are, right here, right now, on a planet called Earth, spinning through the Milky Way. With our feet firmly on the ground we can learn all we can about space - just like astronauts. (You could say we are all astronauts! That's where the title of the book came from.)
The idea for a space book had been bubbling for some time when I got the final piece of the inspiration jigsaw puzzle. I heard the story of Wally Funk, member of the all-female team of trainee astronauts called the Mercury 13. In the 1960s they were told space was no place for girls and their mission was scrapped. Wally Funk never gave up on her dream of reaching space and in 2021, while working on this book, she travelled to space as part of the Blue Origin space programme.
I couldn't make a book about space without telling the story of the Mercury 13 and the many other overlooked female pioneers of space travel - I created granny to honour the Mercury 13 and the many other pioneering women of space travel who refused to take 'no' for an answer!

4.    Was it hard to find out about those women astronauts, like the Mercury 13? 
I came across Wally's story a few years ago when I got chatting to the writer of Wally's biography. I couldn't believe I didn't already know about these women. Since then, there has been a Netflix documentary about The Mercury 13 and more public awareness.
I really wanted to use the story in a book for children; many of them won't have heard of Wally and I think her story of never giving up is incredible. I also hope young readers find it interesting to see how far things have come since the 1960s for women interested in space travel and careers in STEM.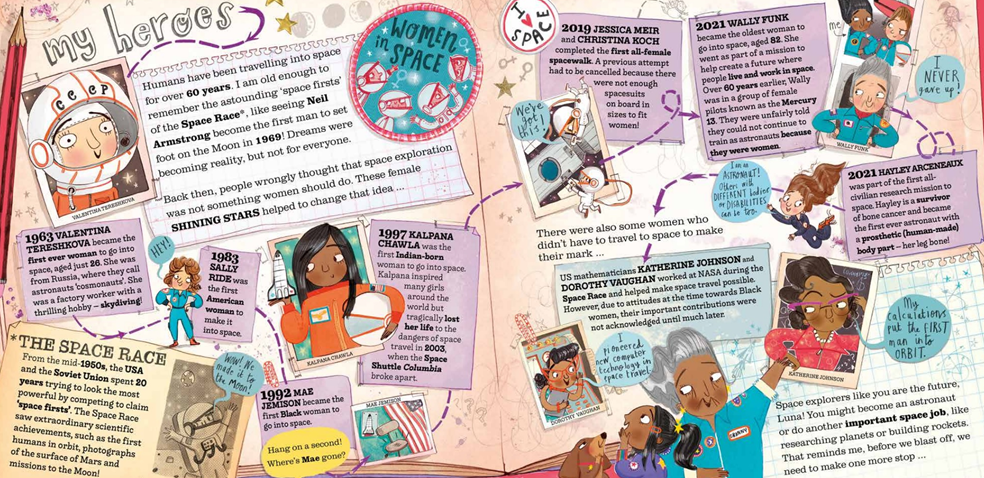 5.    Another astronaut, Mae Jemison, also appears in these pages - why did you decide to follow her journey into space?
I featured Mae Jemison in the chapter book Fantastically Great Women Scientists and their Stories. I really wanted to give her own double page spread in this picture book because her achievements are such an important milestone for women and for women of colour in space history. (I also loved that she made scientific observations of how tadpoles develop in space…  I feel space tadpoles could star in a whole other book!)

6.    What are your top three 'space facts'?
Fact 1:  Did you know the reason why astronauts are weightless on the ISS isn't because there is literally 'zero gravity'? There is gravity even that far up. The reason you float is because the space station is in free fall, but only at a rate that keeps it following the curve of the Earth.
Fact 2:  In 2019 the first ever photo of a black hole was taken and it was a mere 500 million trillion km from Earth … I'm not even making up that number. (The photograph of scientist Katie Bouman seeing the image for the first time has become really famous.)
Fact 3:  In the late 1960s the first Earthlings to orbit another world were … two tortoises from the Soviet Union who flew around the moon and back home again! They made it back safely unlike some of the other animals who sadly didn't survive the journey. (Felicette the Parisian street cat turned space cat is also one of my favourite space animals featured in the book, I've drawn her wearing a beret with her space helmet.)

7.   Can you tell us how you created the illustrations for this book? 
I start by roughing out thumbnail drawings of each spread to figure out what the visual device is that I'll use to tell the story and explain the non-fiction information. For example, the astronomy spread is a night sky above Luna's balcony; the living in space spread is a cross-section of the International Space Station; and the microgravity training spread is Luna's bathtub - it's an imaginary really, really deep bathtub!
Once I've planned everything I'll write a rough text and do more detailed roughs, before working on the final artwork. The whole thing ends up being like a giant jigsaw puzzle and it sometimes takes me days to find a way to fit in bits of information I really want to include!
I think my favourite spread is the astronomy spread, I love watching the night sky so that one was a joy to illustrate; the angle looking over the cityscape was tricky to get right. I also love the final We Are All Astronauts glowing night time spread in Luna's bedroom.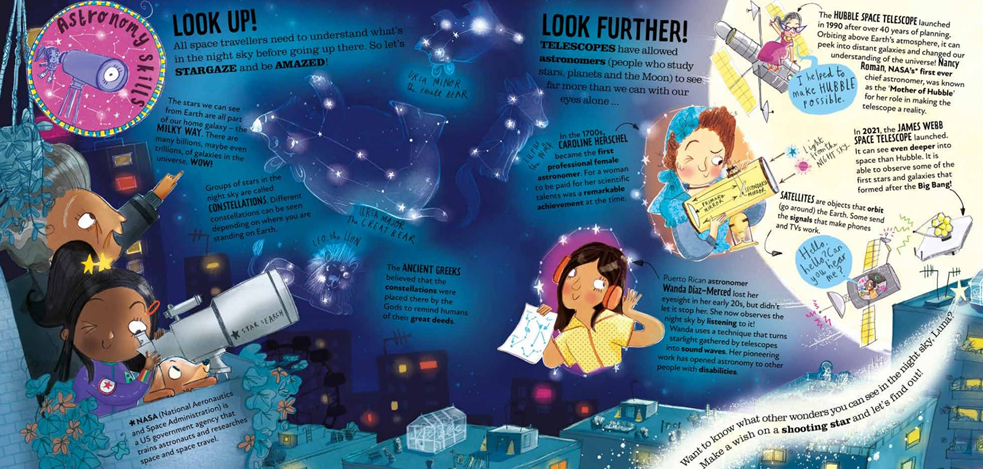 8.    If you had the option of a different career, would 'astronaut' feature? Have you ever wished you could fly into space?
I think it would be a life-changing experience seeing Earth from space. It would be such an adventure! I'd love to get the opportunity to do it but I am a bit of a wimp, so please could I stay inside the space craft? The images of astronauts on space walks, with all that blackness behind them, made me feel a little odd… I don't fancy floating off into space!

9.    What other books are you working on?
I'm currently working on the follow up to this book - We Are All Inventors! I'm enjoying designing crazy inventions and figuring out who my characters are. I can't wait to share the real-life inspirational story behind this book! (It's under wraps for now!)

10.    What kinds of things do you enjoy doing when you're away from your desk?
I enjoy walking my dog Olive (she's a Dalmatian), doodling with my children and reading books with them - it's such a chilled out activity and it's so interesting to see how they respond to books.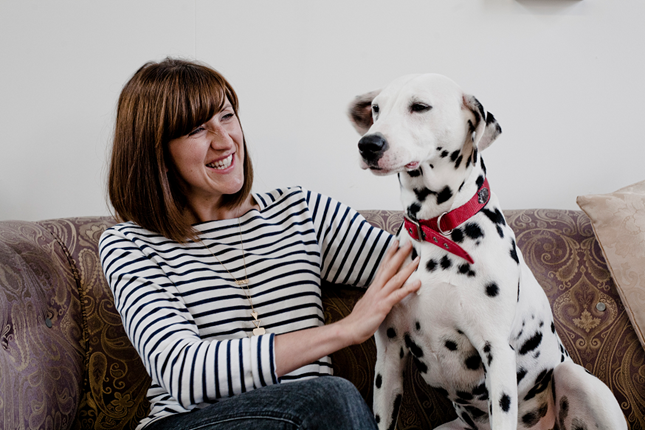 Here is Kate with her dog, Olive.
Author's Titles