Fantastically Great Women Who Saved the Planet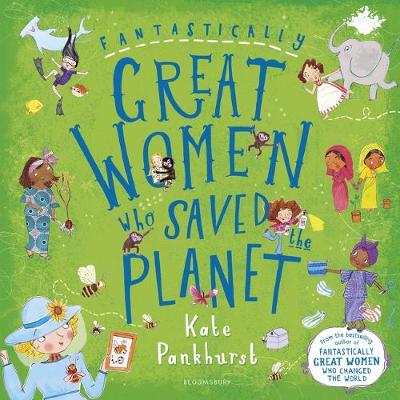 By Author / Illustrator
Kate Pankhurst
Genre
Environment
Age range(s)
7+
Publisher
Bloomsbury Publishing PLC
ISBN
9781408899298
Format
Paperback / softback
Published
06-02-2020
Synopsis
From bestselling author and illustrator Kate Pankhurst, descendent of Emmeline Pankhurst, comes another 'smart, informative, inclusive and accessible' book about trail-blazing women (Fiona Noble, The Bookseller). This time, it's women who have been making decisions that have helped protect our natural world from way before it was on a political agenda. Discover their untold stories.

Tackle the plastic problem with Isatou Ceesay by recycling waste into beautiful objects. Marvel at the intelligence of chimpanzees with Jane Goodall. Learn why it's important to shop fair trade and cruelty-free with Anita Roddick and The Body Shop. Resist devastating deforestation and plant seeds of change with Wangari Maathai.

We're in an age when young people like Greta Thunberg are calling for those in power to 'wake up' and take action. But everyone has a part to play. Written with hope and encouragement, this book shows that all actions, big and small, can be powerful in the fight against climate breakdown.
Reviews
Lauren
I have been a huge fan of the Kate Pankhurst Great Women series and already have the first few in my collection. The new addition, Fantastically Great Women who Saved the Planet, is no exception. I love everything about these books from the illustrations and the layout to the way they are written.
Kate Pankhurst has chosen a brilliant selection of women who have helped change and pave the way to protecting our planet and everything inside it. I love the mix of different women from all over the world - supporting, starting and leading different causes and studies. Each page is full of information, quotes and inspiration, following the journey of each woman and her work.  The illustrations bring the page to life and help children follow the 'path' of information around the page. This is not only for children; I, too, learned about great women and their work on the planet!
I think these books are brilliant addition to bookshelves, especially for girls to help spark some inspiration. I have used these within PSHE lessons and in the classroom and the children love the series of books I can't wait to add this one to the collection.
33 pages / Reviewed by Lauren Maidman, teacher
Suggested Reading Age 7+
Alexandra
Pankhurst has done it again in Fantastically Great Women Who Saved the Planet. Her engaging and inclusive book introduces just SOME of the most inspirational women who have looked after elements of our world.
With climate change and other environmental issues at the forefront of political discussions, this is a book of our time. This text will no doubt inspire another generation of girls to step up, make changes and, ultimately, continue to save our planet. Ideal for Year 3 and up, it would work well with themed learning such as 'Climate Change and Sustainability' or to enhance a Science lesson.
The text itself is written in an engaging manner, with humorous illustrations, which makes it relatable for the children. I cannot recommend this text enough!
Reviewed by Alexandra Shorter / 32 Pages / 7+
Suggested Reading Age 7+
Other titles