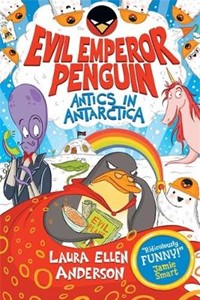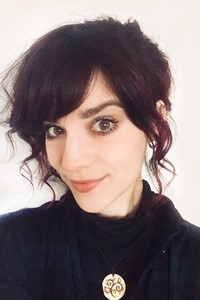 About Author
When she's not trying to take over the world or fighting sock-stealing monsters, Laura Ellen Anderson is a professional children's book author & illustrator, with an increasing addiction to coffee. She spends every waking hour creating and drawing, and would quite like to live on the moon when humans finally make it possible. Laura is the creator of Evil Emperor Penguin and illustrator of Witch Wars, as well as many other children's books. Her Evil Emperor Penguin comics originally appeared in the hugely popular weekly story comic The Phoenix.  The bestselling Amelia Fang was her first series as author-illustrator.  
Interview
Evil Emperor Penguin: Antics in Antarctica   (David Fickling Books)
October 2022
ReadingZone dropped in to see comic-creator Laura Ellen Anderson, to talk about a penguin that wants to take over the world!  Evil Emperor Penguin started life as a cartoon strip in The Phoenix comic, but he now has his own book series.  We asked Laura to tell us more about the little penguin, creating cartoons and his Antics in Antarctica adventures!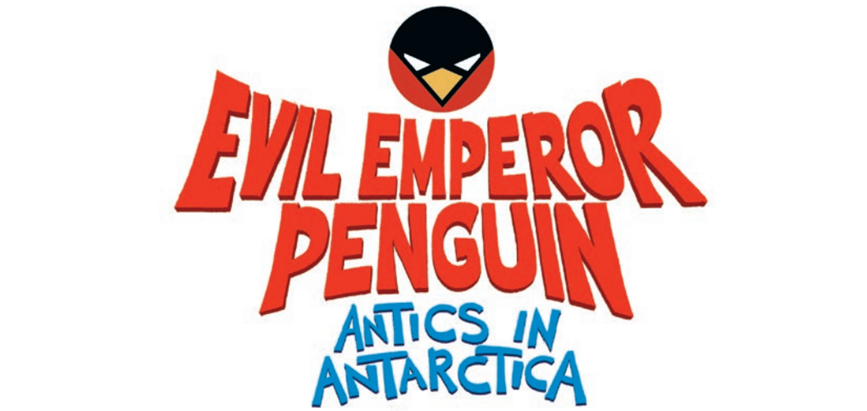 Q&A with Laura Ellen Anderson

1.   What is your Evil Emperor Penguin cartoon all about?
Evil Emperor Penguin follows the antics of one little penguin with BIG ambitions to take over the world, usually in the most ridiculous of ways. And most of the time, things don't quite go to plan!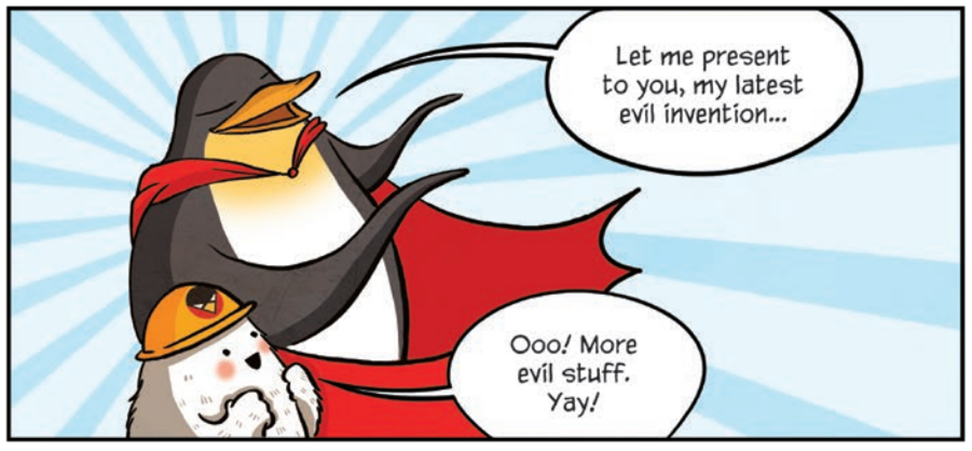 2.   There aren't many evil penguins around - what inspired yours?
I first came up with the idea for Evil Emperor Penguin when working at a Screen-Printing factory for a summer job between University terms. I used to doodle pictures on sticky notes, and stick them all over the desks. A little penguin wearing a cape, holding a spear and standing on a globe was one of them… the rest is history!

3.   Why did you decide to give him a cute hairy minion? Isn't it all going to go horribly wrong?
Who doesn't love a cute hairy abominable snowman minion?! Eugene is very loyal, and always wants the best for Evil Emperor Penguin. When there's so much evil being thrown around, it's good to balance it out with some CUTE. Eugene brings out the nicer side of EEP, even if the megalomaniac penguin doesn't realise it.
Things tend to go horribly wrong when we're dealing with EEP, but Eugene always finds the positive side of things and the good in everyone, even if it's really REALLY deep down!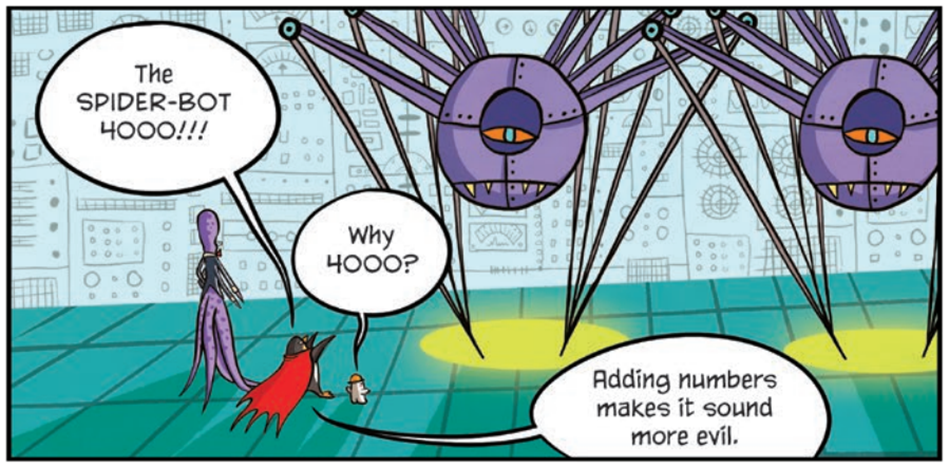 4.   Evil Emperor Penguin also has an octopus butler called Number 8; why did you call him Number 8, and what would you give to have him as your own butler?
Number 8 is the loveliest octopus you'll ever meet. He is the brains of the bunch, keeping the gang safe (and alive!) most of the time when EEP's plans go horribly wrong!  I think it would be lovely to have Number 8 around. He's trustworthy, wise and kind. He was always inspired a little by Alfred from the Batman comics/films.

5.   Can you tell us a little about where Evil Emperor Penguin is based, and what he wants out of life? Why does it go so badly for him?
Evil Emperor Penguin's misadventures often start off at the Evil HQ (a deceiving looking innocent igloo than spans way waaaay underground to many corridors and rooms of evil!) within the icy plains of Antarctica. Quite often, the world domination plans will take place wherever the world leaders happen to be, or from the comfort of the base. I think EEP can be rather impatient a lot of the time, which is why plans often go wrong for him. EEP will also fail to think things through, but luckily for him, NUMBER 8 tends to pick up the pieces when plans go a bit wobbly!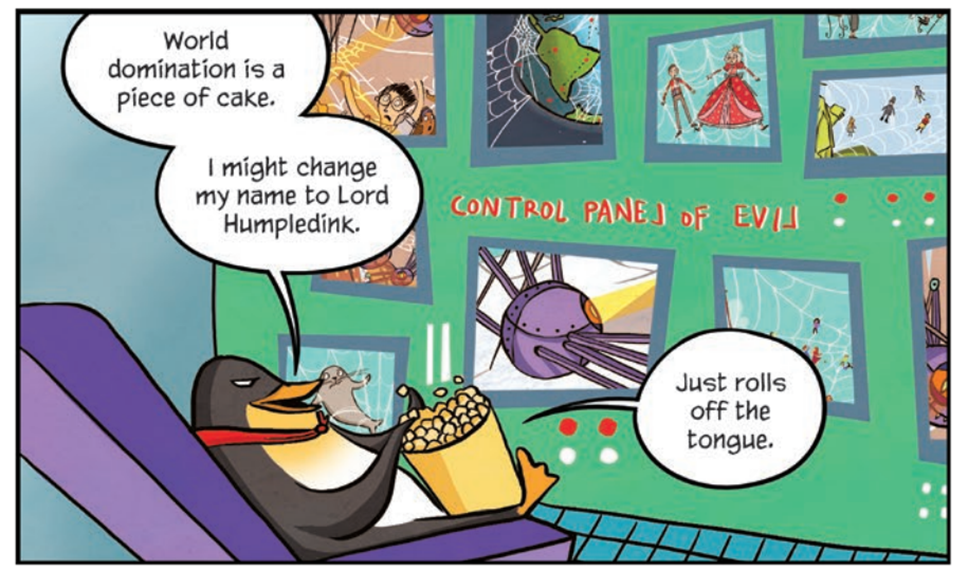 6.   Who is your favourite supporting character?
Evil Cat is most definitely my favourite supporting (or should I say NOT VERY supportive) character. I was particularly inspired by Andrew Scott's depiction of Moriarty in the Sherlock Holmes BBC series, and Lego Batman's Joker, to create this sweet-talking, world-hungry arch-nemesis.
Evil Cat loves to torment EEP, foiling any of the penguin's world domination plans when he can. I think Evil Cat enjoys ruining EEP's success more than taking on the world for himself. Evil Cat is such fun to write. I love the banter between him and EEP, his severe dislike of unicorns and ever-growing hat and moustache. You can't go wrong with a cat in a top hat with a curly moustache, really… can you?!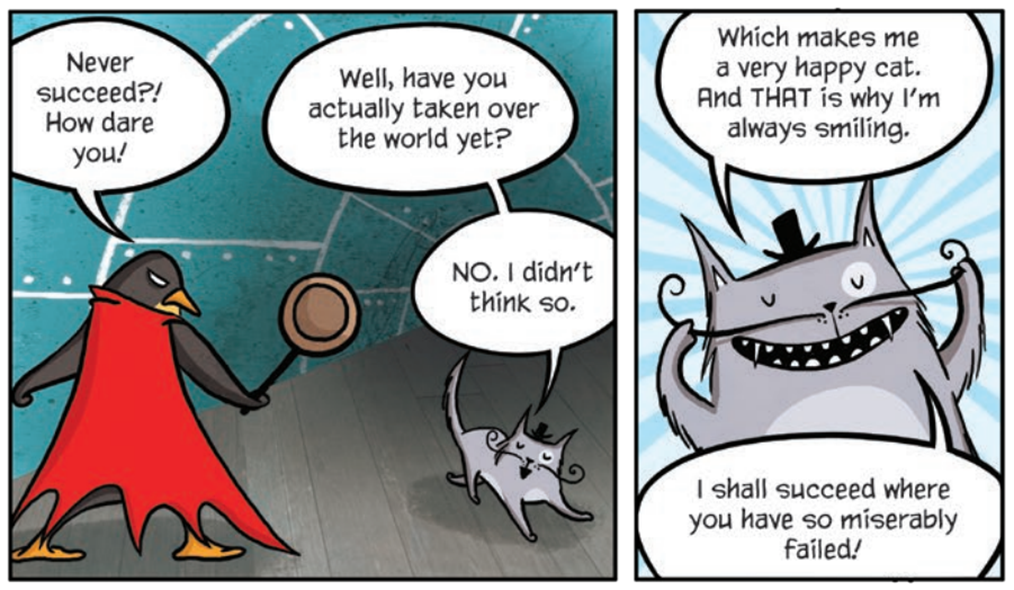 7.   Antics in Antarctica includes a series of Evil Emperor adventures - do you have a favourite comic strip in the book?
I do indeed! I think my favourite strip I've created has to be 'POP GOES THE EASEL' which follows EEP's attempts to turn the world leaders into fine art paintings. Of course, this goes horribly wrong, and he accidentally turns Eugene into a piece of art. As EEP tries his best to resolve the problem, Eugene hops from art movement to art movement through famous paintings of the past. (To name a few, we see the tiny minion giving the Mona Lisa a shoulder rub and a rather disturbing Eugene-rendition of Dali's 'Sleep'… Oh, and who could forget the six-pack Eugene pointing like a pro in the Sistine Chapel piece?!)  By the end, EEP successfully turns Eugene back into his three dimensional self, along with every other character from the selection of paintings… and then unsuccessfully - EEP turns into a painting himself!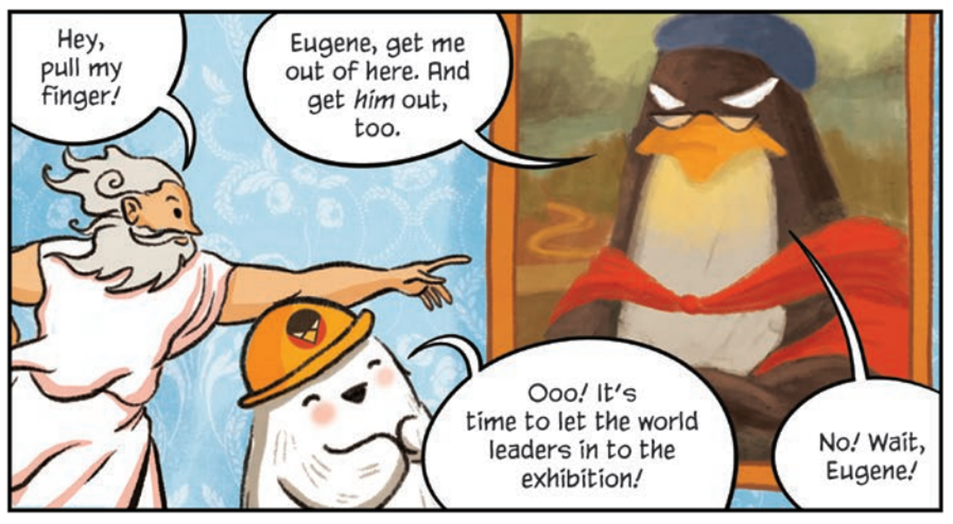 8.   What's up next for Evil Emperor Penguin? Will he have more adventures, or do you have other plans?
We never know what EEP is up to really. Sometimes he's feeling particularly ambitious, and sometimes he's happy to have a bit of a break from world domination. I have many plans up my sleeves for the little penguin, whether that be more comic strips, or EEP-shaped books.

9.   How hard is it to make a comic strip, especially as you also illustrate yours? 
I will be completely honest - making a comic is not the easiest! It's a lot of work. BUT it's also a LOT of fun. I really enjoy developing characters for my stories and comics. Evil Emperor Penguin was always a tiny penguin with a spiky red cape. The drawings have obviously developed for the better over the years. When you look at the very first strip compared to the latest, there's quite a difference in quality. But I'm hoping this shows growth and progression which is something all artists strive for.
I like to create characters who are cute but full of expression and depth. It's amazing what you can do with a few simple facial features. My favourite character to draw is probably Eugene (a cute fluffy minion - need I say anymore?!) I particularly like putting him in ridiculous outfits and situations, whether that be wearing a Christmas tree hat, transforming into a cloud or growing larger than the Earth itself!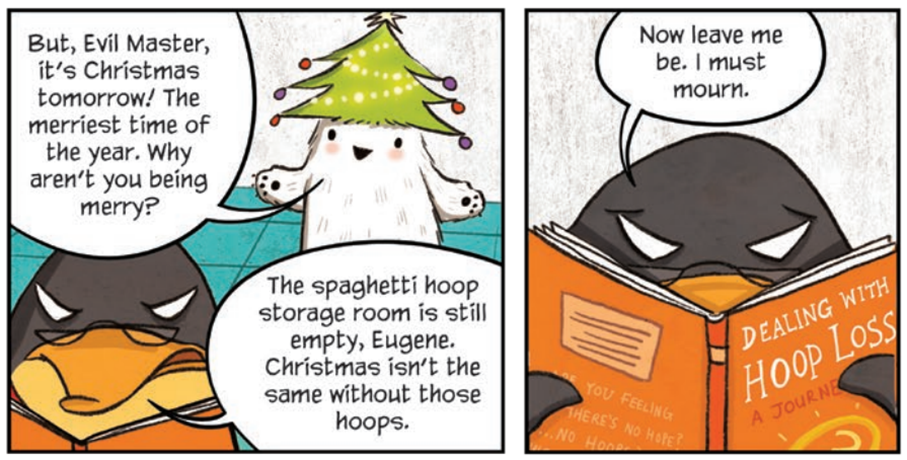 10.   How long does it take you to create each comic strip? 
From beginning to end, if I work solidly 9am - 9pm, I can finish a complete four-page strip from beginning to end in around 4-5 days. 

11.   How do you create the illustrations?
When coming up with the storyline, I tend to write a very rough paragraph of what the world domination plan might be, how it is carried out, what goes wrong and the resolution at the end. Then I'll jump into the very rough version of the comic strip itself, usually very scribbly with messy speech bubbles. Sometimes only I can understand what's going on. But it's a great foundation to work from - as I know exactly where I need everything to be and I can judge the pace and flow of the story, and whether certain areas might need more room dedicated to them etc before the final ink and colour.
I am very lucky to have had a colour-flatter help with laying down the initial flat colours on my latest comic strip to be published inside The Phoenix comic this year. This means I can concentrate on making the already existing colours exactly how I imagine, adding tone and texture. It's amazing how long just flat colouring inside of the lines can take! So, having someone help with that stage is incredibly handy!
The final artwork is completed digitally in Adobe Photoshop. I work on a Wacom Cintiq drawing tablet where I can duplicate the effects of a traditional pencil/pen. Since comics are extremely time consuming with relatively fast deadline turnaround times, working digitally is definitely a more efficient way of completing the work in time.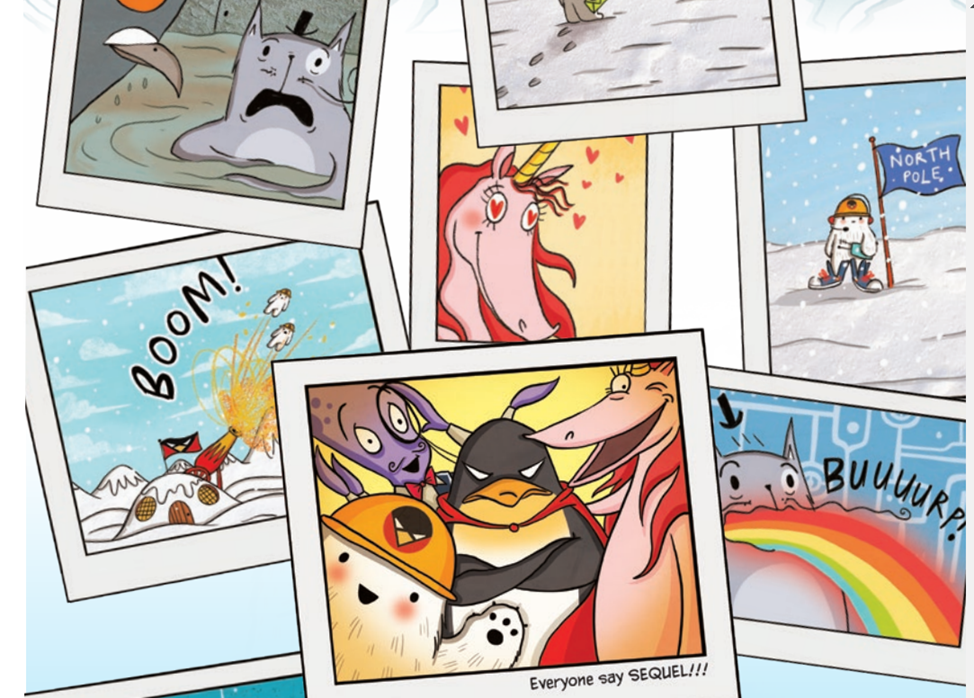 12.   If you weren't an author and illustrator, what would you be?
There are so many things in life I'd love to do, and love to have experienced. I always wanted to go into acting or animation. I can spend hours sculpting 3D models, so perhaps I'd explore something within the Stop Motion industry.
I do however, at the ripe ol' age of 34, enjoy the thought of having my own B&B. I love hosting dinners and baking cakes for other people… perhaps I'd become a baker?? So many options!

13.   What do you enjoy doing when you're not in your studio?
I'm a big fan of scrapbooking and making 3D models of characters, whether that be my own character or an existing character I love. I'm also a big collector of 90's nostalgia… one of my best finds was the FunFax Organiser. (REMEMBER THAT?!) Quite possibly the all-time favourite at every primary school Scholastic Book Fair back in the day!
Author's Titles