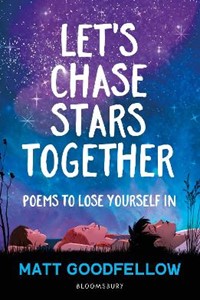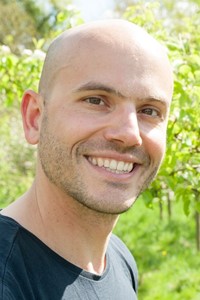 About Author
Matt Goodfellow is from Manchester. He spends his time writing and touring the UK and beyond - visiting schools, libraries and festivals to deliver high-energy, inspirational poetry performances and workshops.
Before embarking on his poetry career, Matt spent over 10 years as a primary school teacher. He is a National Poetry Day Ambassador, and his book Bright Bursts of Colour won the North Somerset Teacher's Book Award and was shortlisted for the CLiPPA. Follow Matt on Twitter @EarlyTrain.
Blog:  Poetry as Rebel Writing - Introducing Poetry to your Classroom
Interview
Let's Chase Stars Together  (Bloomsbury Education)
September 2022
Poet Matt Goodfellow is a passionate advocate of introducing poetry to children and young people and here, he talks about the experiences that made him a poet and introduces his new collection, Let's Chase Stars Together.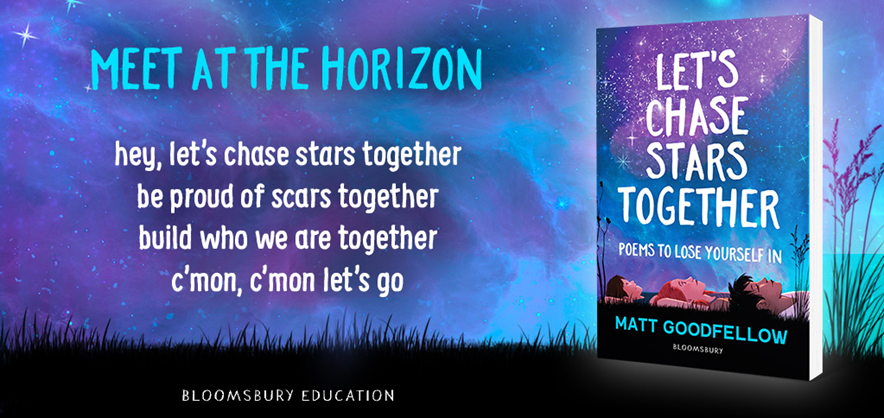 Matt Goodfellow introduces Let's Chase Stars Together and reads from 'Callum':
Q&A with Matt Goodfellow
1.   What brought you into writing, and poetry
I grew up living between my mum and dad's houses which was really difficult as they absolutely did not like each other. However, I was lucky that both parents were fans of literature and music and so from an early age, I was surrounded by words. As I got older, I was aware that I had a talent with words and things seemed to flow easily for me.
From the age of 13 till about 25, my big dream was to be a rock star. I played the guitar, wrote songs, and did the (pretty awful) singing in a number of different bands (I also worked as a golf journalist!). I'd studied English up to degree level where Carol Ann Duffy was my poetry tutor at Manchester Met. When I finally realised the rock star dream was dying, I got a job as a primary school teacher. Eventually the songs became poems - and I remembered I was supposed to write.

2.    Can you tell us about your new collection, Let's Chase Stars Together? Why did you want to write a collection for older children?
I wanted to write an older collection for a number of reasons: I never want to write the same book twice, and my other solo collections have been KS1 and KS2 books; also, my kids are now 12 and 17, and their experiences of the journey through high school began to colour my world and made me think of my own experiences; also, I've done a lot more work in high schools over the past few years, so it seemed like a natural progression for me - and a good way to expand as a writer.
Let's Chase Stars Together is a book which, I hope, reflects the lives of children moving up into high school and progressing through that journey.

3.    How do you decide on your themes for collections, and for this one?
I don't really decide on themes, I just write - the themes unfold for themselves.

4.    Is there a poem in this collection that stands out for you?
It changes all the time, but I think my favourite at the minute is 'Callum' - it tells the story of a boy I used to teach who was from an extremely difficult background - he managed to avoid the pathways set for him by his dad and brothers, and was the first in his close family to avoid prison - and ended up at University.

5.    What is your starting point for writing a new poem?
Often it's reading; reading generally starts the fires of thought burning in my head and then it's just a case of getting those ideas down and seeing where they end up.

6.    Within the collection are poems about the here and now, and children facing difficult family situations. Why is it important to you to include those poems as well?
It's extremely important for me, because I was that child struggling with the chaos of a difficult family situation - one that left me feeling I wasn't anybody's priority. Because I was naturally quite clever, and could be funny, and wasn't bad at sports, my primary and high school teachers just assumed I was OK. I wasn't - and nobody ever told me there was a space called poetry where I could just write down all the madness in my head as a way of trying to make sense of things.
I think it's so important that all children see themselves reflected in literature. I want those children that are living through the same things that I did to know they're not alone - and that all is not lost.

7.    How do you give a sense of hope in this collection while still acknowledging the difficult lives many young people experience?
I think this goes back to the answer to my last question… there must always be hope. Yes, my childhood wasn't easy, and yes it has shaped the man I have grown up to be - but those experiences help me write the things I do.

8.    How do you decide the layout of the poems?
Over the writing and editing process, the poems generally shape themselves.

10.   How can we inspire children to love poetry as much as you do?
I think children need to be exposed to poetry in school on a daily basis. This allows them to understand that poetry does an infinite amount of things - and one of the brilliant things poets can do is tell their story in their own voice. Children need to know that they can do the same; they can be proud of their accents and the way they talk; they can write about their own life - and celebrate it, for all the happiness, sadness and strangeness this world brings. And they can do it with the words already in their heads.

11.    Do you have suggestions for encouraging children to write their own 'chasing stars' poem?
See if you can find a poem within the collection that contains a pattern - for example a repeated line - steal that pattern and push your life onto it. Change the repeated line to something you want to say - and then you move from imitation to innovation and create something brand new.
Author's Titles