Being Me: Poems About Thoughts, Worries and Feelings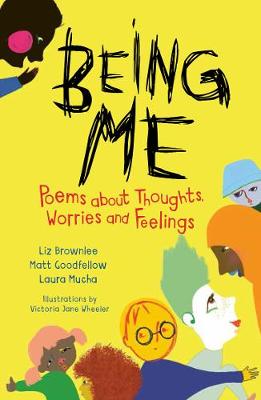 By Author / Illustrator
Liz Brownlee, Matt Goodfellow, Laura Mucha, Victoria Jane Wheeler
Genre
Poetry
Age range(s)
9+
Publisher
Otter-Barry Books Ltd
ISBN
9781913074654
Format
Paperback / softback
Published
06-05-2021
Synopsis
Read about the Land of Blue, where it's OK to feel sad, find ideas for what to do with worries or how to slow down when your head is full of hurry. Give yourself time to chill out, find quiet voices in noisy places and discover kindness in yourself and others. Then maybe your own special thought machine will tell you, 'This is going well. You're doing great. You've got this!' And you have!  This important and unique anthology of 45 poems by three leading poets, well known for their empathy and perception, speaks to the heart of what children think and care about, offering understanding, support and encouragement.  With an endnote by leading clinical psychologist Karen Goodall.
Reviews
Alison
Three gifted children's poets have contributed to Being Me, Poems about Thoughts, Worries and Feelings, an important collection of poems that directly address children's mental health and well-being.  As Kay Tew says in the preface to the teaching resource that accompanies the collection: 'There are poems about nature, racism, death, bullying, divorce, meditation... There are so many topics, thoughts, worries and feelings explored in this book, that every person reading it will find something that speaks to them. Adults and children alike will be able to dip in and out of the collection, always finding something to inspire a conversation, or even a meditation.'  So often books with a 'message' are contrived or over-earnest but this is absolutely not the case for 'Being Me' with its authentic voices and compassionate clarity.
The title of the book comes from Matt Goodfellow's 'Back to Me' (p.10): after a busy day ('breakfast club / assembly / lessons / lunch….') 'I need a little / time alone / to just chill out / before my tea / and settle back / to being me//. And there are many calm moments of 'being me' created by the poets.
Take Laura Mucha's 'My Head is Full of Hurry' (p.30) and note the calming effect of its final line - 'my mind's hurry flitters away' - with words literally flittering down the page. There's another gentle trickle of a word ('overflows') at the end of Liz Brownlee's 'Kindness' (p.11).
The collection is infused with care and compassion. Take Liz's 'Secrets' (p.14): a lyrical opening about the secrets of the natural world is juxtaposed against the 'secrets kept within us': 'no secret should be kept by threat / a burden to withhold / no secret should be kept for long - / there's none that can't be told.//'
There's comfort too. 'In the Heart of a Book' (p.64) with its gentle repetition of 'I found...' : 'I found myself a story / with a place in me to store it / I found myself a wide, new world / so set off to explore it'/. At the launch of this book, the illustrator, Victoria Jane Wheeler talked about wanting her illustrations to extend and enrich the poems, highlighting the importance of facial expressions. Here the gleeful smile on the face of the child scooting across the page in a wheelchair does indeed extend and enrich the poem both in terms of content but also with the mobility of the illustration matching the rhythmic mobility of the words. Equally vivid is her illustration for Matt's 'First Day' (p.66) with its contrast between the child's and teacher's faces.
There's a practical strand as well: Laura's 'Thought Machine' (p.8) offers advice about how to banish a negative mind set: '... sometimes it makes thoughts like / THAT WAS TERRIBLE or HOW EMBARRASSING or / WHAT A MESS / When that happens, I dance. Write. Run. Sing./ With a background in psychology her poems brim with understanding of children's concerns.
There are many invitations for the children's own writing offering empowering opportunities for them to articulate fears and feelings. Look at the repetition in Laura's Albatross' (p.52) 'If I were an albatross / I would share my anger with the wind, /... I would let my worries slip from the tips of my wings, /' or the opening line of 'Today' (Matt, p.54): 'today is a grey day'. Children could choose their own colour reflecting their mood that day. A scattering of shape poems also offers strong models for writing. The child regretting so many moves in 'Snail' (Laura, p.45) evokes the plight of many children's enforced moves. Asylum seeker and Traveller families come to mind. Matt's kite-shaped 'Free' (p.18) 'I was a kite, trapped in a tree / branches of worry strangling me/' offers a structure for the children both in terms of layout and a starting point. Liz (shaping maestro - see Apes to Zebras, An A - Z of Shape Poems) gives us a beautifully drawn nightingale (p.27) and offers yet another moment of reflective calm.
There are some excellent teaching resources available with activities for three of the poems organised under 'Share - Write - Draw'.
https://www.mmu.ac.uk/media/mmuacuk/content/documents/mcbf/blog/Being-Me-Teaching-Resource.pdf
This is surely a book for our times and must be a strong contender for the CLIPPA shortlist.
Suggested Reading Age 9+
Other titles