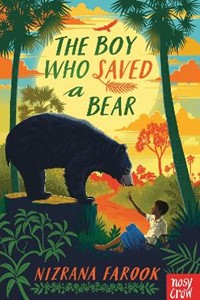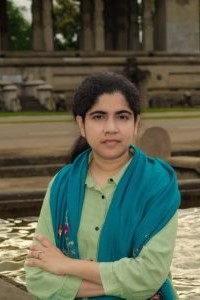 About Author
The Boy Who Saved a Bear is the latest adventure from Nizrana Farook, whose books also include The Girl Who Lost a Leopard, The Boy Who Met a Whale and The Girl Who Stole an Elephant.
Nizrana was born and raised in Colombo, Sri Lanka, and the beautiful landscapes of her home country find their way into the stories she writes.  She has a master's degree in writing for young people, and lives in Hertfordshire with her husband and two daughters.
You can follow her on Twitter at @NizRite.
Interview
The Boy Who Saved a Bear (Nosy Crow)
April 2023
Nizrana Farook's The Boy Who Saved a Bear, set like her earlier books on the island of Serendib, is a fast-paced adventure that pits a boy and a bear against two thieves who will stop at nothing to get the key to the queen's treasure. Nizrana tells ReadingZone how her own childhood helps inspire her stories, why the environment features strongly in some of her books - and whether she will be returning to the island of Serendib in future stories. 


    The Boy Who Saved a Bear          The Girl Who Lost a Leopard          The Boy Who Met a Whale       The Girl Who Stole an Elephant
Q&A with Nizrana Farook
1.    Can you tell us a little about yourself and your life as an author?
I was born and raised in Colombo, Sri Lanka and came to the UK as an adult. I live here now, in south Hertfordshire, and I'm finally what I always wanted to be - a writer. My first book came out just before lockdown, and now, four books down the line, I almost feel like a proper author! Author life can be quite solitary, but I have amazing writer friends and we sometimes meet and write together. I also visit schools and that's a lovely part of my job because I get to meet readers.

2.    Can you tell us where your stories are set? How has your own childhood helped inspire and shape these stories?
My stories are set in a fictional, long ago version of Sri Lanka called Serendib. Even the name has such a magical feel to it; I've loved setting my stories there. When I started writing for children the first thing I had to do was see the world through the eyes of a child. So my mind immediately went to Sri Lanka, as that's what I knew as a child. Even though the books are set in the same world, each one has a sub-setting of its own. I've drawn from the places I've visited in childhood, and made up the rest.

3.    Do any of your stories stand out for you for any particular reason?
I think The Boy Who Met a Whale stands out for me as the hardest book to write. It took me a long time to figure out the main character and his motivation. In addition I think The Boy Who Saved a Bear stands out in an emotional sense for me, as, for the moment at least, I've said goodbye to Serendib. I think it's a lovely book to end on.

4.    What happens in your latest book, The Boy Who Saved a Bear?
It's about a boy called Nuwan who wants to prove to his parents that he's as capable as his older brother. But in trying to do so he accidentally takes away a valuable key and is pursued by thieves who are after it. As if that wasn't enough for poor Nuwan, alone and afraid, he comes across a bear with the most fearsome reputation and has to take her along on his road trip to keep the key safe.

5.    Who are the two children in this story and what are they like?
Nuwan is a fairly sheltered child who's determined to prove himself to his parents. He does a lot of growing up on the journey, understanding his parents and their motivations as he journeys with the bear. Sani is his friend, a girl who's keen for adventure but a lot less rash and more realistic than Nuwan. Apart from dodging villains and bear-whispering, they have some deep conversations that make Nuwan slowly see things in perspective.

6.   Did you 'map out' their adventure, or quest, before you started to write the book?
To an extent. I do some planning but I allow plenty of opportunity for the unexpected too. It excites me to think of something new just when I've come to it. It keeps things interesting for me as I write. I always knew where the journey would end, and a couple of intermediate points, but apart from that most things were a surprise to me too.

7.   We don't often see librarians as villains in stories - what gave you that idea?
That was quite unexpected! I couldn't square it with all the lovely librarians I know. It was just what made the most sense, given that the key leaves from a library. I had to think who'd have the opportunity to steal it. And they were a villain I hadn't seen before so that felt fresh and new.

8.   Why did you decide to feature a bear in this story and how did you choose which kind of bear? How did you go about researching it? Have you seen this kind of bear in real life?
I wanted something big and exciting, like the other animals in my previous books. A worthy successor to an elephant, whale and leopard! A bear was the obvious choice, as it had to be an animal found in Sri Lanka. Sloth bears are the only bears there, so I went with that. I have seen them in real life but thankfully not at close quarters. Especially when I was a young child they were around a lot more. I did my research online, reading articles and watching videos.

9.    Your books often focus on the environmental impact of humans on the local wildlife. Do you also consider this in your new book?
Whenever there's been an environmental message in one of my books it's always in the context of the story. I don't embed these messages in my books deliberately, but I do want readers to come away with a sense of wonder at our natural world. I think it's the first step to being environmentally conscious, to want to protect what we have. I hope this new book achieves this too.

10.   Do you have other adventures planned for Serendib?
For the time being, this is the end for Serendib. Although as my editor tells me, never say never! I am working on something new and have exciting things planned.

More about Nizrana Farook
1. If you could see any of the animals featured in your book in real life, which one would it be?
Definitely a blue whale! The others are so much easier to spot so I'd love to see a blue whale.
2. Are you an adventurer in real life, like your characters?
My characters are on another level, so no! I'm more of a bookish person, so my adventures of stealing elephants and running with leopards only happen in my imagination.
3. If you weren't a writer, what would you want to be?
That's really difficult as I can't think of anything else I'd rather be now. Although what I did before was in IT so probably that.

Nizrana Farook reads from The Girl Who Lost a Leopard (Nosy Crow)
A villainous poacher, a determined girl and a race against time are some of the highlights in The Girl Who Lost a Leopard, an earlier adventure from Nizrana Farook that, like her other stories set in Sri Lanka, bring to life a very different way of life in another age.  Here, Nizrana tells us more about her novel, and gives a short reading from The Girl Who Lost a Leopard. 
Read a chapter from The Girl Who Lost a Leopard 
Author's Titles