The Girl Who Lost a Leopard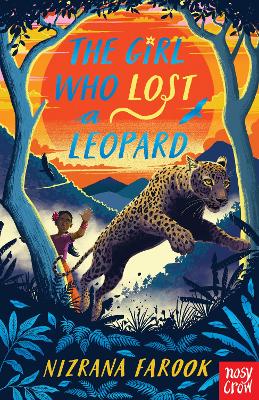 By Author / Illustrator
Nizrana Farook
Genre
Adventure
Age range(s)
9+
Publisher
Nosy Crow Ltd
ISBN
9781839942266
Format
Paperback / softback
Published
07-04-2022
Synopsis
From the author of The Girl Who Stole an Elephant comes another brilliant escapade. The third thrilling adventure set in a fictional Sri Lanka is jam-packed with peril, poachers and an endangered leopard! Selvi is a wild child who loves climbing in the beautiful mountains behind her home. She is often joined by Lokka, a leopard with a beautiful coat and huge golden eyes. When hunters come for Lokka, Selvi is determined to fight.  But what can she do against such powerful enemies? Turn to her friends, of course! Now they just need the perfect plan...Cover and inside illustrations by David Dean.
See also The Girl Who Stole an Elephant and The Boy Who Met a Whale
Nizrana Farook reads from The Girl Who Lost a Leopard
Reviews
Emma
The Girl who lost a Leopard is another sure fire hit for author Nizraa Farook. The book is set on the island of Serendib (Sri Lanka) and it opens with the main character named Selvi, who watches as hunters are trying to bait and trap a leopard - her leopard - Lokka. Lokka is a wild leopard who has an affinity with the wild protagonist. Just like Lokka, Selvi wants to run free, but she is constrained by school and she also battles with her uncle who thinks she needs to be 'tamed.'
The story unfolds with interwoven problems threaded through its pages - Selvi trying to save Lokka from being hunted, trapped and sold to a trader; friendship; and family problems. The text is fast-paced and would be a great class read for KS2 - both lower and upper levels. I particularly liked how Farook wove in the issue of animal endangerment and the possibility of leopards becoming extinct - this lends itself to lots of scope for classroom discussions.
Farook's characters are always very vivid and realistic and Lokka and Selvi are of no exception. A recommendable read that would be enjoyed by those aged 9+.
160 pages / Reviewed by Emma Nelson, teacher
Suggested Reading Age 9+
Jennifer
The Girl Who Lost a Leopard is a stunning, lush, vivid and exotic adventure. Wild-spirited Selvi is in her element living in the mountains of Serendib, where she feels a total affinity with the abundance of nature around her. At no time is she more content then when wild leopard Lokka chooses to grace her with her presence. Selvi admires, respects and adores this beautiful, strong, sleek and golden-looking creature and has an unusual and unique bond with the animal. To unscrupulous poachers, however, they can see only the hefty price tag and reward that Lokka represents to them. Her every move is about is be watched and tracked as her freedom and life are threatened.
Selvi is brave, determined and an unstoppable force on a mission to protect Lokka from the hunters; even if this means trusting class mates she has previously doubted, risking her own life and disobeying family to try and lead Lokka to safety. The story is packed with peril and tension; it is a brilliantly fast-paced, bold and thrilling story where conscience, moral, loyalties and community battle against individual greed and disrespect of the natural world around us.
Another charming and heart-warming story, soaked through with atmosphere, from this fantastic author.
160 pages / Reviewed by Jennifer Caddick, teacher
Suggested Reading Age 9+
Carol
Set on the island of Serendib, a young school girl by the name of Selvi loves to run wild with nature. She lives with her mother in humble surroundings. Her Uncle, Kandaraja, is rather judgemental of how her mother raises her daughter.
Selvi has a connection with a leopard she has named Lokka; they have an understanding that he doesn't get too close and she is mindful that Lokka is a powerful, wild animal. When Selvi overhears Jansz and his men planning to capture Lokka, she knows she has to help save the leopard escape to safety. Will she be able to protect her friend and relocate him in a safer place? Who are the poachers working for?
The character, Selvi, is a great role model for girls, standing up for what she believes in and never giving up. I really enjoyed this novel and I Will be checking out this author's other novel, The Girl Who Stole an Elephant and The Boy Who Met a Whale. A fantastic bedtime read or class read for ages 9+.
160 pages / Reviewed by Carol Wright, school librarian
Suggested Reading Age 9+
Other titles